News

Lindal Elements: New planbook & video

Originally launched as the Modern A-Frame in 2010, the Lindal Elements building system is quickly becoming one of the hottest selling paths to a custom Lindal home. Fast, flexible, and predictable, our clients are finding the familiar "building block" module of the Elements system to be the ideal way to design their own home, controlling costs and timelines with the efficient use of a fully-developed system of parts that can be combined into an infinite array of individualized designs. For 2014, we are pleased to announce a new planbook showcasing nine pre-planned Elements designs, as well as a short video that demonstrates the Elements system in action.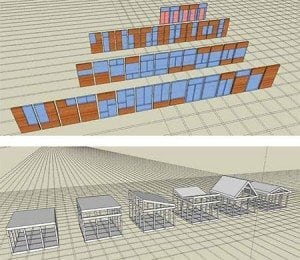 Taking a highly disciplined approach to the legendary Lindal building system, the Elements building module utilizes high quality Lindal materials that are fully defined and time tested. These components have been selected purposefully to maximize efficiency. Their structural capabilities, optimum dimensions, production and assembly details, and prices are predefined. Lindal designers and engineers also developed new components and modern trim systems and detailed them for total system compatibility.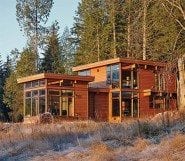 The Lindal Elements building system meets the expectations of our discerning clients:
Varied and flexible enough to enable the creation and personalization of traditional or modern architectural forms;
A wide array of finish options;
Capable of meeting demanding climatic requirements;
Shipped to your site anywhere in the world efficiently as a single shipment, if desired, to dramatically reduce cost compared to the shipping of empty prefabricated modules;
Covered by the industry's only Lifetime Structural Warranty, exclusively from Lindal Cedar Homes.
The Planning Portfolio
The concepts and sample designs shown in the Lindal Elements Design Portfolio are the result of collaboration between Michael Harris, and Lindal design studio managers, Scott Biles and Brett Knutson, putting their 100 years of experience to work for you. It is their pleasure to be available to assist Lindal dealers and their clients create their own personalized Lindal Elements homes.
We are pleased to present nine of the Lindal Elements designs in our new planbook, available online for free with registration or for $20+s/h in the Lindal Online Store.