News

Meet us at Dwell on Design in LA, June 24-26, 2011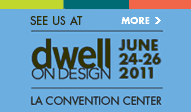 Dwell on Design is the largest exposition of home designers, manufacturers and modern homebuilding and furnishing products in North America. Quite literally a feast of state-of-the-art modernism and education, nearly 20,000 enthusiasts will fill the LA convention center for this annual event. The program also includes continuous presentations by industry experts and home tours of vintage and recently built modern residences in the LA area.
Join Lindal Cedar Homes, CEO Robert Lindal, and west coast Lindal dealers to explore the Turkel Design Lindals for the Dwell Homes Collection, and Lindal's other modern design programs and services.
Learn more about Dwell on Design and register today at dod.dwell.com. Save up to $15 off admission by purchasing online and using the code DWELL59B