News

The new Lindal Architects Collaborative Portfolio
New Architects Join the Collaborative
Four new firms have joined the charter firms in the Lindal Architects Collaborative. Specially selected for their unique architectural signatures, their unique specialties, and their innovative spirits, these firms will add further dimensions to the already broad offerings: Carney Logan Burke Architects of Jackson, Wyoming has a well-earned international reputation for designing comfortable year-round retreats that have deep roots in the region's architectural heritage. Their Lindal designs, a series of interchangeable and additive pavilions, are simply clad with vertical cedar siding and sheet metal. Steeply pitched roofs are articulated with floating architectural truss work on the interior and exposed rafter tails  n the exterior that form deep overhangs and covered porches to shelter the homes and the homeowners from inclement weather.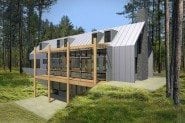 David Vandervort Architects of Seattle create inviting Lindals with a fresh Northwestern spirit. Their Lindals combine traditional residential roof form- gables, hips, and A-frames – with modern elements – flat-roofed doers and light monitors that admit soft light throughout the day and metal roofing that seamlessly transition into siding and offers decades of stunning and maintenance-free service. Freestanding pealed cedars logs support exterior pergolas and covered walkways and add a relaxed and rustic edge to the legendary Lindal post abd beam building system.
The newest additions to the growing Collaborative are Dowling Studios of San Francisco and Princeton, New Jersey and ZeroEnergy Design of Boston, who have recently begin their collaboration with the Lindal design team and whose Lindal designs will be released this spring. The bold modernism of the Dowling sisters' architecture featured on the cover of the November 2012 issue of dwell magazine, and the passion for passion for synthesizing form and efficiency that have won ZED national acclaim add to the breadth and depth of the LAC offerings.
All new 144-page planbook!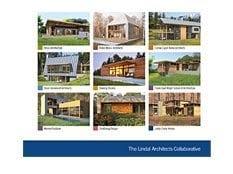 The designs of eight renowned architectural firms and Lindal's design professionals. Over thirty designs, ranging in size from 450 to over 3000 square feet, each bearing the architects' indelible signature. All ready for you to personalize for site and self. The new Lindal Architects Collaborative design portfolio is now available to view on line or for you to purchase a bound full color copy. Over 140 pages of warm, modern designs, the most extensive collection in the industry.