Stories

Heron Rock: A Custom Home Design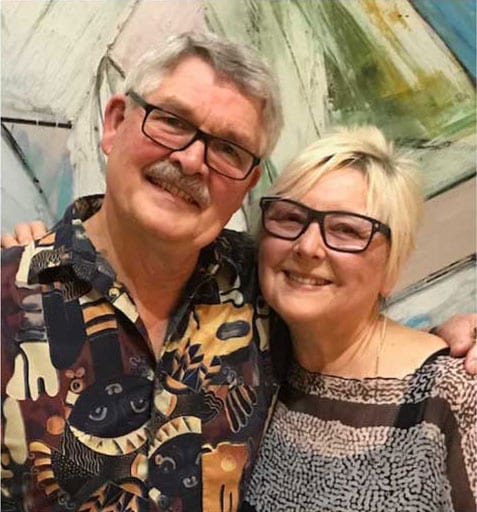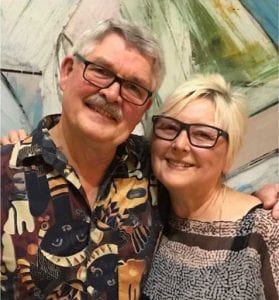 Nancy and Ron are two passionate educators, juried artists, and world travelers. They worked closely with Michael Harris, owner of independent Lindal dealership Warmmodern Living, to create Heron Rock: A custom home design that suits their interests, budget, build site and lifestyle. This modern Lindal Elements waterfront home in Washington State is a modest 1,800 square foot, three-bedroom, two-bath home on one level. It is located on a narrow, two-acre lot on Whidbey Island north of Seattle. The property sits on a high bluff, with breathtaking views of the Puget Sound from almost every window.
Home and Property Details:
Two-acre lot
1,830 square foot house
3 Bedrooms, 2 Baths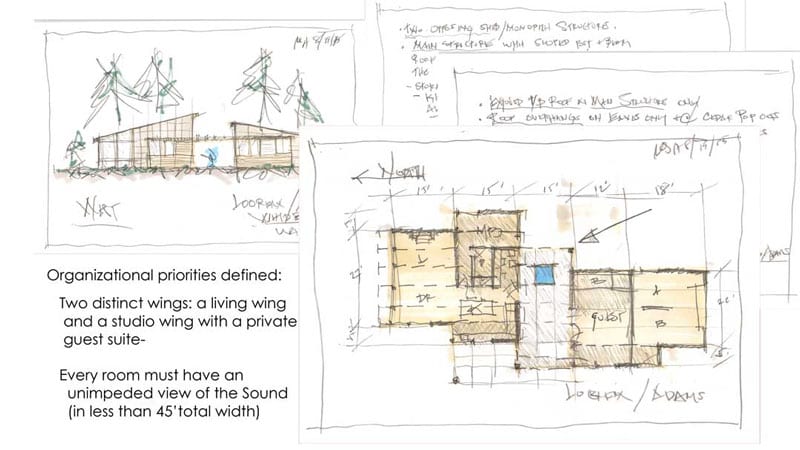 Phased delivery of the Lindal materials was necessary on such a narrow lot – barely 73 feet wide with a high bank overlooking the water.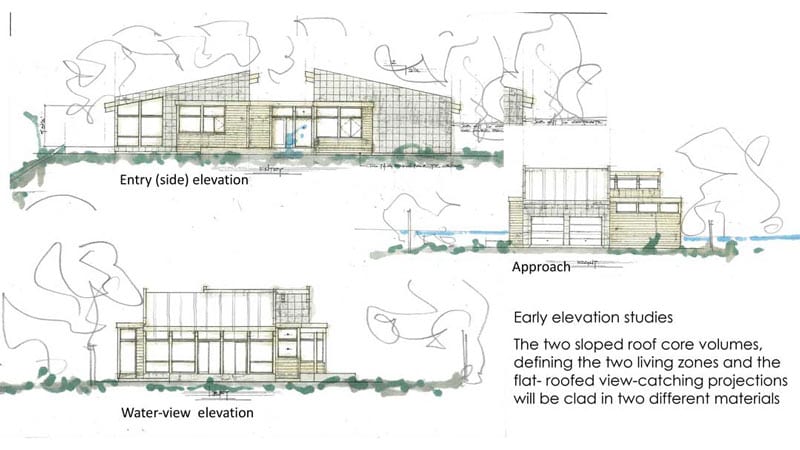 The home had to sit 55 feet back from the bluff, placing it outside the shoreline management area. Original priorities for the floor plan were to have two distinct buildings: one with a living area and master suite and another with a studio and guest room – connected by an open courtyard.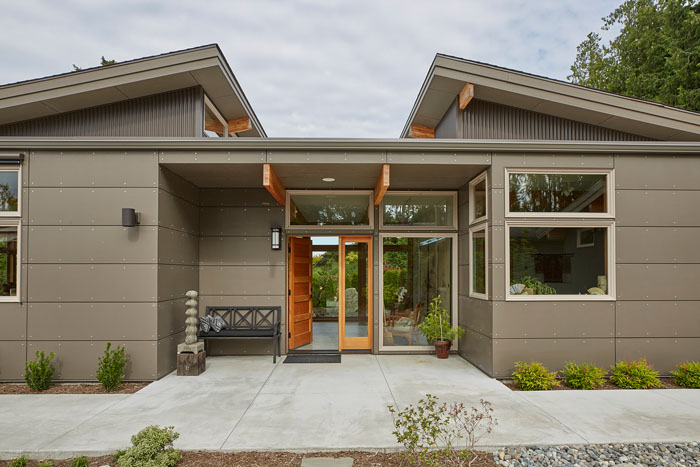 The final home design connected the two separate wings with a 15 x 15 foot entry with floor-to-ceiling windows on two sides. The flat entry volume projects into each wing and provides human scale from the loftier interior in the living area and the guest / studio wing.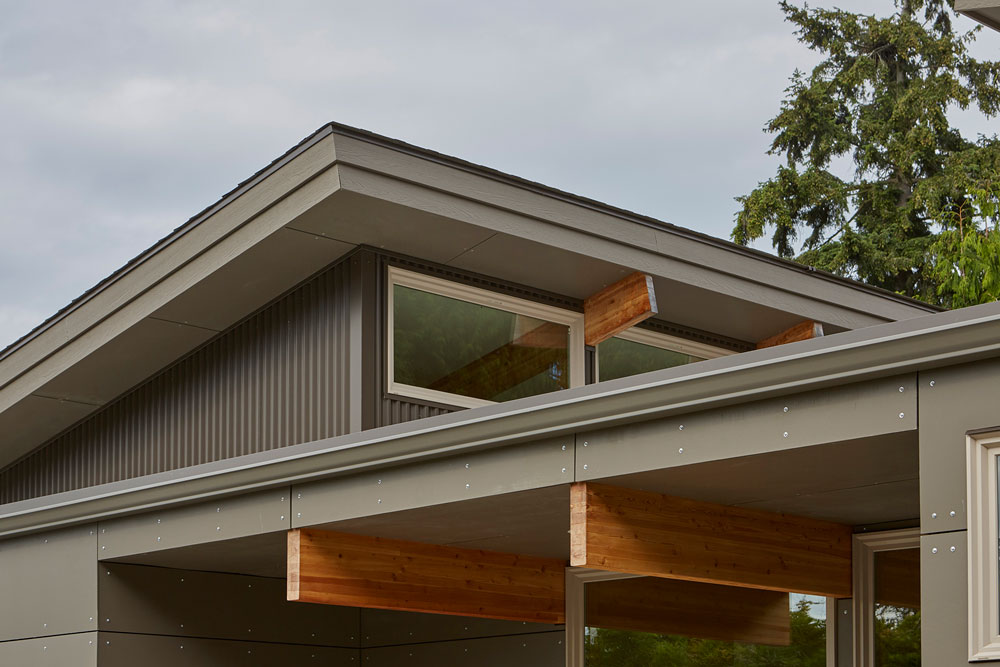 The primary pitched volumes are clad in corrugated steel with a 25-year finish painted gray. The flat-roofed projections are clad with pre-finished cement board, and the windows are vinyl framed. Careful consideration in the choice of exterior materials enabled these clients to stay within their budget, while splurging on certain features that were a priority for them. The entry is recessed 5' to provide protection from the elements.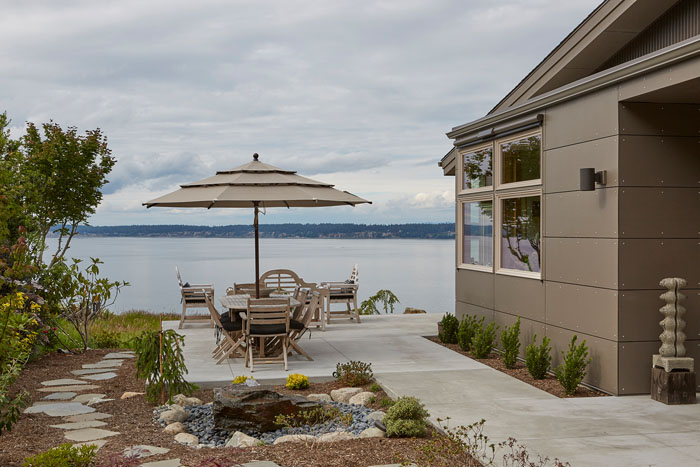 A walkway leads to the elevated view patio located steps away from the kitchen and dining room;  perfect for entertaining family and friends.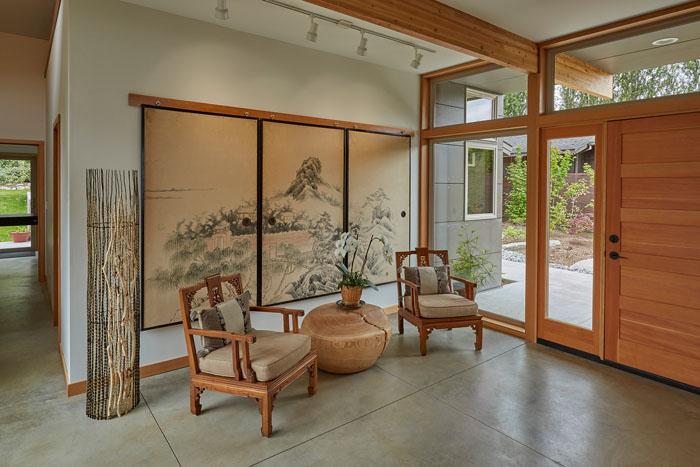 The gorgeous and spacious entry was originally conceived of as an open courtyard. Once they decided to connect the two volumes, Nancy was worried the 225-square foot entry would be too large for such a modest-sized home. However, this transparent, light-filled entry has become a great place to display some of the couple's favorite pieces of art.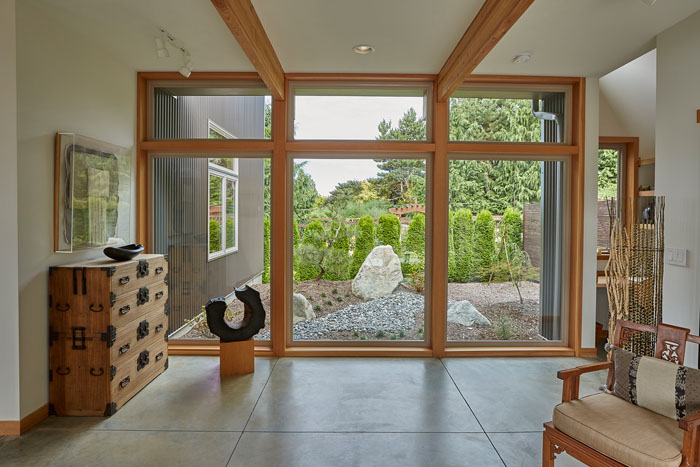 Michael didn't concentrate solely on the big picture with this custom house design. Along with Nancy and Ron, he focused on the little things, too. The entry leads to the kitchen on one side and the hallway office, guest suite, and studio on the other.  The polished cement floor is scored with a 5'4" grid pattern, matching the Lindal modular home volumes. Nancy created a relaxing retreat by folding in the warmth of wood with neutral colored walls. She accented these with large pieces from the couple's extensive collection of Pacific Northwest art.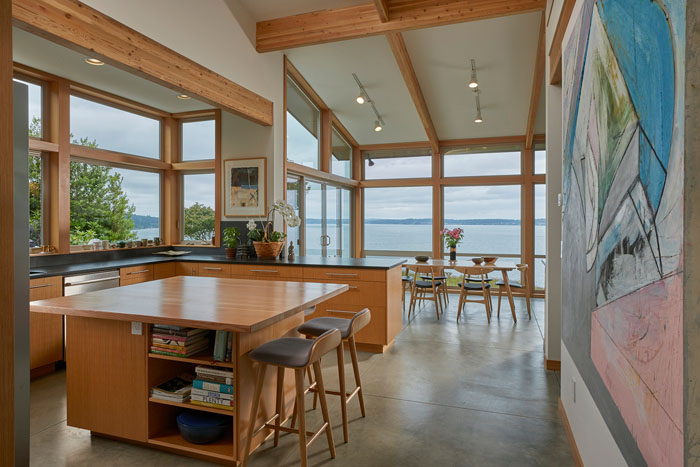 Kitchens today need to be functional workhorses and stylish entertaining hubs. The kitchen is certainly both of these things. The island seats four, and is topped with a chef-worthy butcher block made by an Amish craftsman.
When you find a space irresistible, it's because it hits that perfect mix of materials. This kitchen, with lots of storage, very few upper cabinets, black counter tops and a wall of windows to expand the light and view has that perfect mix of colors and materials.
As you look out to the water, note that no deck or rail separates the interior from the view. This was an essential part of Michael's custom home design. It's also why the patio seating area is situated to the left of the building rather than extending out via a deck on the view side.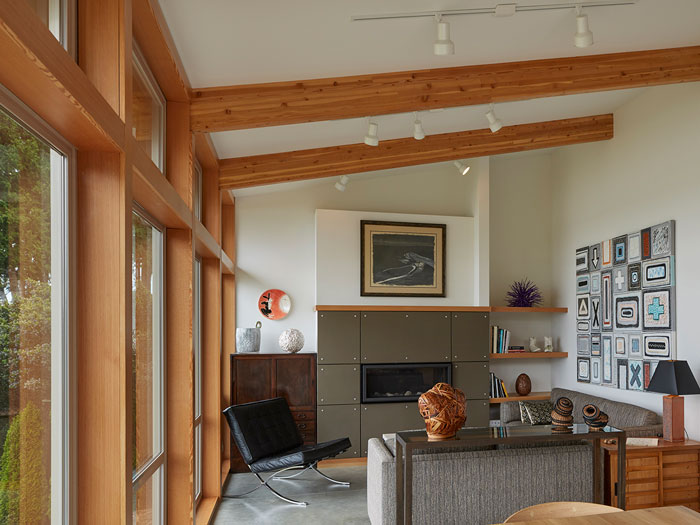 The living room is only 13 feet wide and situated in a nook off the kitchen, sharing the same spectacular view through the wall of glass. In consideration of the nearby neighbors there are no windows on the end-wall. Almost all of the windows on this side of the home are directed toward the view. The gas fireplace is clad with left-over pre-finished cement board panels. Both Nancy and Ron have displayed a selection of their own art as well as the art of friends and other regional artists throughout the home. The large picture on the right-hand wall is by Ron; the woven fiber bust on the table is by Nancy.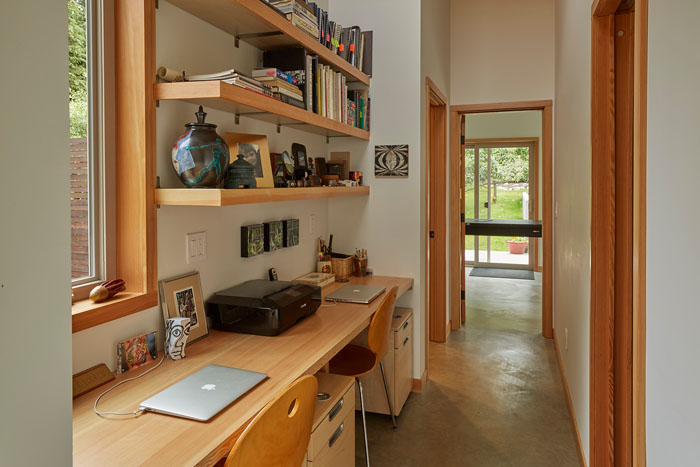 The hall leading toward the art studio and guest bedroom accommodates a long two-person desk and impromptu study area. Michael knew that his homeowners wanted to maximize space in their small home design, and this area is a great example of that.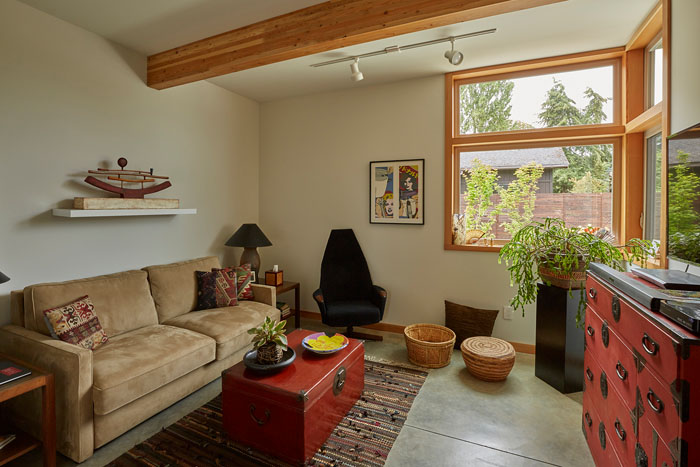 The guest suite, used as a TV room, is located between the entry and studio. It includes a fold-away sofa/bed that easily converts the room for overnight guests.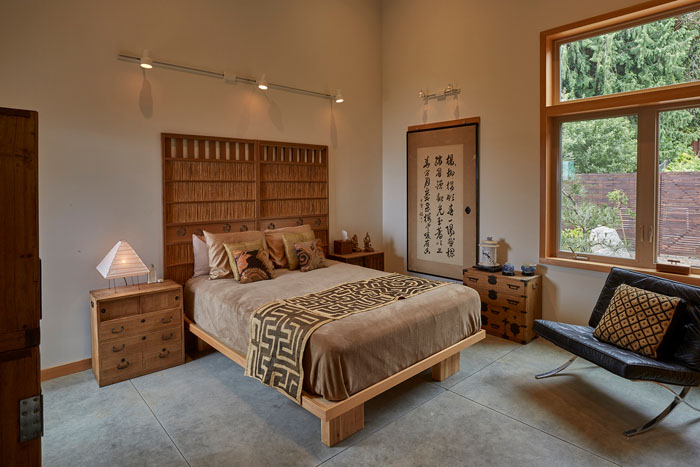 The generous sized master suite is 15 x 25 feet and has a door out of sight on the left with access to a future sitting deck and hot tub.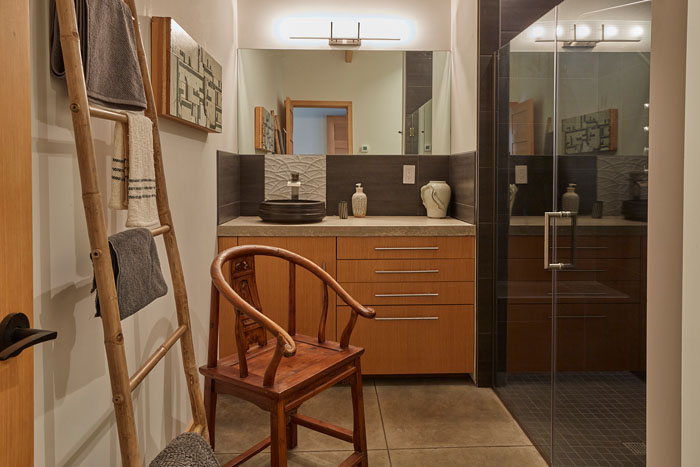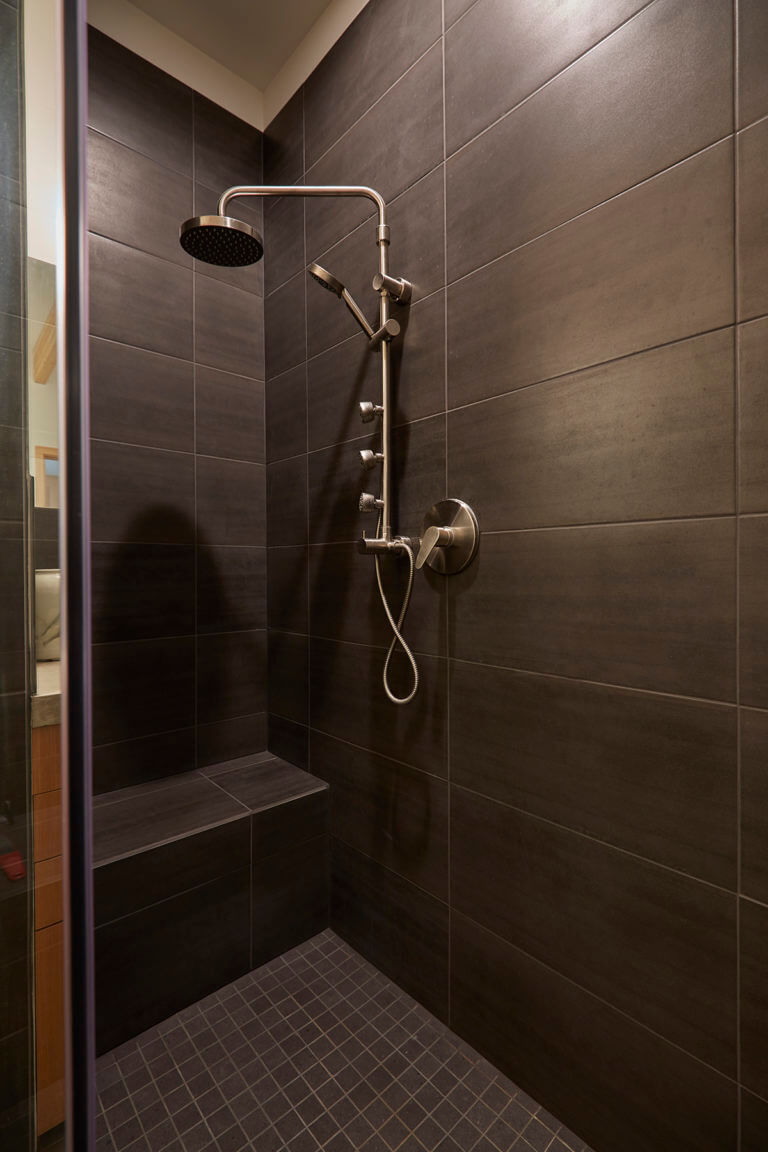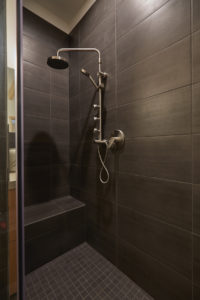 Art is the ultimate luxury to Nancy and Ron, and you can see its influence everywhere – even in the modest-sized master bathroom.
Nancy and Ron anticipate aging in place, so they added wide halls and doors throughout the home. They also included a no-lip shower with a built-in sitting area and adjustable shower head in the master bath.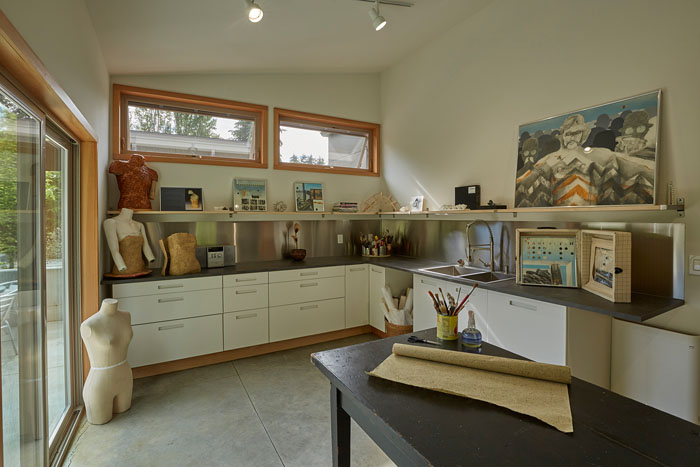 The third bedroom was turned into a 12′ x 22′ art studio that is Nancy's dream work area. Features include clerestory awning windows for light and venting, L-shaped cabinets and counter,  a built-in sink, and a slider to a private patio. This studio is far enough from the main living wing to provide Nancy all the quiet space she needs for painting and creating her woven sculptures.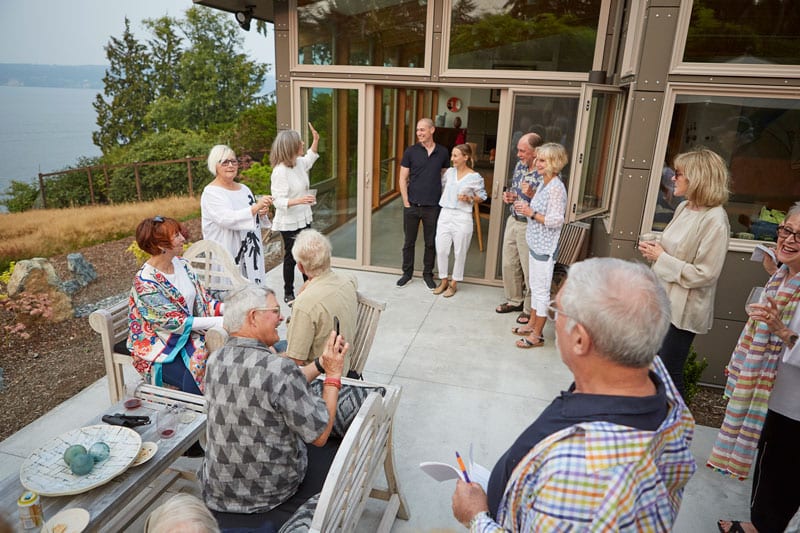 Nancy and Ron have many friends and were happy to have them over for a Lindal open house that allowed them to tell their project's story, with Michael and his wife Carol in attendance.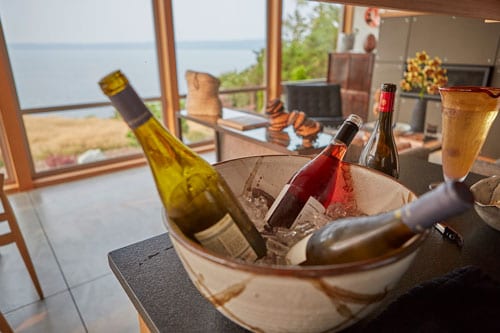 Nancy enjoyed the collaborative creative process of the working with Michael using the Lindal system.
"I was looking for an artful experience designing my new home with an architect who had a real commitment to responding to the uniqueness of our land and environment, and who had the ability to respond to my desire for a both functional and sculptural home. I wanted the kind of relationship with an architect where I could be a strong partner in the creative process.
"After attending a Lindal webinar where Michael talked about his vision for designing homes, and how the Lindal approach allowed for flexibility and custom design suited to clients' dreams, I knew I had found my architect. Our first meeting further confirmed my impression. From that time forward, Michael and I maintained an ongoing exchange of ideas."
In working with the couple to create their custom waterfront home on Whidbey Island, Michael combined his clients' desires with his ability to imagine a better design. Collaborative vision ignites the human spirit and generates the passion that turned these homeowners' dream into reality.
Watch out YouTube videos on this home:

This beautiful home is featured a new book by Sheri Koones – author of several books on prefabricated homes. The theme of her latest volume is downsizing your lifestyle.
Author Sheri Koones featured this home (and named it Heron Rock Cottage), in her new book, Downsize. Read the Seattle Times Heron Rock Cottage article here.
Read Michael Harris' blog about this custom waterfront home design.
See other custom Lindal homes.