post and beam Structure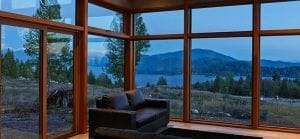 Inspired by master timber frame builders, Lindal's unique post and beam homes allow for extraordinary design possibilities. You may desire an airy, spacious post and beam design that showcases the cedar and lets in the outdoors. Or you may prefer to arrange interior walls, doors and windows to manage traffic and to meet your most personal living style.
Post and Beam

Provides a strong framework of glulam posts and beams which supports the roof's weight. Interior walls, as in timber frame homes, are freed from serving as structural support.

Provides exceptional design flexibility, giving you the greatest flexibility of any building system to modify a floorplan to your needs.

Allows for an open, airy interior with high ceilings and supports long spans and large expanses of glass—perfect for capturing your view.
Lindal offers post and beam home designs in more than 2,000 floor plans. So whether you want to build a 1,000 square foot cabin or a grand 6,000 square foot home, there is a post and beam home design in our library to suit your needs.
To learn more about the building materials components that come standard in your post and beam kit, visit with your local Lindal dealer who can also outline the optional top-grade materials upgrades.