elements Lindal homes

Sargasso 1620
Sargasso 1620
Bedrooms: 3
Bathrooms: 2
Master Bedroom: Main Level
Total Area: 1616
First Floor: 1616
Other Floor: -
Size: 76'x51'
This design exudes the spirit of comfortable relaxation in an efficient one level plan. A large and open gathering area easily accommodates several food preparation areas, informal seating, and relaxing or eating before a roaring fire. The expansive wall of windows and door let in the view. A screened porch and large deck area draw family and guests to enjoy the outdoors, day or night, rain or shine.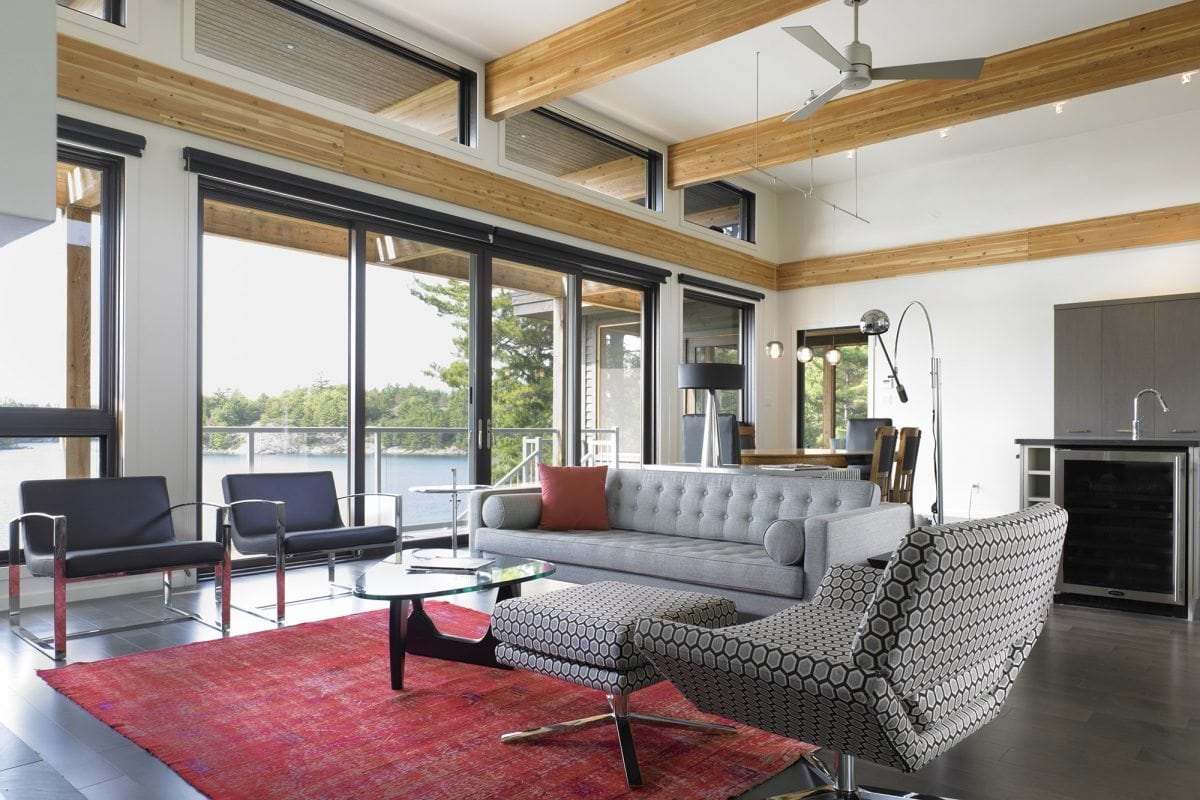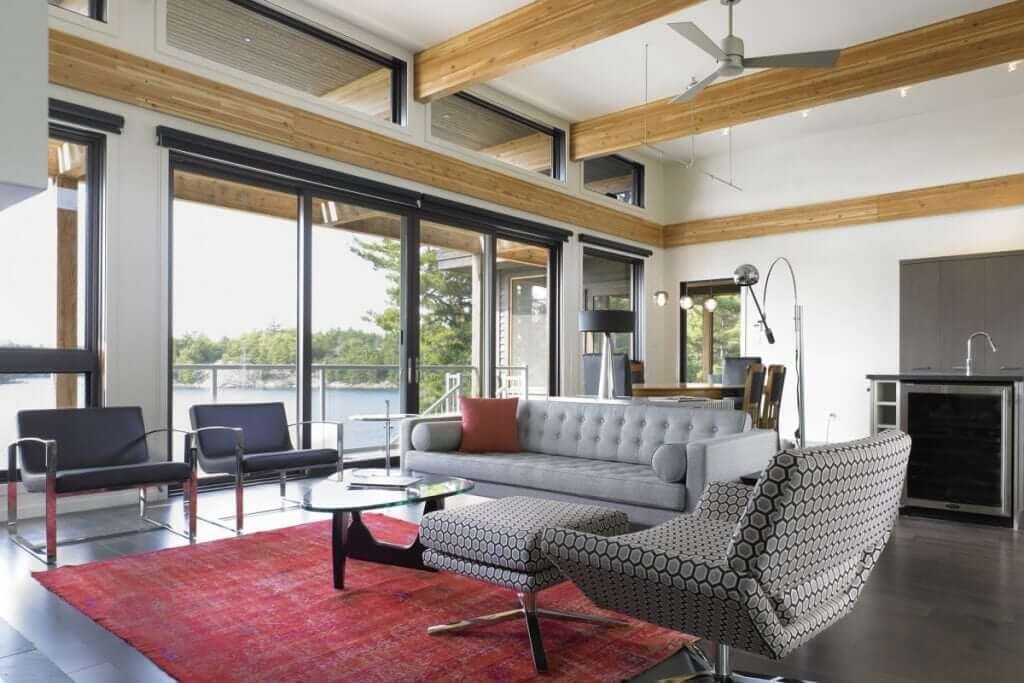 Here's what independent Lindal Cedar Homes dealer John Axmith, of Axmith & Company, Ltd., had to say about working on this custom home, which he helped the clients design and build on a small private island in Georgian Bay, Ontario, Canada.
His clients were a couple in their early 70s, which is one reason the house is a single-story design and only 1,620 square feet.
The island where the home was built is just off the mainland coast in Ontario, where "cottaging" is both a verb and a lifestyle. The island is primarily rock, and the home itself is pinned to the rock.
"We had nice table land and could have put anything there," Axmith said. "The concept was to have the great room and the sun room and then a bedroom wing in an L-shape going back behind it."
Axmith worked with John Holgate; a longtime trusted colleague in the construction business, to build the house in 2013. The builder has built over 100 Lindal houses supplied by Axmith. All materials had to be delivered to the island by barge. The project began in late spring and shut down in November when the weather made it difficult to continue. Work resumed in April of the following year, and the house was completed in early July.
Home Design Features
It's a custom home and doesn't strictly adhere to the modern Lindal Elements grid system. The posts are 8 feet apart. Axmith liked the "cleaner" look of having the posts further apart in this design. It also allowed the clients to install a 15-foot slider door in the main room.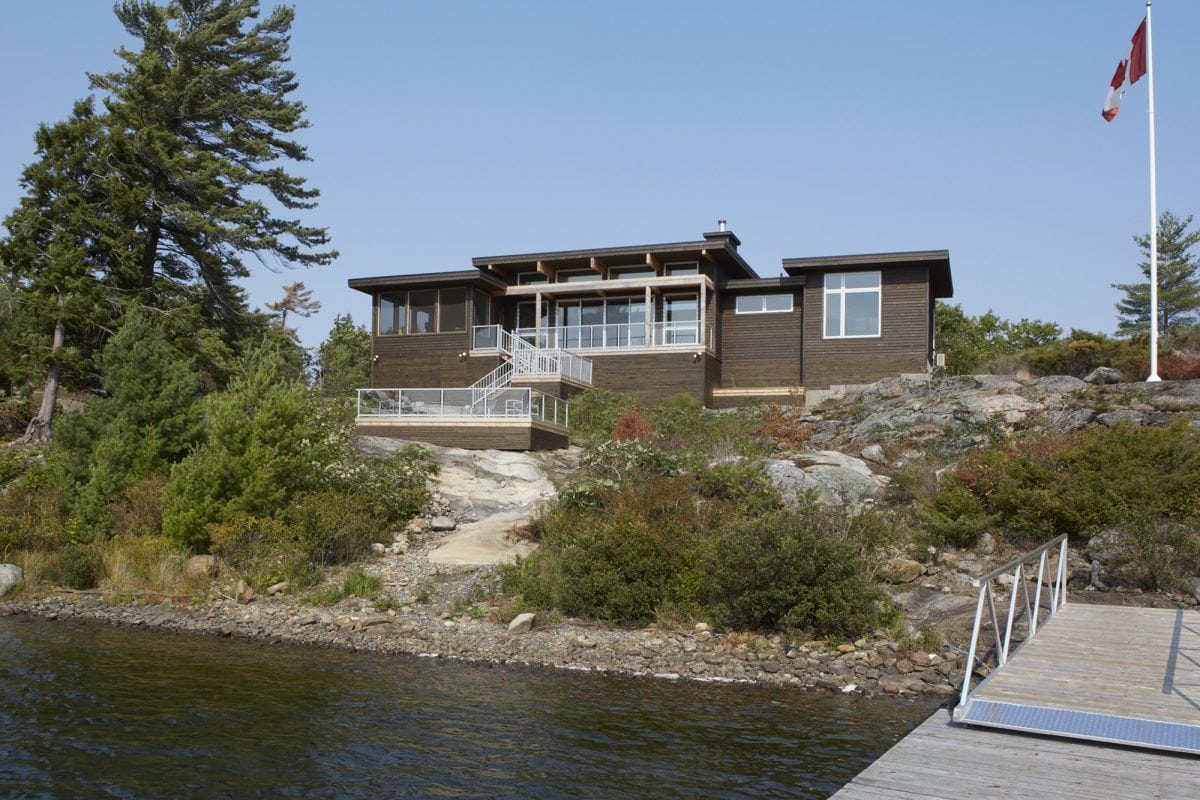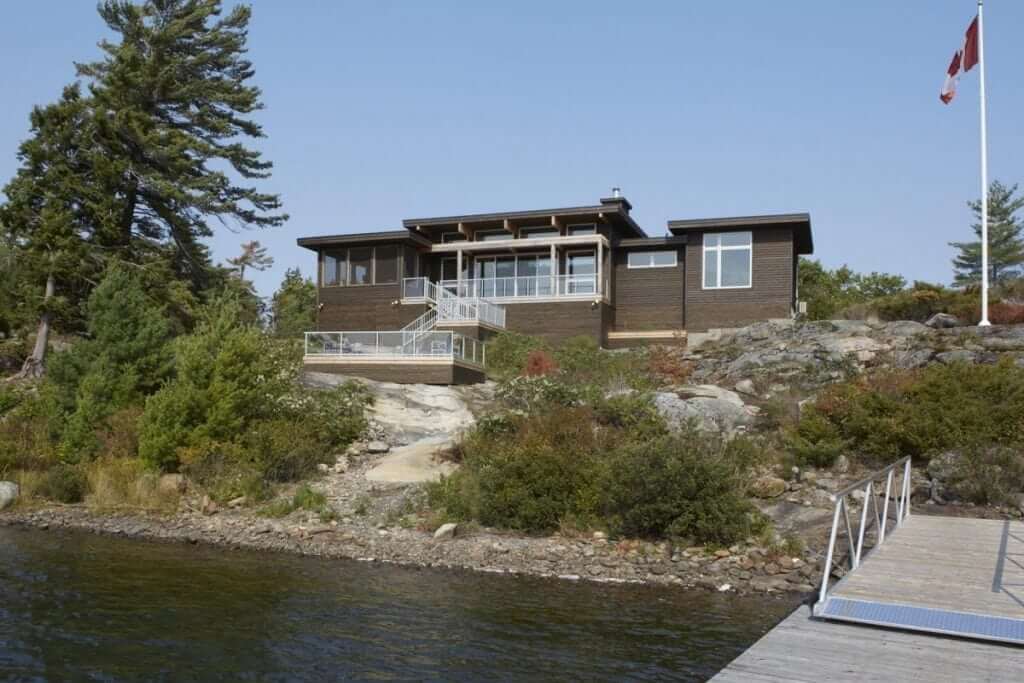 The great room is 32 feet wide and incorporates the kitchen, living and dining areas. "In the master bedroom we added a beam just for aesthetics," Axmith said.
The couple hired an interior designer to create an ultra-modern indoor aesthetic.
The exterior siding is composed of pre-stained cedar.
One thing people like most about this design are the ceilings, which strike just the right balance between elegant height and cozy comfort. In the great room they rise to 14 feet, but drop to 11 feet in the master bedroom, and 9 feet in the bedroom wing and sunroom. These different volumes and heights are reflected in the multiple flat roofs that top this modern design.
A Flat-Roofed Home in a High Snow-Load Area
Axmith said a lot of people query him about the wisdom of designing flat-roofed homes in an area where the annual snowfall can be up to 70 inches. He said that with Lindal's superior engineering capabilities, it is never an issue. The entire roof is coated and protected by EPDM, a synthetic rubber membrane that has been widely used on low-slope roofs for over 40 years. Roof runoff is facilitated by the installation of tapered insulation, which reaches a subtle high point from which moisture drains in four different directions. The roof itself is engineered to support heavy snow loads of up to 70 pounds. Beams 25 feet in length made of HGL glu-laminated fir and spaced 8 feet apart span the home from front to back. TJI joists lie perpendicular to and on top of the beams at regular intervals. Below, glulam posts in the outside wall are spaced at 8-foot intervals, supporting the beams.  "It is exactly the same as any flat-roof commercial building," Axmith said. "The nice thing with Lindal is there is never an issue structurally. Stick houses run into problems with flat on roof drainage." Lindal's post-and-beam system means that snow load pressure and wind resistance can be directly transferred into the ground. This is one reason why homes built using post-and-beam construction reliably meet and often exceed energy code requirements.
Axmith has good memories of this project. "They were great people to work with, more than happy with the design," he said. The builder built 100 of the 130 Lindal homes built in this area over the years. "It went very smoothly."
A different version of the Sargasso design is available through Lindal's Quick Ship Program: a collection of best-selling homes already drawn to the final permit stage. Each comes with a menu of optional revisions. Our Quick Ship homes are sold at a discount — subject to certain conditions — and can ship much faster than our more customized home packages.
Please reach out to your local Lindal representative for details and pricing.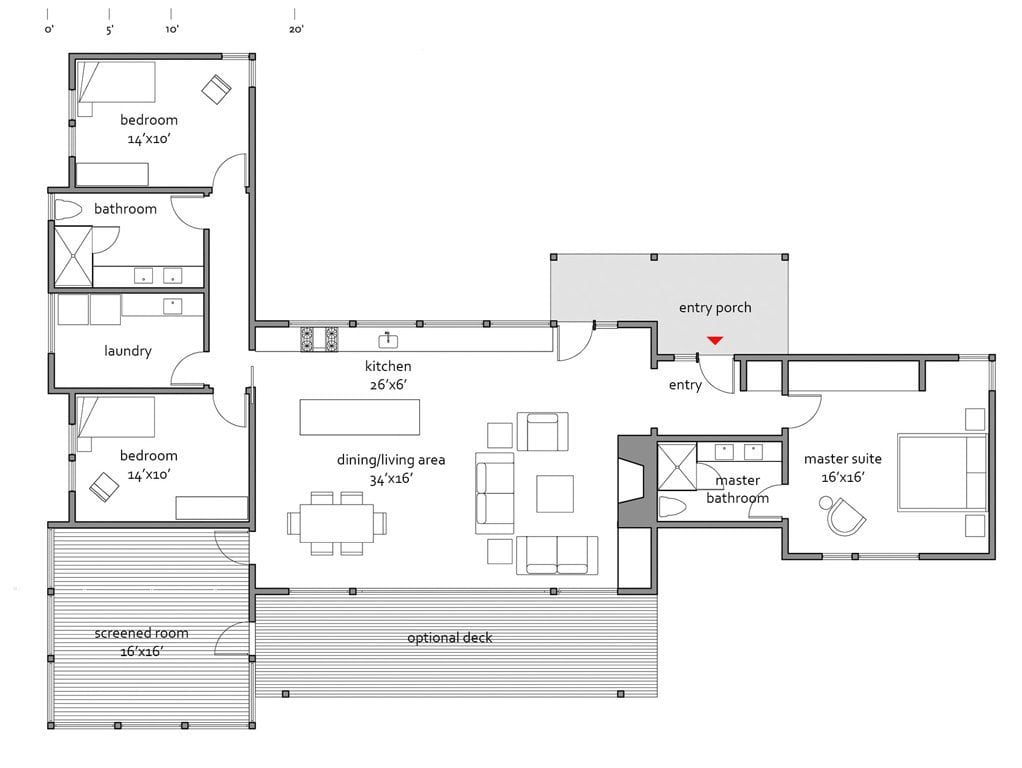 Enlarge
sargasso 1620

Image Gallery