Stories

Surviving the Hurricane
How Secure is Your Lindal Home in a Hurricane?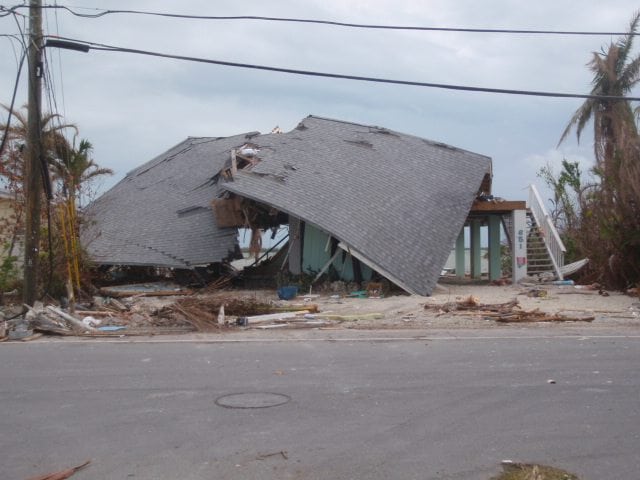 Above: This home on Ramrod Key in Florida was completely decimated by Hurricane Irma.

The Lindal home of neighbors Mike and Elaine McDonnell remained intact.
Homes Engineered to Last a Lifetime
How safe is your home in a hurricane? Most of us hope we'll never have to learn the answer to this question. Hurricanes wreak havoc on houses, breaking windows, tearing off roofs, and sometimes pulling an entire house off its foundations. Lindal homes have been built in hurricane-prone areas all over the world — from the Caribbean to Florida, and have experienced their share of hurricanes.
Structural Panels
Structural panels, when required by local codes, are used as prescribed by engineering, and they work very well with our naturally-strong system. Lindal post and beam construction is a system that readily withstands onslaughts of extreme weather on its own. We have had great success in our homes overcoming hurricanes and earthquakes.
Lindal Homeowners Share Hurricane Experiences
Over the years, in phone calls, emails, and letters, we've collected stories from Lindal homeowners and Lindal dealers who tell us how their Lindal survived the storm of the decade — or in some cases, the century.
Hurricane Irma IN FLORIDA: Category 5 — 2017
The McDonnell's Lindal home sustained only cosmetic damage at ground-zero of Category 5 Hurricane Irma.
From the Bahamas to Texas, homeowners in hurricane zones write to us at Lindal HQ to express their relief on discovering — through direct experience — how well their Lindal homes are built to withstand the strongest storms. Often, a Lindal is the only home left standing intact in a devastated neighborhood. Below are some pictures of the home of Mike and Elaine McDonnell and the homes of their neighbors in the aftermath of Category 5 Hurricane Irma, which hit the Florida Keys in September 2017. The McDonnell's home was located at ground-zero, on the tiny island of Ramrod on the lower Florida Keys. Irma is one of only five hurricanes in recorded history where maximum sustained wind speeds reached 185 mph or greater. Winds maintained this level for 37 hours; the longest on record.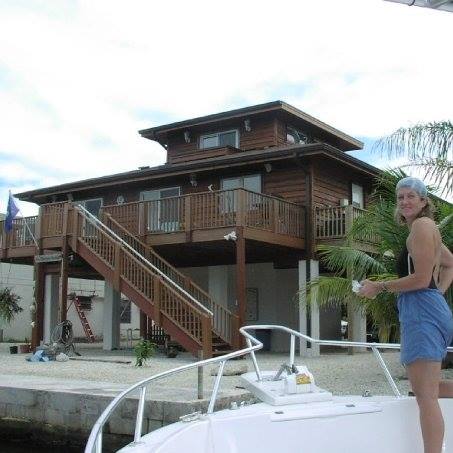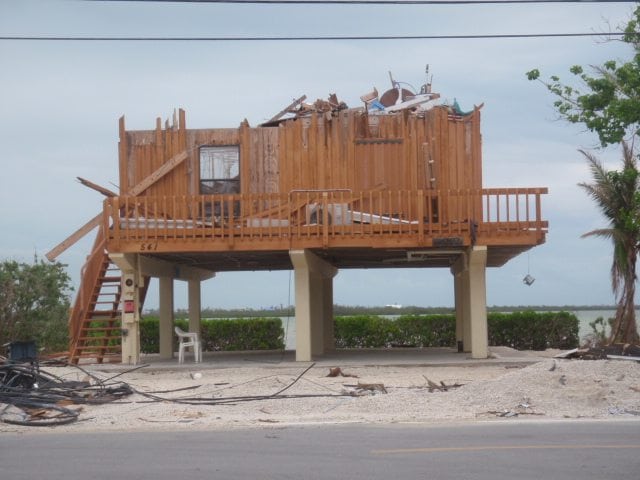 After Hurricane Irma: The Lindal home of the McDonnell's and a neighbor's home.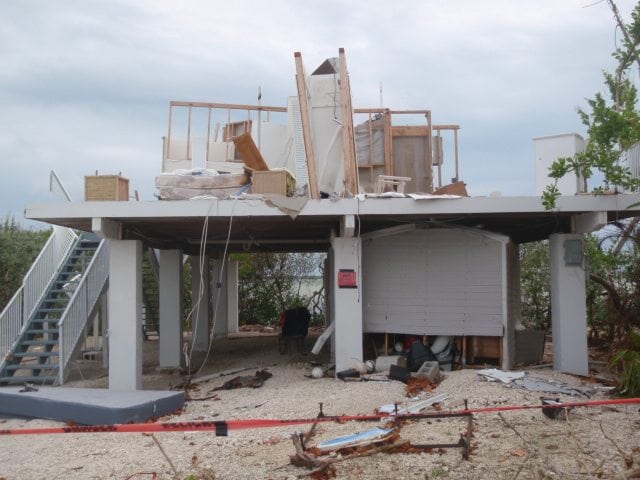 Sustained winds of 187 mph and a 6-foot water surge from the Gulf of Mexico on one side and the Atlantic Ocean on the other decimated this non-Lindal home on Ramrod Key.
 
Other homes on the McDonnell's street lost their roofs, their top floors, or were entirely destroyed by the storm.
Hurricane Irma IN THE VIRGIN ISLANDS: Category 5 — 2017
"We are over-prepared; we are nested in trees."
September 5, 2017
We are getting ready to test our two Lindal Cedar Homes in category 4 to 5 Hurricane Irma. We are over prepared, we are nested in trees. We have a good chance if the two next houses do not fall on us like in 1995 with Marilyn.
Keep us in your thoughts and get ready to send parts again.
Best regards,
Lindal Homeowner
St. Thomas, Virgin Islands
Lindal Justus Home
UPDATE from Homeowner:
September 22, 2017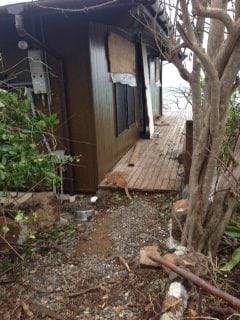 No structural damages
Per structural engineer friend the type of damages clearly are from debris
Small house [on] the other side trashed: no door no roof
Justus roof hit plywood home
Water all over
Congrats to the Lindal technique! It [with]stood two major hurricanes
Contact a Lindal Dealer Near You to Start Planning Your Lindal Home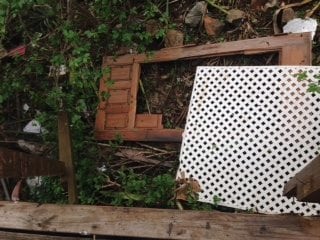 Entrance door frame hit
Door came [apart] in tiny pieces
Now in bushes
Sliding door and shutters went out
Plywood peeled
2×6 is mostly ok
Two sides are perfect
After two Cat Five hurricanes
"I remember the FEMA inspector coming…"
May 2, 2017
I was sorting out old papers and I found a fax from you dated 10/5/95. You were assisting us with the consequences of Hurricane Marilyn (replacement parts).
I remember the FEMA inspector coming and telling me that Lindal K29105 was the house which had best survived; just one broken lower window, a beam from another house went through and stopped in the bathroom wall.
Thank you very much for all,
Lindal Homeowner
St. Thomas, Virgin Islands
Lindal Justus Home
"Hurricane Isabel passed almost directly over his home…"
October 13, 2003
I just received a pleasant call from a very happy customer, Mr. David Vuich, from 12 years ago. He purchased a Sea Vista in 1990 (K28743)… built on the shores of the Chesapeake Bay.
He called to report that hurricane Isabel passed almost directly over his home with a total damage of 6 shingles lost while neighboring houses were devastated, some even coming partially off their foundations. He tells me he spent the night in his Lindal home and it barely quivered during the worst of the storm. He is sending photos.
Thanks,
Bill
"The 2,000-lb chimney was knocked onto the solid cedar roof."
September 11, 1996
Hurricane Fran roared through central VA and took a good shot at my first house which was within two weeks of completion. The 2,000 lb chimney was knocked onto the solid cedar roof. The extent of damage is that 8 bundles of shingles are required. The builder will obtain 1 piece of plywood locally to repair the hole. The builder is very impressed with the quality and strength of the roof system. Once we can get the bulldozer to pull the crane up the washed away driveway we'll be able to get the chimney off the roof to assess further damage, but it appears like the house took the worst show of weather that central VA has experienced in many years with just superficial damage.
Fran Manno, Lindal dealer
Chesapeake Bay
"I never want to see another hurricane, but I feel very secure riding one out in a Lindal."
September 12, 2004
We are alive and well. We just got electricity and phone service back.
The Lindal is a champ. Not even a pot moved on the suspended pot rack. We could seldom even hear the wind blowing… I am very impressed with our Lindal structure. I do not want to go thru a category 5 hurricane in any structure, but I will take my chances in a Lindal rather than get caught in a huge traffic jam trying to escape… It is hard to compare just what a Lindal costs as compared to regular construction, but I will tell you, when you are in the middle of a hurricane and not even a pot or pan is moving in the building, that little bit of extra it may cost is worth it for just those few hours. I never want to see another hurricane, but I feel very secure riding one out in a Lindal.
Bruce
Boynton Beach, Florida
"Leaves and bark were stripped from all trees…"
We were delighted to receive complaints this week from our two Lindal homeowners in Antigua. As you probably know, Hurricane Luis parked over Antigua for almost 24 hours, with winds measured at 160 mph. Many houses, some of them concrete, were completely destroyed. Even more lost their roofs. There were fatalities. Leaves and bark were stripped from all trees, changing the island from green to brown in one day.
We were concerned. The older Lindal home was built to our normal standards, which is 100 mph wind loads. The newer Lindal was built to our current minimum for Caribbean structures, which was 125 mph wind loads.
After two anxious days we were finally able to make contact with our owners. They started right out complaining about the loss of their shingles!!
Both houses came through the storm intact, with only the loss of shingles and some minor window damage. Considering that the air was full of flying debris from the exploding houses in the neighborhood, we were very pleased.
Atlantic Custom Homes Lindal dealer
Cold Spring, NY
Call Our Customer Service Line for Help Planning Your Lindal Home: 1-800-508-1833
"Mr. and Mrs. Royal on St. George Island were under mandatory evacuation…"
October 20, 1995
This hurricane hit the Florida panhandle with a vengeance last week, packing 130 mph winds and a six-foot storm surge over the high tide. Our Southeast regional manager immediately contacted homeowners she knew of in the area and all reported riding out the storm quite successfully. Mr. and Mrs. Royal on St. George Island were under mandatory evacuation and came back to find that three feet of water had passed under the home, scouring the landscape, but the house was undamaged. The Castellanos were evacuated from Ono Island and passed the time planning their new Lindal home, as they felt the whole island would be destroyed. Upon their return they found their home in great shape, except for a sailboat that wound up in the neighbor's yard, after travelling five miles! The Wisemans in Niceville rode out the storm in their home… Post and beam construction and hurricane clips make for a great combination in coastal communities!
Lindal Cedar Homes newsletter