Stories

Small Home, Big Heart
Hi Barb and Doug,

I just thought I would drop you a note as we sit here overlooking the lake and enjoying our Lindal lake home this long weekend.  I can't believe that 18 months ago this was just a dream and 12 months ago we were here in a tent pounding stakes for that dream.

I want to tell you that without your help, this would not have been possible.  I wanted to build a small house on a limited budget at the lake.  I called and talked to many people, but either my budget was too small or my plans were too small… Except when I talked to you, Barb.  You took a simple sketch of a house plan, worked with me on the budget and always made me feel like this dream was possible  We had a lot of bumps in the road to getting the house built, but you and Doug were so supportive and helpful.  I really appreciated that extra care and kindness.

I simply love the design of my lake home, My family will enjoy it for years to come.  Thank you for making my dream come true…I am forever grateful.

Rhonda

P.S. Please stop in for a visit if you are by this way….
Rhonda King had a sketch of what she wanted. A small home, 1,000 square feet total, with all the windows facing the lake. She had the land by the lake, two hours north of Saskatoon. She had a dream of what the home would mean for her and her family: A place to be together and enjoy the view of the lake and the rough and rugged beauty of the location. A place where she and her husband could eventually retire and look forward to regular visits from their sons and grandchildren.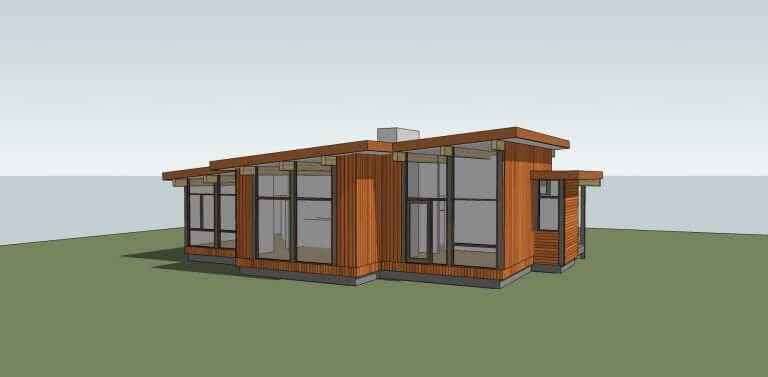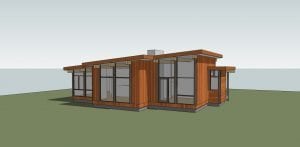 "I sent my sketch to several different places," she said. "But I kept running into roadblocks. Either my budget was too small, or the roof pitch would be too big to move… I actually didn't think it was going to happen."
By the time Rhonda met with longtime Lindal Cedar Home dealers Barb and Douglas Pocha of Prairie Cedar Homes, she was discouraged. But Barb was determined to help. "They treated me with such respect, took time with me on the phone, worked with their contractor, and made sure it was done right and was possible to build," Rhonda said.  
The Pochas of Prairie Cedar Homes worked with Rhonda and Terry King to modify their existing small home plan sketch. The Lindal Elements Elm design worked perfectly for their needs.
Prairie Cedar Homes helped Rhonda modify, and improve on, her small home plan. "Originally, I had the idea that the front of the house would be a high point and slope to the back. They changed the pitch of the roof and extended the windows all the way up to the ceiling. They pushed out the washer room so I even have a view from the washroom. I had imagined I would only have patio doors to look out at the lake from. Now, I have a floor-to-ceiling view. The Lindal window package is just phenomenal!"
The Kings enjoy floor-to-ceiling windows with views of the lake. All that's left to do is the landscaping! The Kings also plan to finish the basement, adding additional square footage to the home.
Construction on the home was completed in June, 2016.
To see more small home plans from Lindal, visit our Home Styles page and click on the Small Treasures image.
The Lindal Elements Elm design and many other modern home designs from Lindal are available in our Lindal Elements Design Portfolio plan book.