Stories

A Lakeside Urban Loft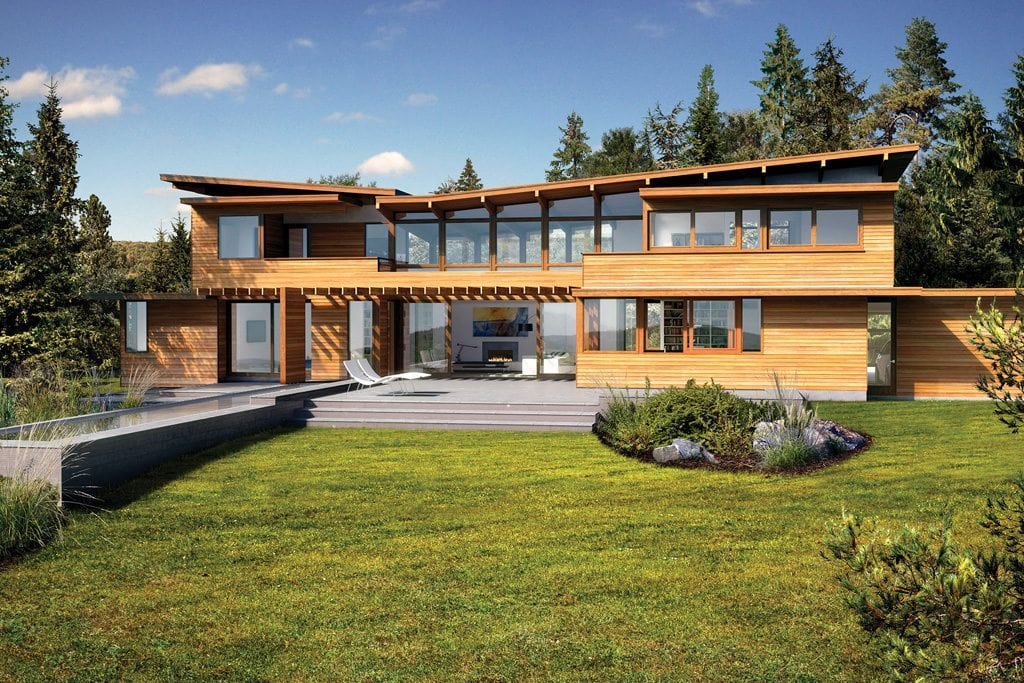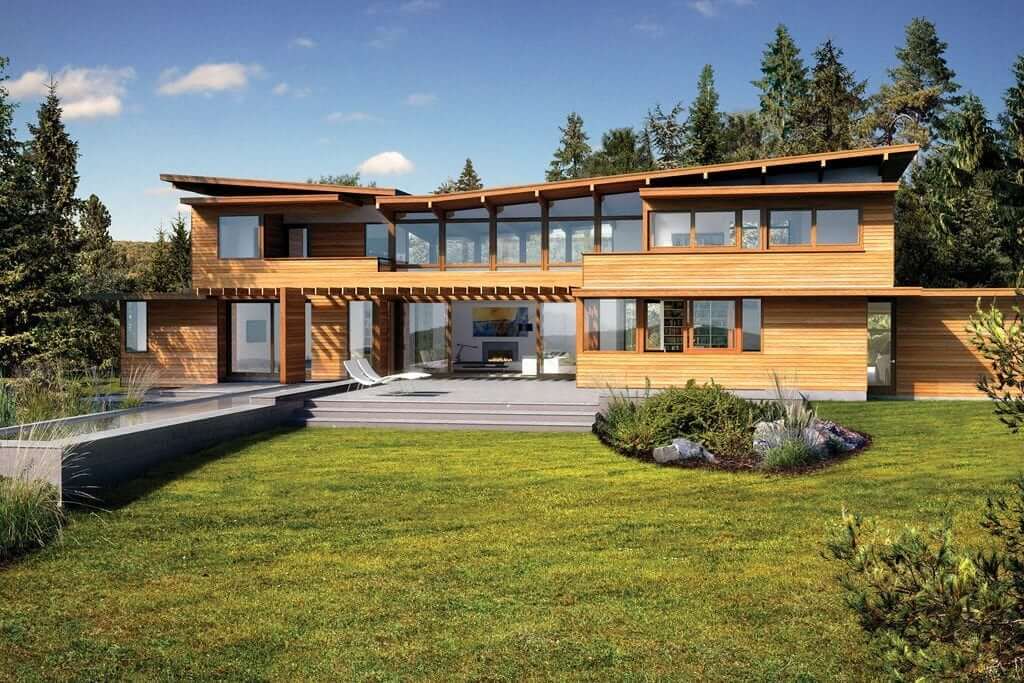 Halfway between edgy Montreal and Paris-quaint Quebec City, overlooking Lac Magog and a commanding view of Mount Orfird, is a Lindal that bridges two worlds.
"I had always wanted a home with exposed beams, warm and rugged. But at the same time, I was attracted to the modern edge of New York's urban lofts. I could never find a design that offered both until I saw the Turkel Design Lindal. And I knew at that moment I had to have it!" exclaimed Dany. The low-pitched sweeping roof, and particularly the vast expanses of glass with all the horizontal and vertical elements perfectly aligned spoke to him of a striking sense of organization. "This was my builder's first Lindal. He told me he had never built a home where the solid walls were organized around such meticulously organized windows, rather than individual windows being fit into large forgiving openings poked into walls. He also told me that this could only be possible with the quality of lumber he has only seen in my Lindal package."
Dany selected the model TD3-2990 from the Dwell Homes Collection, and his caring and attentive Lindal dealer, Raymond Lesperance of Quebec Cedar Homes and Cottages, facilitated the planning process. "We made relatively few changes to the standard house design, but we spent considerable time with Joel Turkel in on-line design review meetings, during which he made sure that we fully understood every aspect of the design," recalls Dany.
The conscious desire to create a "warm modern" home—an efficient and practical retreat with an urban edge, warmed by its relationship with the natural environment and the natural Lindal materials—guided many of Dany's finish decisions. "The radiance of the post and beam roof system and wood ceilings is balanced by three foot square charcoal gray concrete tiles used throughout the ground floor. The warmth of the cedar windows and welcoming 10-foot high entry door are countered with the bold grey acrylic stucco exterior and the freestanding steel staircase leading to the second floor. Even the custom zebrawood kitchen cabinets blend warm golden and striking graphite grains.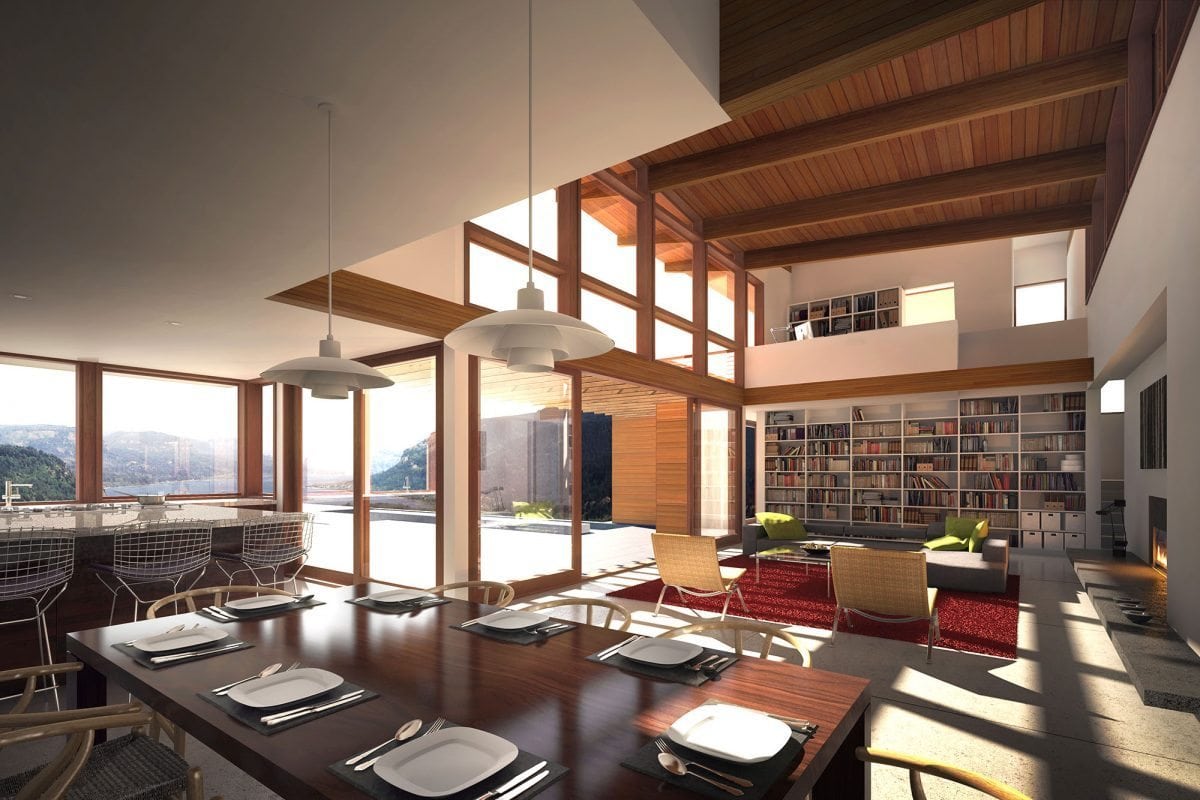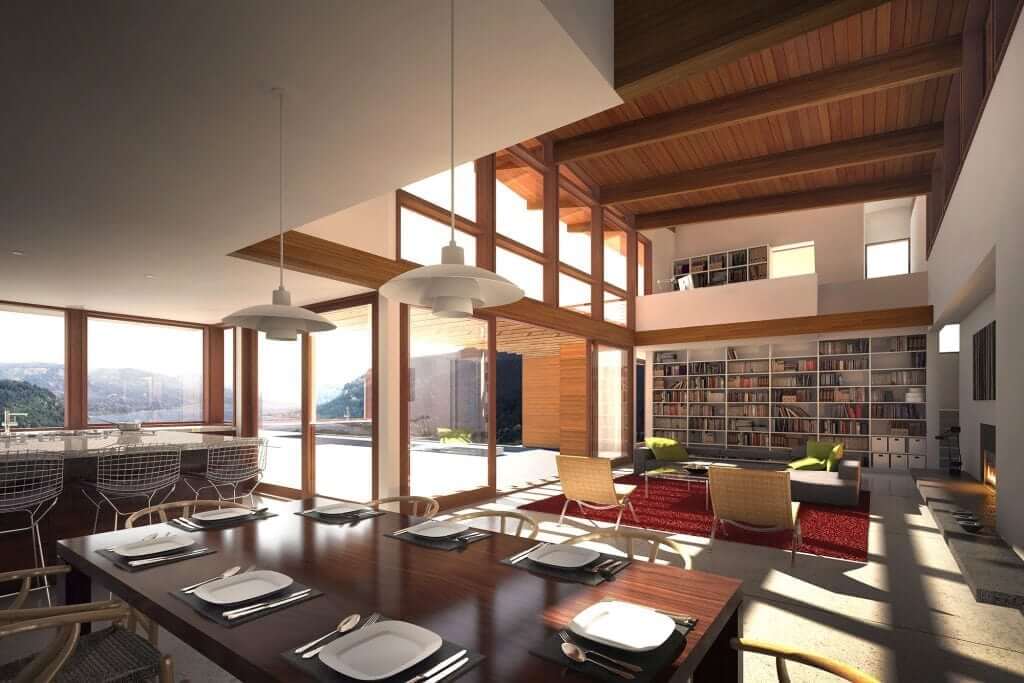 Still, there is no mistaking the fact that Dany, a dentist who practices locally, chose to build his primary home here to enjoy the natural environment. You can hear the joy in Dany's voice: "The house is so perfectly sited that it is filled with natural light from dawn to dusk. And the serenity… The house is so solid that when the windows are closed you do not hear a sound, not even the passing recreational boaters on the lake. But, ahhhh, when we see the magnificent sunset and open the twenty foot wide Lindal accordion door to the patio, the entire house becomes a nature sanctuary with the rose colored glow, the sound of the birds, and the fragrance of the wildflowers."
Now, I ask you, where could you find that in a Soho loft?