Stories

Award Winning Lindal Custom Home in Pittsburgh

When Duke and Gisela began planning a replacement for the vintage 1943 home in which they raised their children, their goal was to design a home that was totally accessible and would allow them to live on one level as they matured. Their new home would be environmentally responsible and an appropriate addition to its suburban Pittsburgh neighborhood that contains an eclectic mix of residences with architectural personalities emblematic of contemporary design when they were constructed over the last century.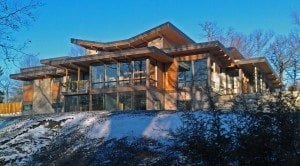 They didn't anticipate that their personal journey and their modern Lindal would be publicly recognized by the juried Pittsburgh Builders Association's annual award program as both the Green Home of the Year and the Overall Best New Custom Home of 2012.
Their journey began with three experiences with local architects, whose designs disappointed the aspiring modernists. Discouraged, they began exploring the prefab approach and attended a Lindal webinar, in which the well-organized and articulated expanses of glass, flexible modern interiors, and varied flat and soaring rooflines caught their attention. Duke and Gisela learned that building green from the ground up was a manageable task that would make their new home more comfortable and energy efficient without adding ungainly expense.

Within a few weeks, their collaboration with the local Lindal dealer and the Lindal design staff produced a custom Elements design that met all their needs and inspired them to move forward with greater conviction and determination to build green. "We could hardly believe that the first sketches captured the personality we were seeking and responded to all of our priorities.  Our sense of despair turned to genuine excitement," Gisela recalls.
Duke and Gisela's recently completed Lindal is a modern stunner with a gull-wing roof that collects rainwater for slow release into the landscape, expanses of south-facing high performance glass, and energy efficient hillside siting. A photo-voltaic array and high levels of insulation combine to produce almost enough electricity to "fuel" the home.
"During construction," Gisela relates, "our builder remarked repeatedly that the Lindal materials were among the best he'd ever worked with." And when the house was recently completed the "gorgeous laminated beams, clear cedar ceilings of the great room and the simple trim all create a natural warmth that escapes no one."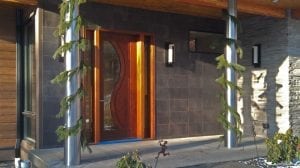 The sunbathed Lindal interior balances lofty spaces with cozier and more intimate spaces for reflection, family dining, and quiet conversation. "The new house is perfect for the two of us, but will surely become the lively scene of larger gatherings and holidays when our entire family returns to be with the old folks in our modern green home," Gisela anticipates.