Projects

A Renaissance Woman Masters Net Zero
Laurie Pitman's Journey to an Eco-Friendly House
Growing up in rural Nigeria as the daughter of medical missionaries, Laurie Pitman learned by necessity a do-it-yourself approach to life's challenges that has served her well throughout her life, including her homebuilding adventures.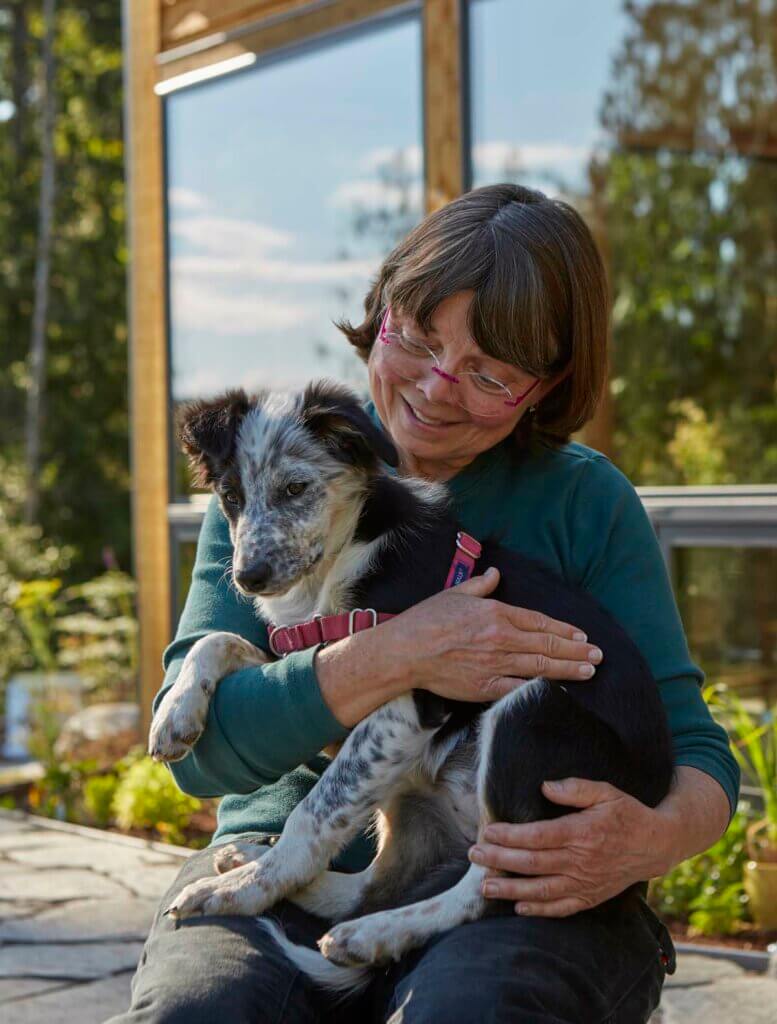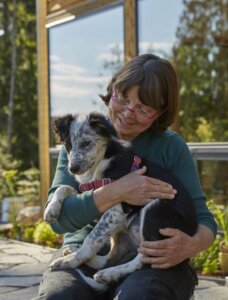 Laurie today with her border collie, Emma.
A Polymath With Many Interests
Laurie, 69, is a polymath with many interests and multiple careers in music, aviation, history, languages, engineering, and business. Originally trained as a classical pianist, she worked as a professional pilot in the 1980s, then went back to school to earn a master's in library science while studying for a PhD in Ottoman literature. In the 1990s she moved to the Bay Area, where she cofounded a highly successful software company that was sold to Oracle in 2008.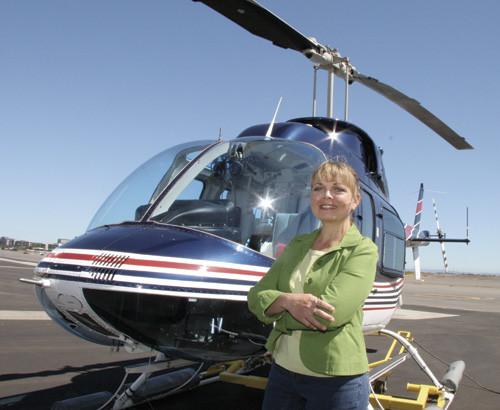 Following a temporary retirement, she owned and operated a Bay Area helicopter business until her "real" retirement in 2012.
"The Art of the Hammer"
Along the way, she developed an interest in eco-friendly home design and renovation. "I've done something significant to every house I've owned," she said, "which goes back to the tiny bungalow I bought for $25,000 in 1977."
She spent over two years after her "first" retirement renovating a 1915, 8,000 square foot neoclassical house in the center of San Francisco. "I have a lot of history in the Art of the Hammer, as my dad called it," she said with a laugh.
Her first Net Zero home was an off-the-grid house in the Berkeley Hills of California, which she built in 2015.
A New Adventure
By the time 2020 rolled around, "I needed a new adventure," Laurie said. She purchased 10 acres of undeveloped land in Southworth, an unincorporated community in Kitsap County, Washington, that was sunny enough to support solar power. She put her Berkeley house on the market for $2.35 million and left the Bay Area, her home for 30-plus years, to start a new life – and the custom build process – all over again.
A couple of friends who lived in an A-frame house near her new property showed her some of their Lindal house plan books, featuring classic post-and-beam homes with prow fronts and high-pitched roofs. On the Lindal website, she discovered the company's modern homes, which were more in line with her own aesthetic, and reached out to local Lindal representative Michael Harris of Warmmodern Living to design her new home.
"I'm a geek," Laurie said. "I was a software engineer for many years, and I'm really fascinated by new technology, and trying to be conscious of the resources that I consume and what I'm leaving behind."
The Lindal Custom Design Process
Laurie worked with Michael, who holds a degree in architecture from MIT, to extensively modify an existing design – the popular Lindal Elements Cedar model featuring two mono pitch roofs – to meet her site, lifestyle needs, and desire for sustainable living.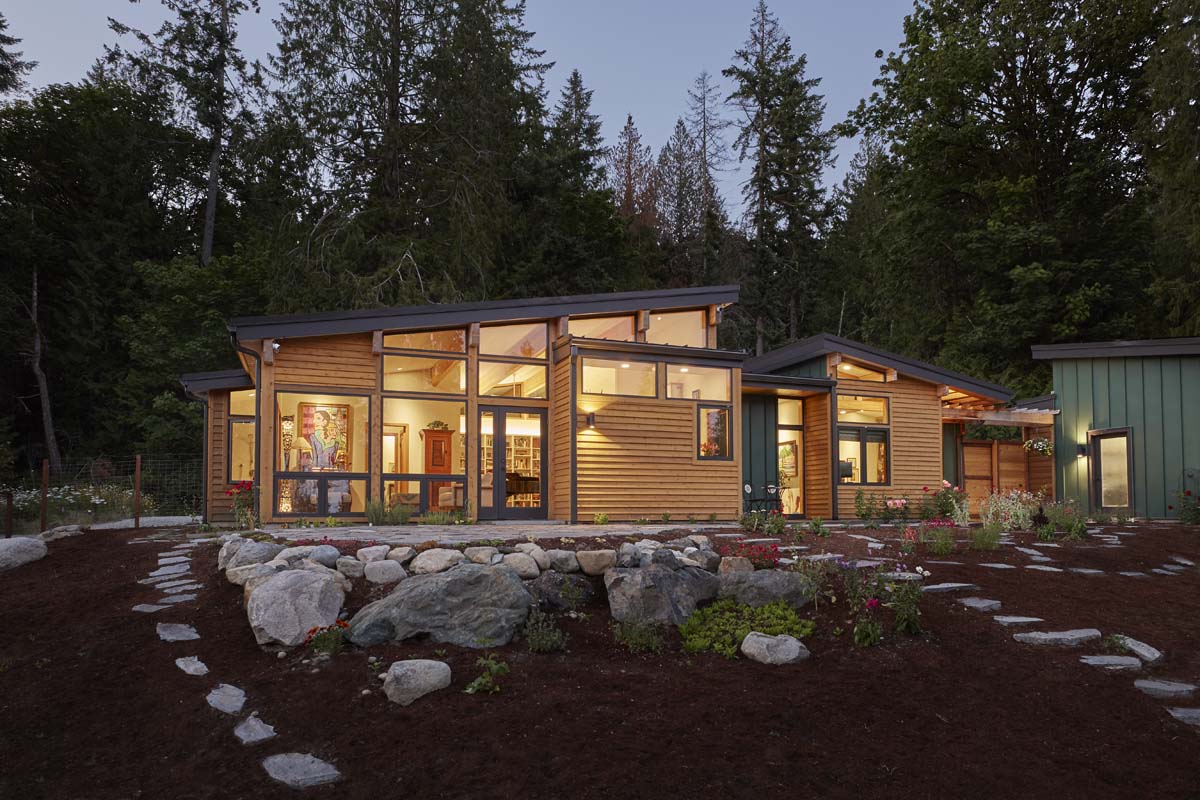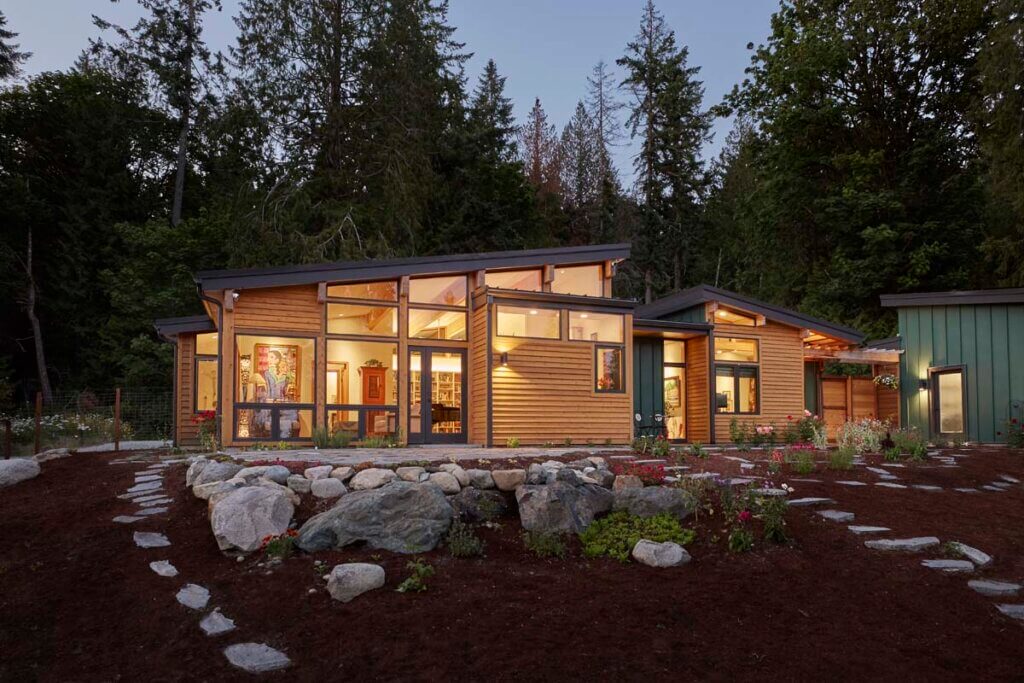 "Every major living space enjoys a panoramic view through south-facing glass to a gently sloping field of rockery and wildflowers planted by Laurie," Michael said of the highly personalized design. "A flagstone terrace off the great room provides the opportunity to dine or relax surrounded by the flowing landscape."
Laurie incorporated everything she learned from her Berkeley house project – while taking full advantage of significant improvements in resources and technology – to build her fully Net Zero Lindal home.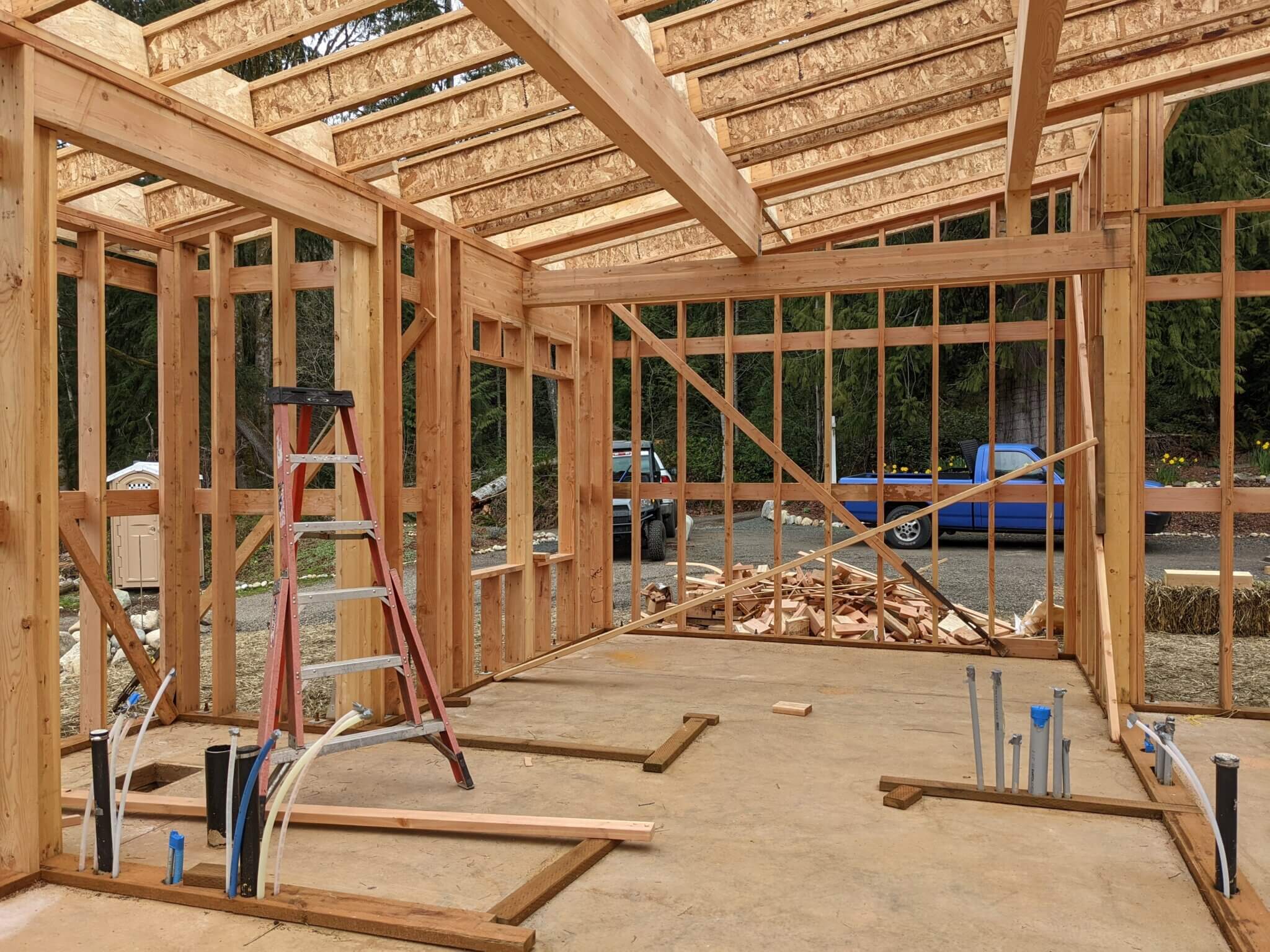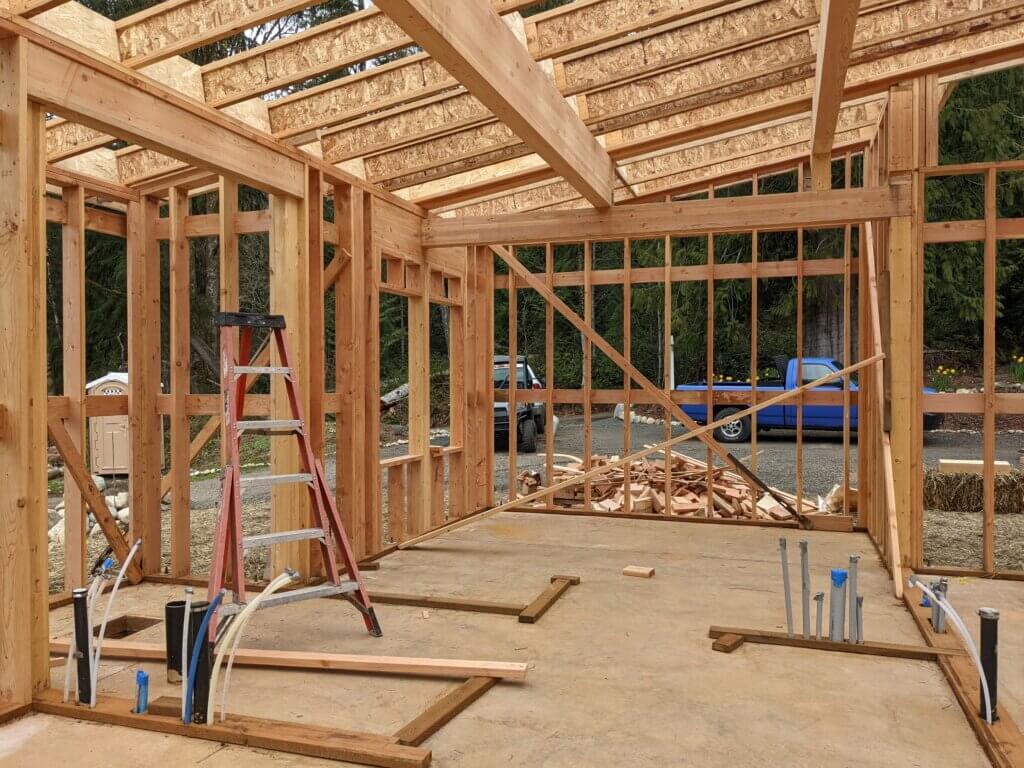 "I lived in an RV on site for two winters while I was building the house, so I was here every day," she said. "The first thing I had to do was get electrical service onto the property – a well needs power to pump, so you have to get that established first. I lived in the RV for three months before the well was dug, so I had electrical but no well water, only the RV tanks. I will never get over the luxury of a hot shower!"
"Once I made the decision, it took six months to get a permit," Laurie said, noting that when the design was complete, permitting and construction took 17 months from start to finish. "I had my first delivery before I had people lined up to build it! I acted as my own General Contractor; you can do that if it's your primary residence."
Increasing Interest in Eco-Friendly Living
Michael noted that over the last few years he's seen a significant increase in his clients' interest in sustainable living.
"I think the pandemic forced people to be at home and start thinking about the environment more," he said. "Being in nature and conserving energy are more important than ever. My last five projects were all off the grid, and in the previous five years there were none."
Laurie was pleasantly surprised by the improvements in environmentally friendly products available for private residences in the five-year interval between her first and second new home builds. "Everything was cheaper, smaller, faster and more efficient," she said.
"I had 53 solar panels on my [old] roof. Now I have 38 panels producing the same amount of energy." Her old house was 2,213 square feet, whereas the new one is a compact 1,377 square feet – "a much more sensible size for me."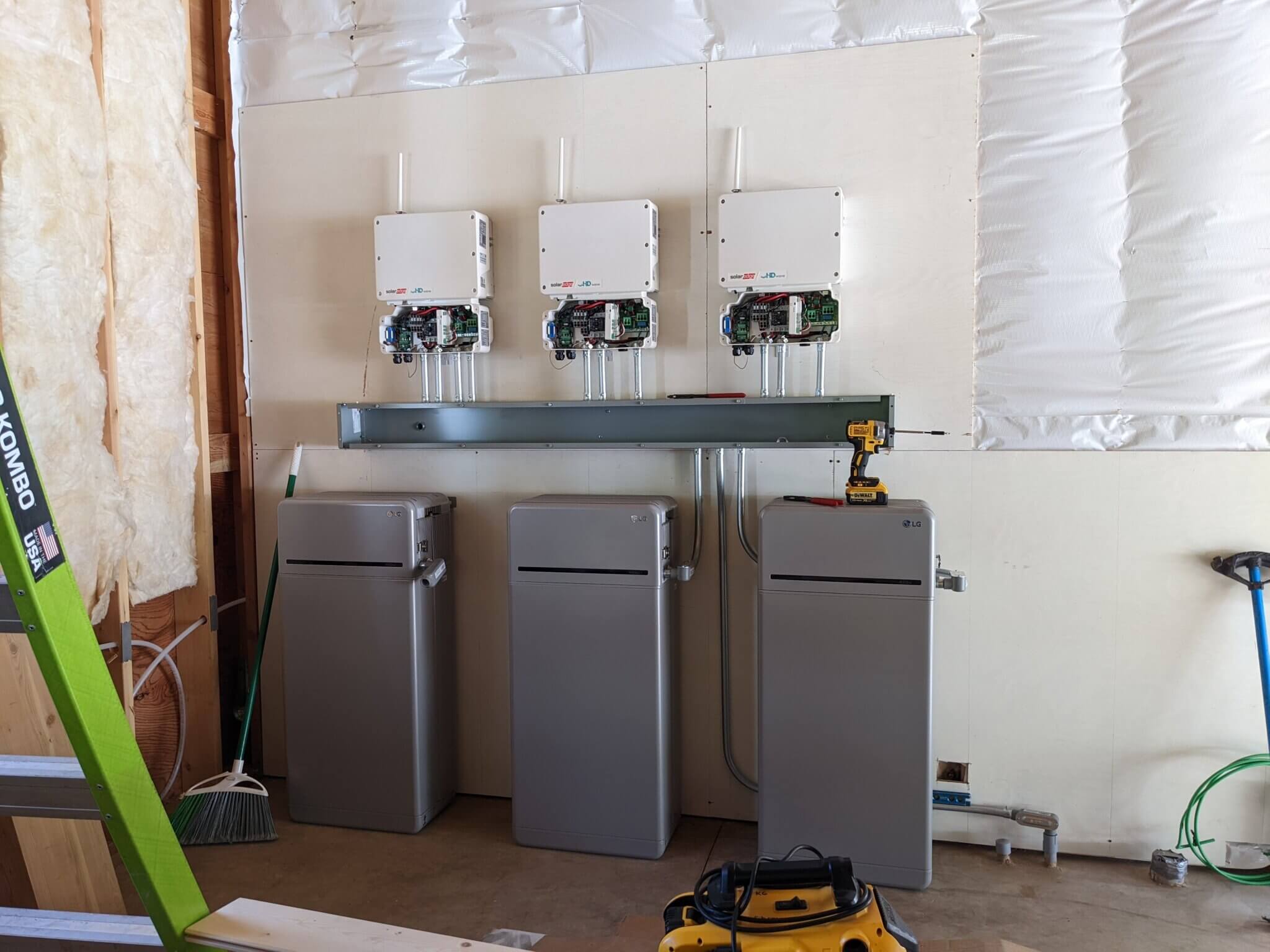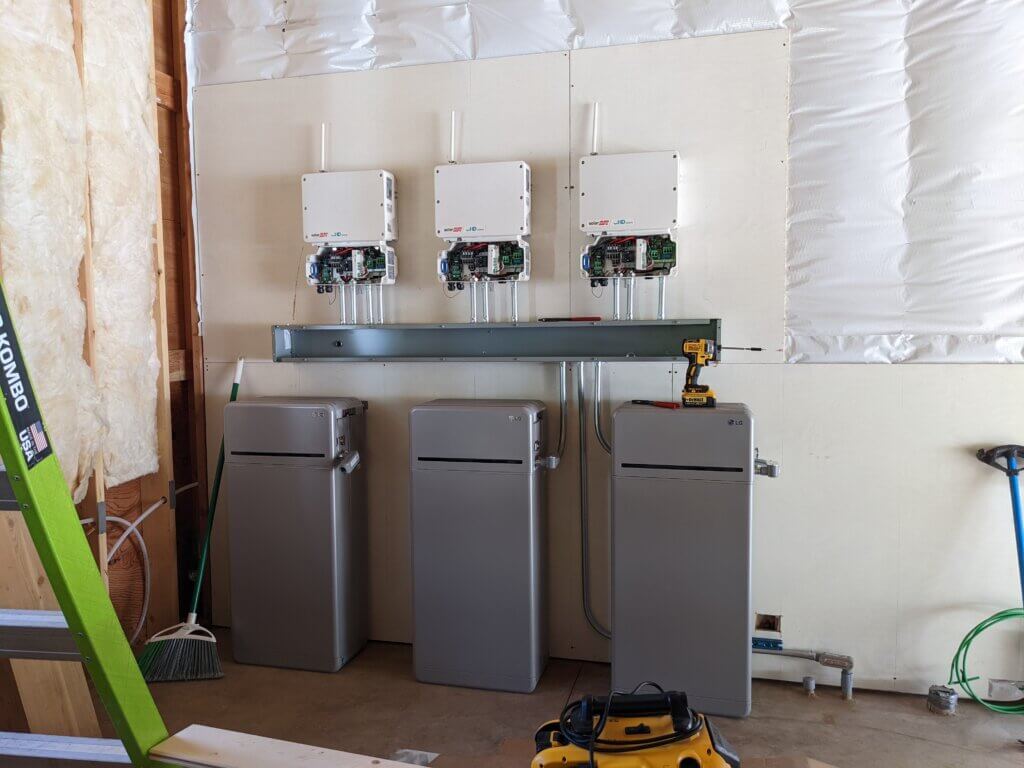 Laurie installed three batteries in the garage to store energy from the solar panels. "I really need the batteries. I live in a rural area and lose power often." While the home isn't technically off-the-grid, the batteries generate enough power to keep essential electrical systems functioning in the event of a power outage. And Laurie finds her panels generate enough solar energy that she often ends up donating power back to the grid.
She chose a standing seam metal roof for longevity and fire-resistance. It also made installing the solar panels easy. "They put the panels on rails that slide on top and bottom. The rails attach to the standing seam of the roof with brackets that grip the roof without piercing it."
There is no gas in the home. A heat pump outside the garage creates hot water for radiant heat in the floors, which are poured concrete.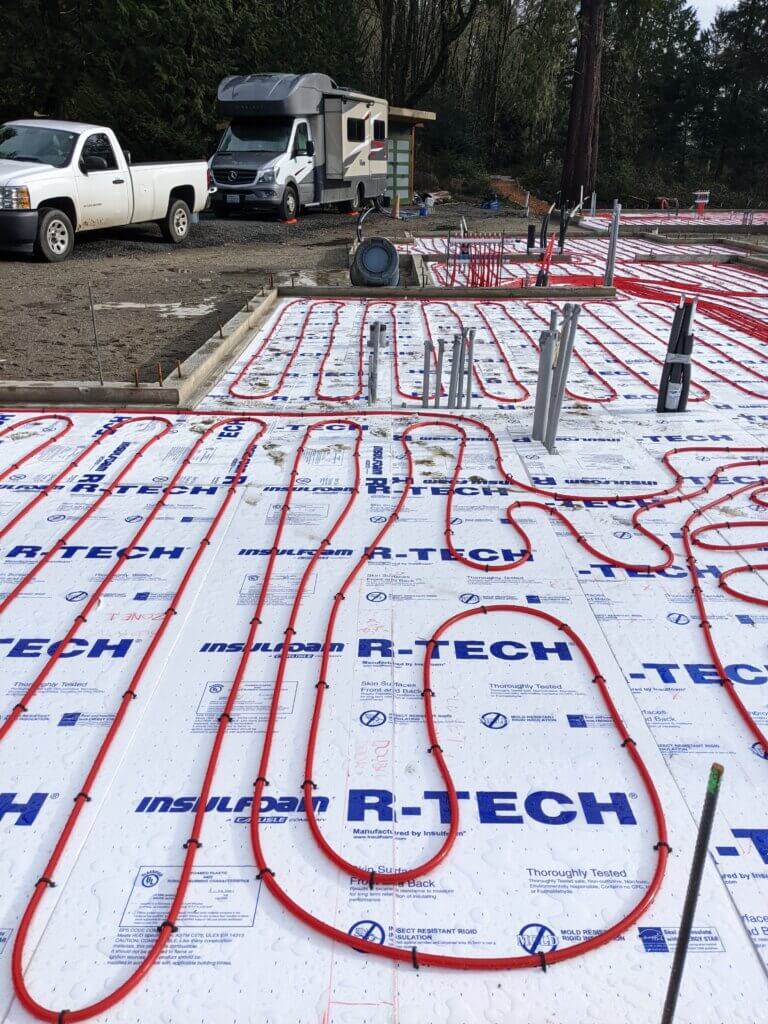 "I love my concrete floors and that too is part of a net zero home – no forced air heat, no blower," Laurie said. "Radiant heat and concrete floors keep the house cool in summer and warm in winter."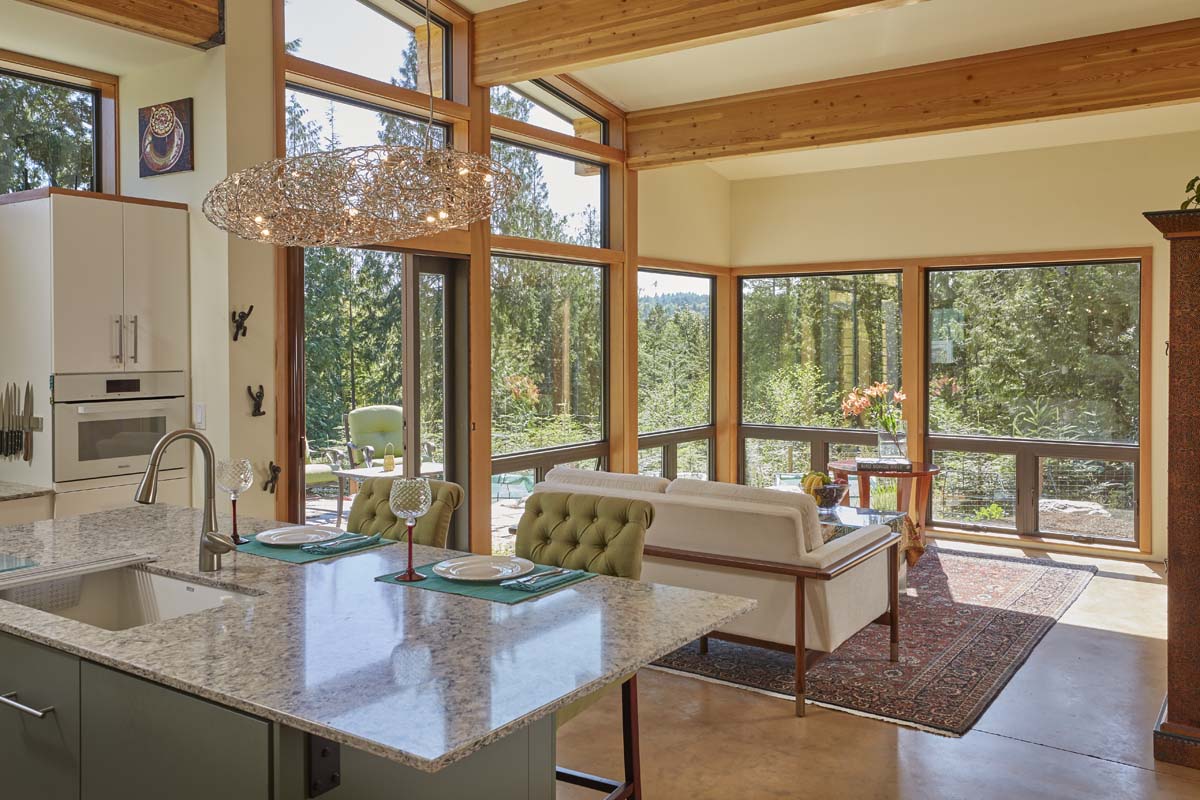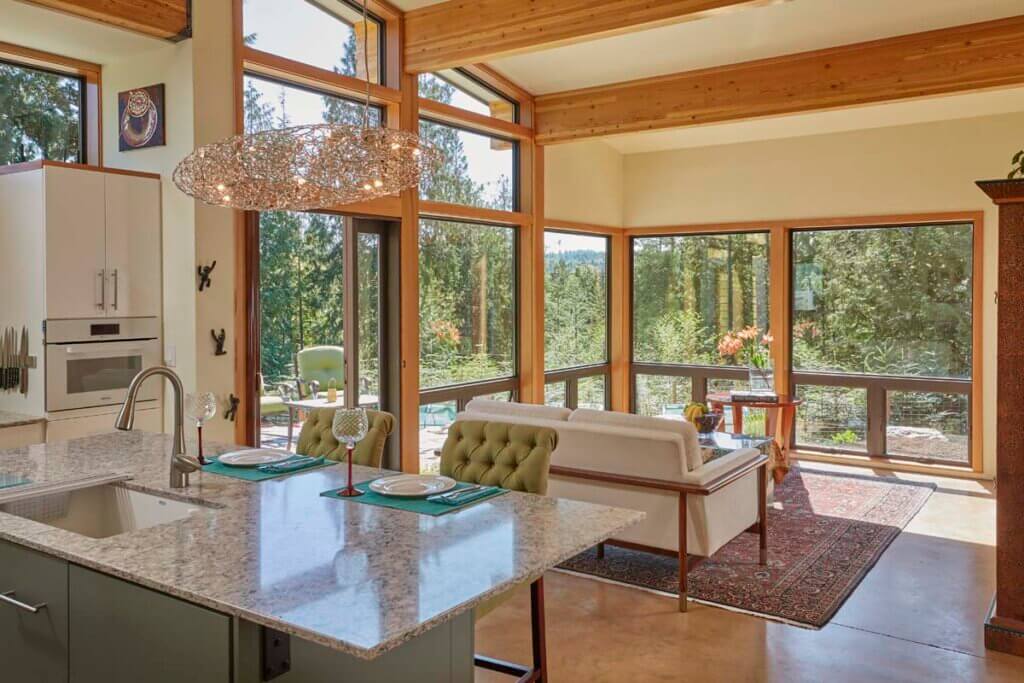 There is no air conditioning, only the natural convection currents made possible by openable windows in the main rooms that allow for passive cooling via the flow of natural breezes. "I installed ceiling fans in all three bedrooms and the library that circulate air in the living, dining, and kitchen area."
Hot water comes from a 55-gallon electric boiler for the hot water heater.
The Net Zero House – An Option for Everyone
Laurie is convinced that a Net Zero house is a viable option for anyone looking to build a new home. "I hope this article inspires other people to build net zero," she said. "I don't think it's any more expensive now than building normally. If you are curious and willing to do the research, you don't have to have a lot of technical background. If you don't have the technical know-how, you need to hire someone who does. You don't have to be an engineer; you just have to be interested in the topic and go and look for things. Part of it is having a clear vision of what you want. Every change order adds a week."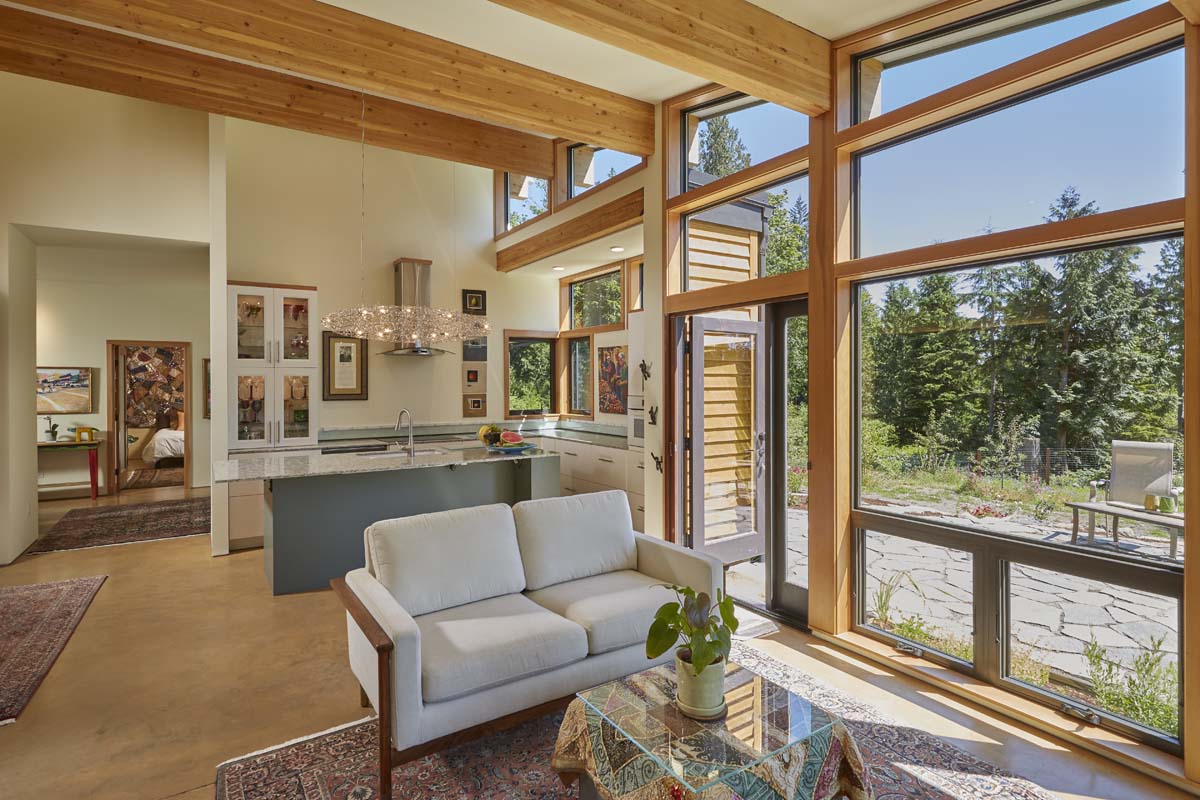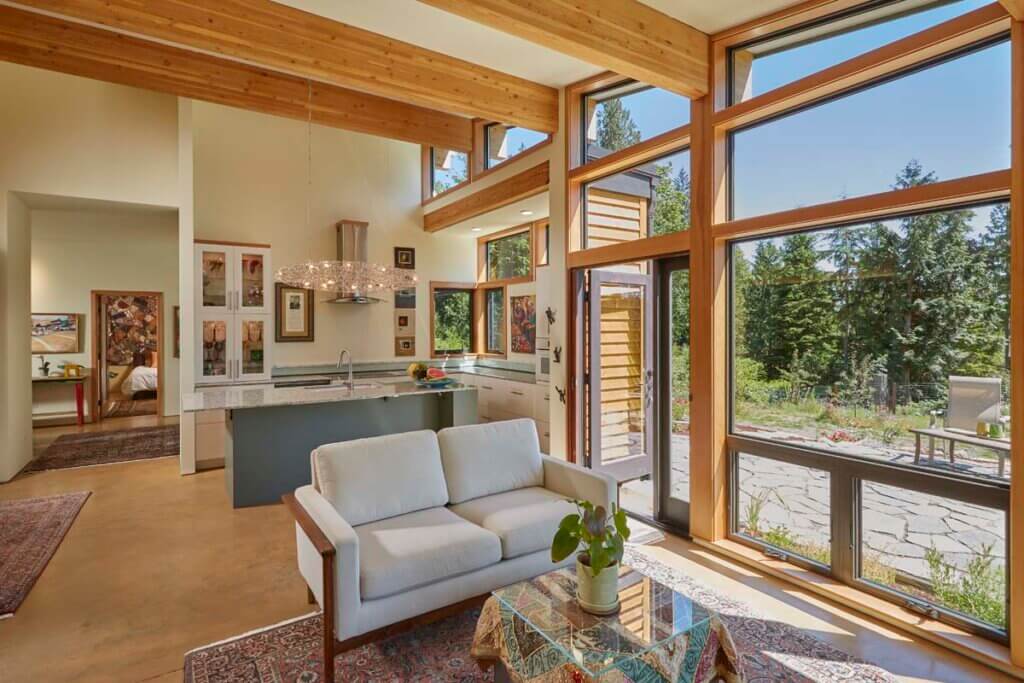 Besides the carbon neutral footprint, Laurie has found many other things to love about her new home. "This is my forever home," she said. "I built it for me. My favorite space is the great room. I love sitting on the couch and looking out toward the water."
Laurie, who names all her homes, calls this one Mirabel, because "I love the plums, and the loose translation of the word is 'wondrous beauty.'"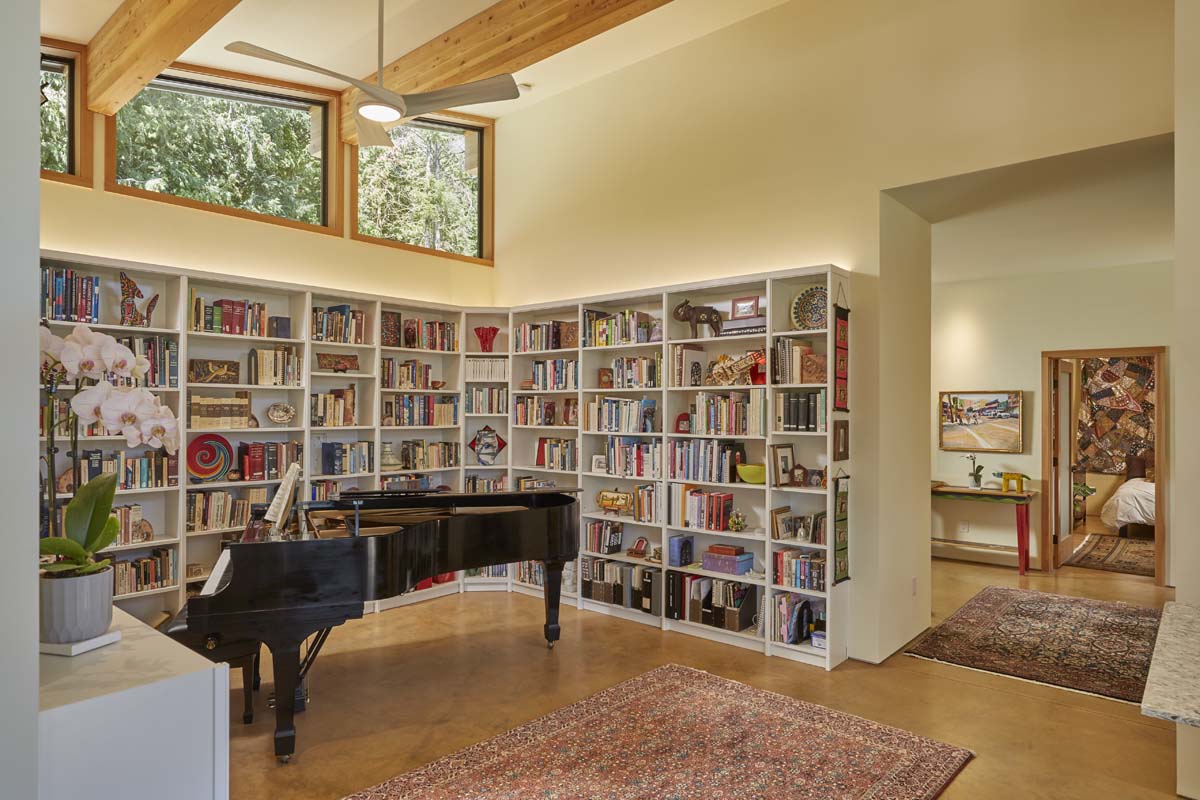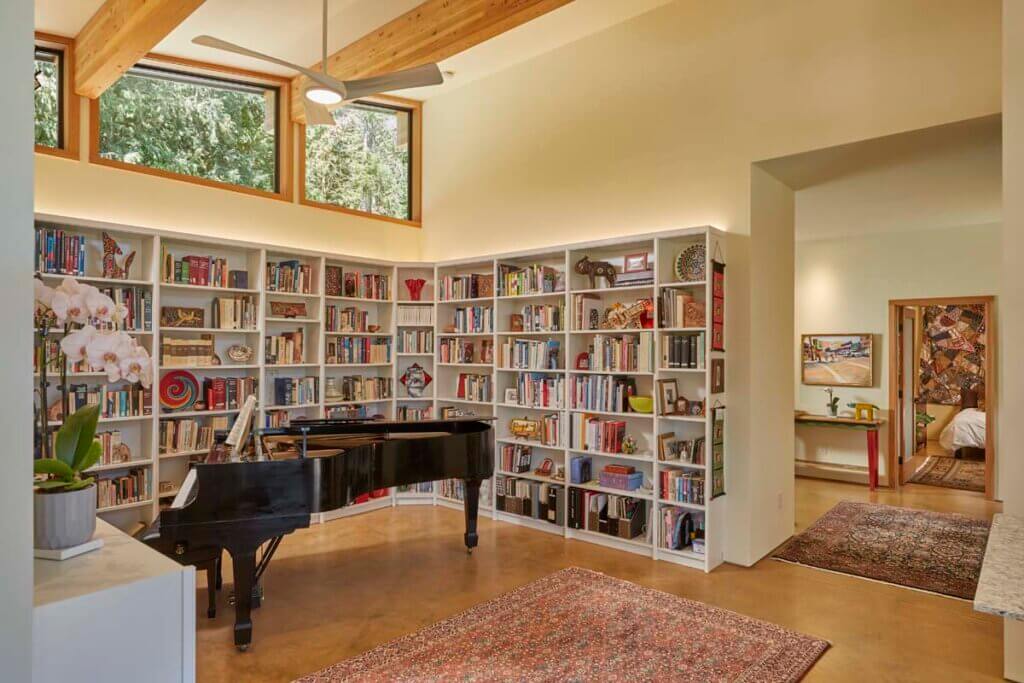 The most personal space in the house is the library/piano practice space that is open to the great room. Hundreds of books line three walls that embrace a concert grand that Laurie plays daily, much to the delight of her border collie puppy, Emma. Unlike the large expanses of glass elsewhere in the house, the space is softly lit by three trapezoidal windows placed under the sloping roof, protecting Laurie's treasured heirlooms and travel mementos from direct sunlight while offering a view of the sky from the piano bench.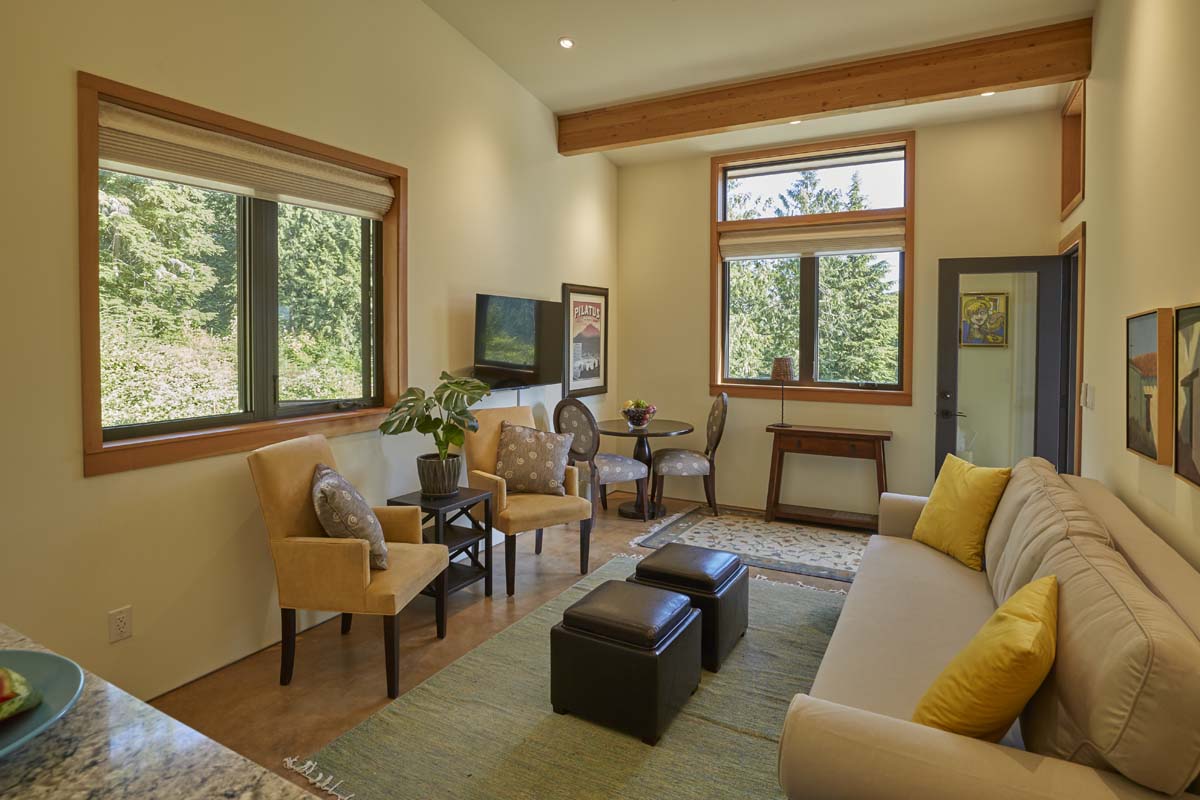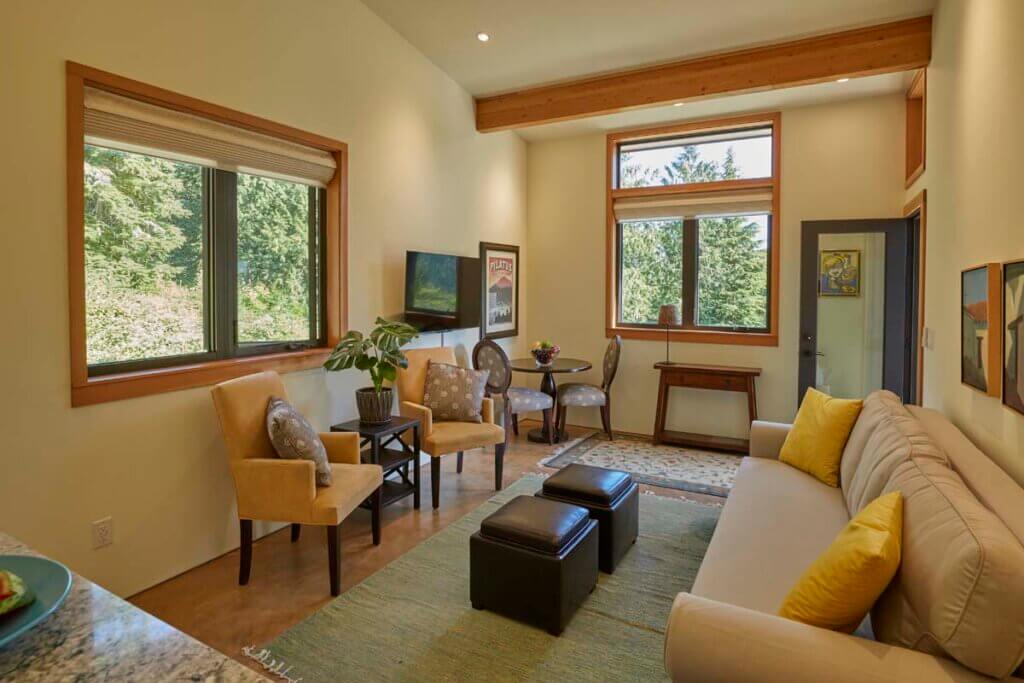 An open walk leads from the main house to a detached garage and workshop area, which adds another 646 square feet. The workshop is more like an accessory dwelling unit (ADU), with its own entry, bathroom, and a kitchenette. Already, Laurie has had friends and family stay in the ADU, all of whom appreciated the peace and privacy of the space, which looks out over her back yard.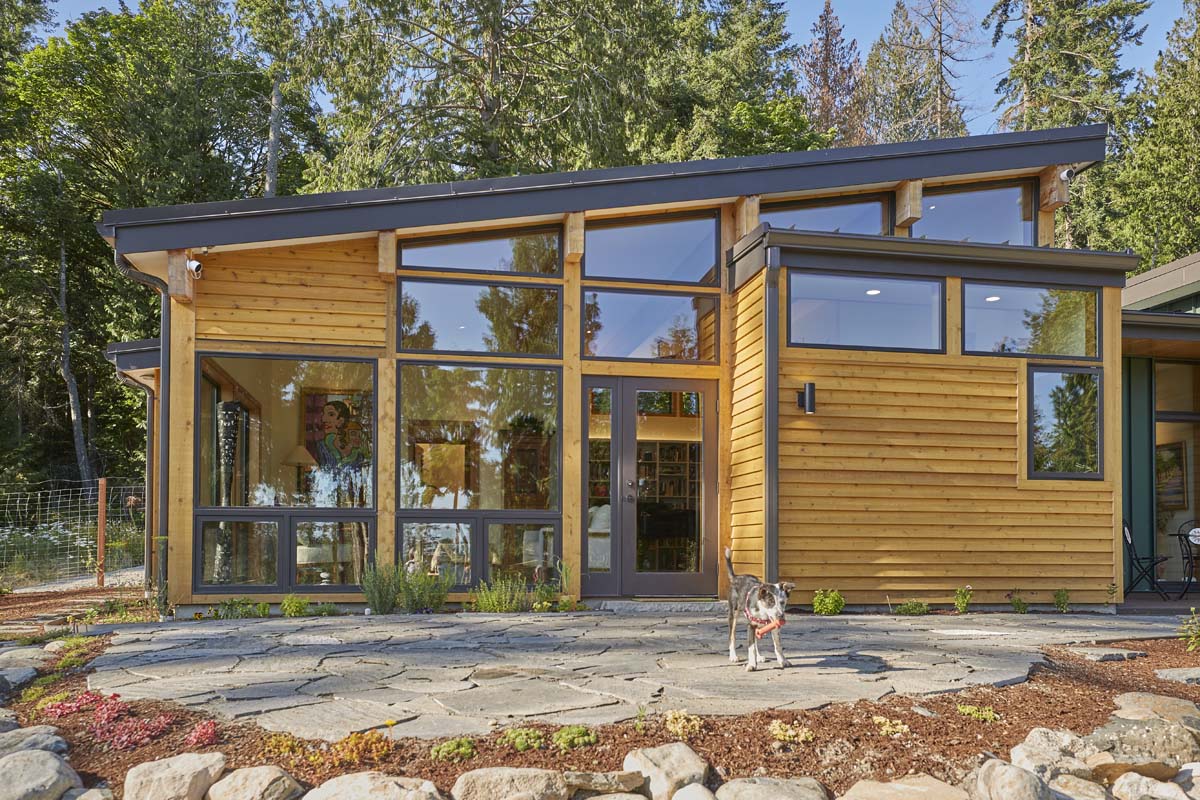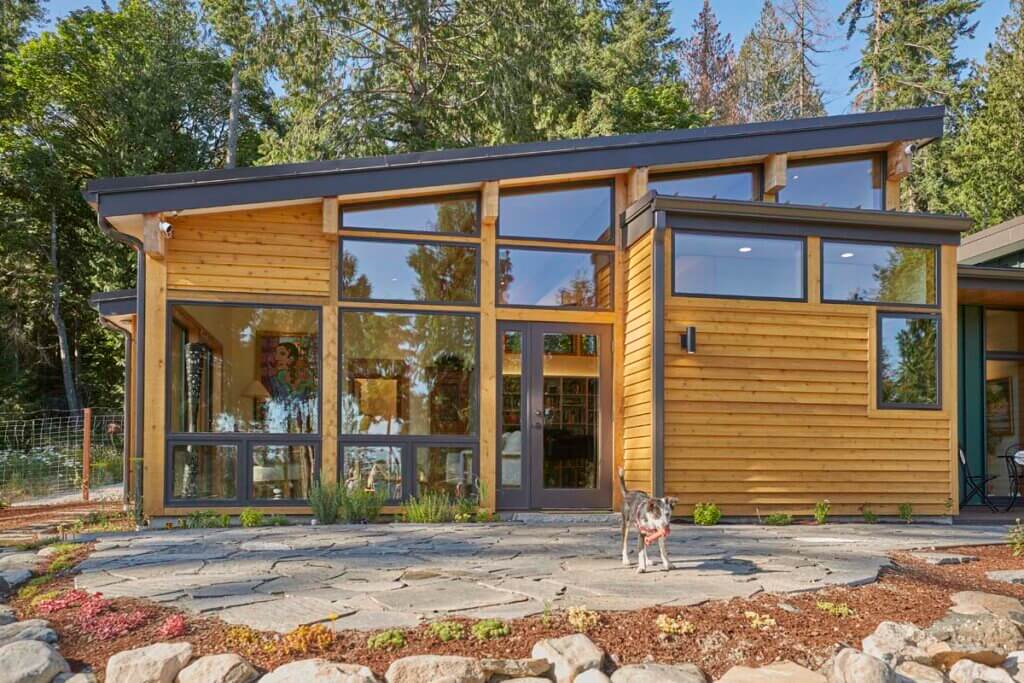 This past summer, Laurie enjoyed hosting a weekly "beer happy hour" for friends at her home. "The high ceilings in this house make it feel very spacious," she said. "If the ceilings were eight feet, it wouldn't feel big. Even when I have 10 people in it, it doesn't feel crowded, especially with the big patio. I love the design of it; I love the light."
Exceptional Materials, Precision Design and Engineering
Both Laurie and her framer, Bear Broadrick, were extremely impressed with the quality of the Lindal materials package and the precision of the post-and-beam construction method.
"The quality of material that I got from Lindal – it's beautiful wood. The way that Lindal puts together the house is just so cool. One of the things I love about the house is the detail and the fineness of the engineering; and I would know, because I've seen plans before. Bear spent a week studying the plans before framing – he said he thought it was fascinating."
Architectural Level Design for Less
Laurie also appreciated the ability Lindal gave her to design a custom home for a fraction of the price of hiring an architect. "I've done it both ways, and this way is a lot less expensive than hiring an architect. Lindal has a lot of stock designs, but there's ways to customize the designs. It's really great because it gives people something to start with. I think that's a cool thing."
NOTE: Each state has its own procedures for home systems coexisting with the traditional grid. Some states allow you to sell excess electricity back to the power company; some do not. Some require that you buy power off the grid at certain times of the day; others do not. Contact  your power company or research reliable sources online before you initiate your own project, to make sure you know the practices in your state. Your local Lindal representative can also help; find yours at lindal.com/dealers.
Information and Resources
Lindal Cedar Homes Independent Representative
Michael Harris
Warmmodern Living
Website: warmmodernliving.com
Owner/General Contractor
Laurie Pitman
Framing and Carpentry
Bear Broadrick
Master Level Construction
Phone: 253-223-1638
Website:  masterlevelconstruction.com
Photography of Completed Home
Patrick Barta
Website: Barta Pictures
Construction photographs provided by the homeowner