News

Christina Lindal Shares Her Vision for the Future
"It's about the legacy and giving people beautiful homes."

With roots in the family business starting in childhood, Executive Vice President Christina Lindal is uniquely qualified to lead Lindal Cedar Homes into the future. 
Born and raised in Seattle, Christina Lindal's involvement with the family-owned business, Lindal Cedar Homes, goes back to age five, when she 'starred' in an introductory Lindal video with her grandfather and company founder, Sir Walter Lindal (1919-2011). While still in elementary school, she helped collate binders for the annual meetings. 
Christina's first paid job with the company was working in the mail room the summer before high school.
However, it was never a given that Christina would join the family business. In fact, she chose to study science in college, graduating from Scripps, a private women's college in Claremont, CA, with a degree in molecular biology. Her goal at the time? "I wanted to cure cancer," she says. A college internship at City of Hope, a renowned clinical cancer research and treatment center in Duarte, CA, was a revelation. "I got a good look at what my life would be," she says, noting that the day-to-day reality of a life spent working in laboratories while soliciting grants and other funding ran counter to her natural inclinations. A self-professed "people person," she decided after graduating to "give this family business thing a try." 
Over the next decade, Christina wore many different hats at Lindal, getting to know every aspect of the business. She worked in customer service, followed by an inside sales position. Christina worked closely with her father, CEO Bob Lindal, who ran the company together with his brothers Doug and Marty at the time. Her cousin, Jake, was also on staff, as was her older sister Trina, who was employed in the marketing department. Marty and Doug are now retired and Jake works in commercial construction. Trina left to attend architecture school and now works as an architect in Seattle.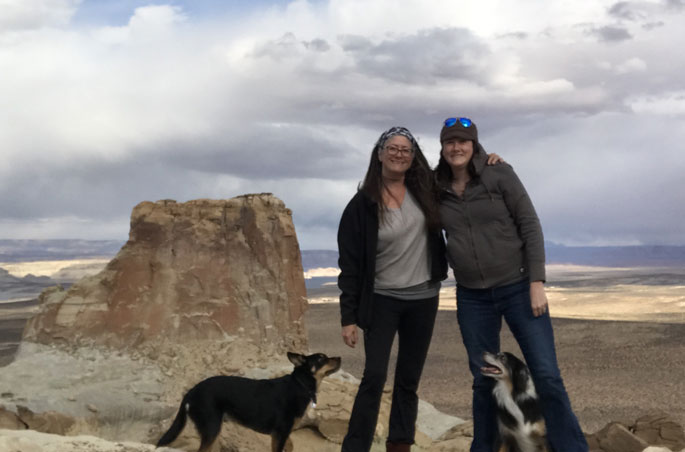 Christina (right) on a road trip with older sister Trina and their two dogs.
The company survived the 2008 recession, but it was a shock from which it took years to recover. "We shrank down to a small company," says Christina; "but we came back with a vengeance." 
Her position in internal sales support gave Christina the opportunity to travel nationally and internationally to present at regional conferences and get to know personally many of Lindal's independent dealer-distributors, a group that comprise the lifeblood of the company. "They're all like family to me," she says.
In 2018, Christina was promoted to executive vice president of the Company. In a recent interview, she expounded on her past experiences and her goals moving forward.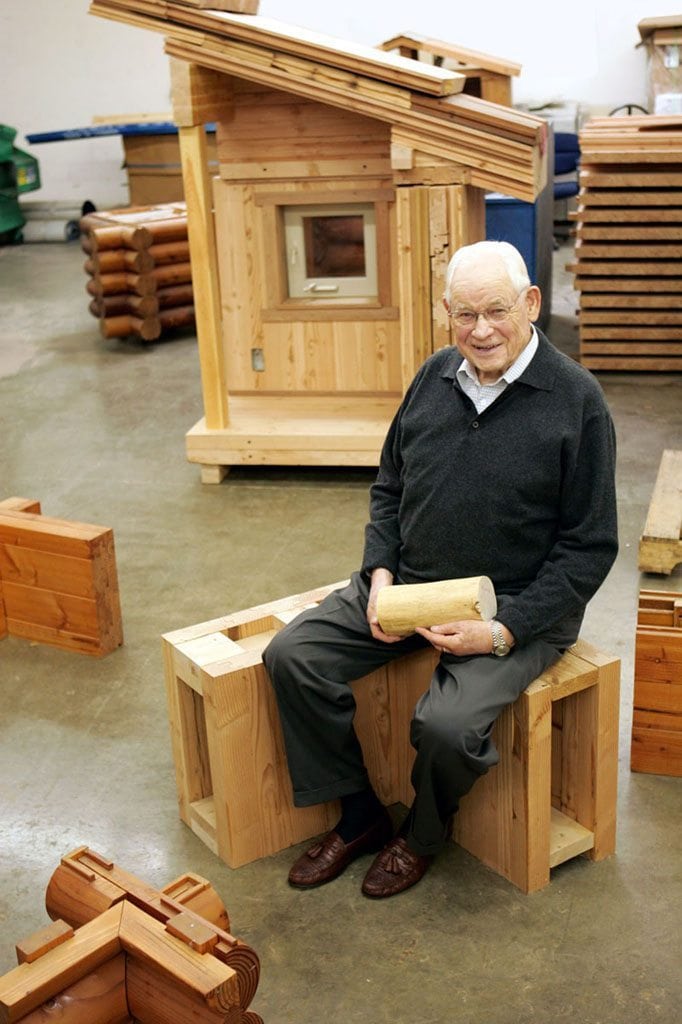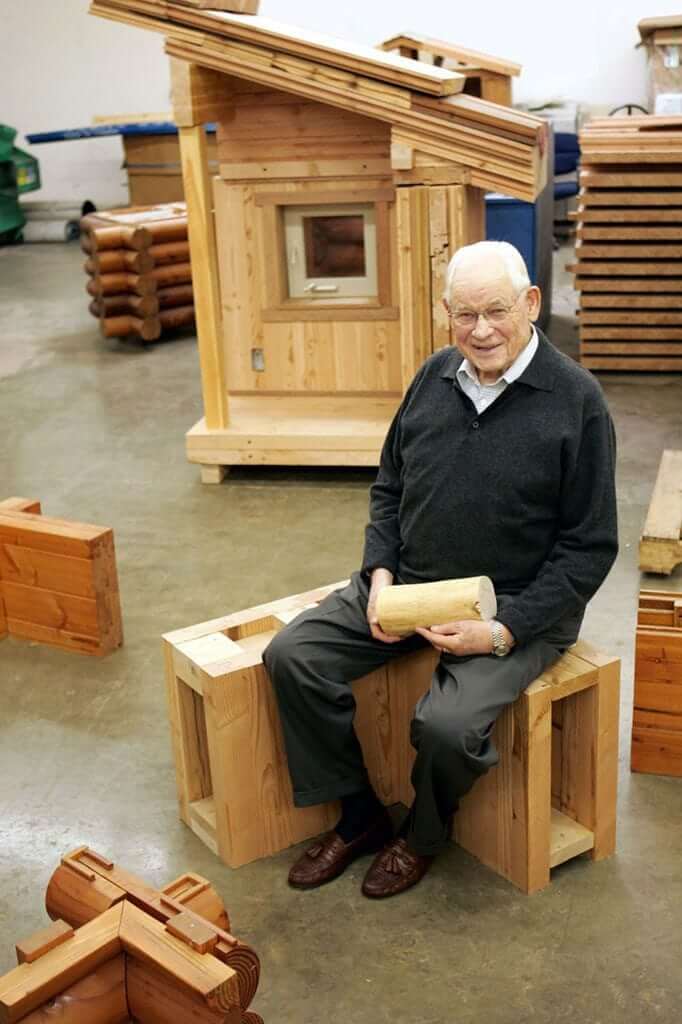 Lindal Cedar Homes founder Sir Walter was a life-long inventor and entrepreneur.
What do you remember most about Lindal Cedar Homes founder (and your grandfather) Sir Walter Lindal?
He was always teaching and telling me about his ideas. He was a man who never stopped thinking and every time he saw something, thought "How can I make that better? How can I make it something that people want?" There are not very many people born with his different outlook on the world.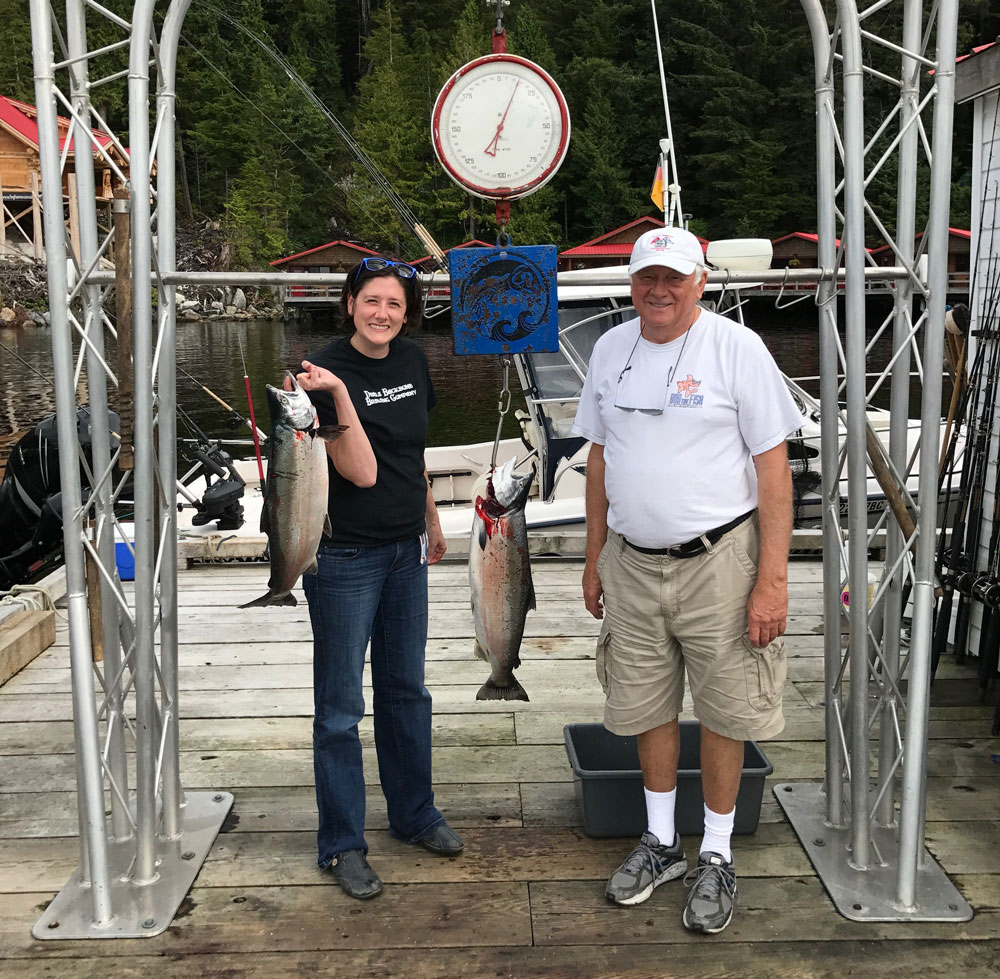 Boating and fishing with the family – including dad and Lindal CEO Bob Lindal, pictured – is a favorite pastime.
What's it like working with your dad every day? 
I love it. My dad and I get along really well. We see eye to eye on a lot of things. It's very easy to get things done. It's so wonderful to have somebody involved in the business to call at any time. It feels good over the years that he trusts me more and more with different things and values my input.
What do you bring to the table in terms of unique outlook and skills?
I've always been a problem solver and negotiator, I'm kind of like my grandfather in that way. I like working to figure out the best solution. How are we going to fix this; make this client happy; help these two people get along again? It's about the legacy and giving people beautiful homes. 
Building and construction have often been male-dominated fields. What are your thoughts on your role as one of only a handful of women heading family-owned businesses?
It's definitely a field that is male-dominated. It's a lot like science in that way. But to me, it's never been something that's distracted me. We have such a wonderful group of dealers that I don't think my sex has ever made it difficult. Sometimes I think my inexperience has; but I use that to learn and grow. I don't think being a female has made anything difficult for me personally. At Lindal we have a pretty even male/female group. My aunt (Bonnie McLennaghan, who was VP of marketing  for many years) was big on making it a more women-friendly environment. 
"A lot more younger new families are building the home they want for their family. There may be a lot of homes on the market, but none have the beauty, design, and layout they're looking for and planning to live in until they grow old."
What are the advantages and disadvantages of a family business?
The pros are that you already have this group of people who are very dedicated to seeing the company succeed and will give it their all. It's not just about the money at all – it's about the legacy and wanting to see it be successful – and the people who benefit from that are the dealers and employees. Sometimes the input from family members can be very helpful. Sometimes, though, there are a lot of cooks in the kitchen!
With my dad, the advantage is I know I can trust him and he will always be there working in the best interests of all of us. Our family is very close because of the business; way closer than most families. 
Why do you think Lindal has lasted for 75 years?
My grandfather created a business that can weather ups and downs. When you have these big downturns, it's important to be able to make tough decisions and know that our brand is still a brand that people will want, because of our legacy, quality, customer service, designs, local dealers – so many things that we offer. A lot of the competition have gone away from having an independent dealer network. I wouldn't even think of it. We'd close the business before we got rid of our dealer network! Having this network is a way to weather storms. They are the key to our success. 
Housing is definitely an industry that's very slow to change. It's not like a phone you'll get rid of in a year or two. A home is something you'll have for the rest of your life. You don't want to gamble with experimental siding that may rot in a few years. There are products out there we wouldn't be comfortable offering. Many people had this idea when I became vice president that "Oh, a young person is going to come in, she's going to change everything!" But you're building a house that's supposed to last your clients for a lifetime. You can't put a product on their house that's going to fail. Many of our vendors have been around as long or longer than us. I'm very wary of using a brand new product without knowing the consequences. In the 1980s and '90s construction boom developers experimented with new siding on condo buildings. It started leaking and a few years later they had to re-side them all. That's the last thing I want any of our clients to go through. It tells you something when you've seen our homes standing for 50 plus years with cedar siding on the outside. As long as you keep them maintained, they last. 
Although cedar is in our name, not all our homes are cedar. We do offer composite siding and boards. Initially they had a lot of problems and we did not adopt them. But they've been around for a long time and worked out the problems. 
"It's so interesting to see how people are trying to change how we build homes. There is a housing shortage and people are looking for ways to build faster and cheaper. But a lot of people are still out there who want a high quality home that can't be built overnight."

Lindal debuted its Lindal Elements line of modern system-built homes in 2008 – the modern home line now accounts for over 50% of annual sales.
How has the company changed over time?
I think the biggest thing that's changed is our designs. We still have the same building system my grandfather designed. Some things just work. The great architect Frank Lloyd Wright developed a similar system to my grandfather – a modular GRID system with post and beam construction – and there's definitely a beauty in that system.
Offering system-built homes allows us to design and build homes quickly using the same parts, and flexible layout. Builders can put up the structural frame in a few weeks if they're experienced. What we have done is take that system and apply it to more modern home designs.
Our clientele has grown younger. A lot more younger new families are building the home they want for their family. There may be a lot of homes on the market, but none have the beauty, design, and layout they're looking for and planning to live in until they grow old. They want something right for their family and will take the time to find the right lot location and make it happen. It's awesome to see and be a part of. 
What are your thoughts on the direction of Lindal moving forward?
It's so interesting to see how people are trying to change how we build homes. There is a housing shortage and people are looking for ways to build faster and cheaper. But a lot of people are still out there who want a high quality home that can't be built overnight. When you start cutting corners — and when you're building cheaper and faster in my mind you're cutting corners — it leads to homes that aren't lasting. I take a lot of pride in the Lindal legacy. My approach is to be careful of change. There are things you have to change to keep up with the times. But we will always remain committed to high-quality materials.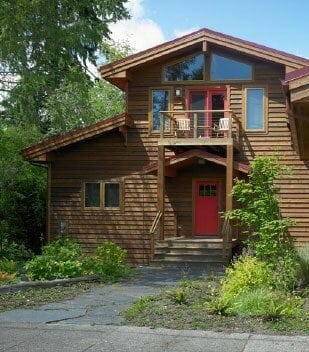 Are Lindal homes eco-friendly?
Being green is in our DNA. My grandfather designed a house that was built into the ground, which is one of the most basic types of green building, using the earth to heat and cool your home, there were simple ways back in the day to do those things. I love working with people committed to building green. We can build very green homes because our base system utilizes materials very efficiently so right from the get go there is very little waste. It's not just about the house in the end, it's also about not wasting materials. 
How is wood a sustainable building material?
The trees we use as building materials in our homes are regenerating as fast as we're cutting them down. You don't have to do it the way they do in Brazil, where they're cutting for palm oil. We're growing sustainable second- and third- and fourth-generation lumber. A cement house gets torn down and goes into a landfill. Wood is reusable and biodegradable. When trees get to a certain age, their carbon monoxide ability goes down, and basically at some point it becomes a good cedar to cut down and build with. Canada (the source of Lindal's signature Western red cedar) has some of the strictest and best laid out sustainable practices when it comes to forest harvesting. We are very proud of our Canadian brothers that way.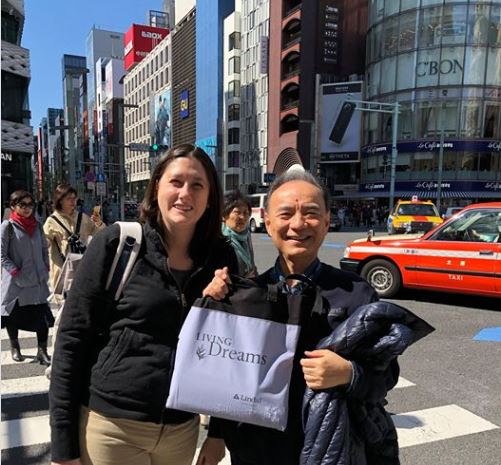 Christina often travels to meet face-to-face with local Lindal representatives. Here, she meets with Harry Horiuchi, a top international Lindal dealer (now retired) in downtown Tokyo, Japan.
What does a day in the life look like to you?
I really enjoy working next to my husband [Cameron Thomas, Lindal's Inside Sales Support representative]. We drive into work together — he's checking his email and we talk about the homes he's working with and the dealers on all of our current projects — so I get to hear about that which is always interesting. After that, I'm checking in with executives in the office, seeing how operations is, checking with Dave [manager of the manufacturing plant in Burlington, WA] to see what homes we are shipping, what's coming up; with the national sales manager to see what projects are on the board. I may reach out to a client about their project and moving it forward. I go up to the plant [in Burlington] every other week. Dad used to go up every week, and if we're shipping a lot we do that. 
Monday is the big get-together meeting with all the executives. There's always a couple of phone calls to different dealers, checking in on them, helping them solve some sort of problem or issue that's coming up. We're always working on how to keep clients happy and keep projects going. 
What do you do for fun?
I like boating with my family and taking road trips with my sister and our dogs. I also enjoy traveling, both for pleasure and to meet with dealers.
How is Lindal changing to deal with the new conditions of life and work due to COVID-19?
It's definitely an unprecedented situation that nobody in our country has experienced before. We're all worrying and reacting. I think we'll learn a lot from this to help us be better prepared in the future. We've switched to online meetings with most of our staff, dealers, and clients, and virtual training for our new dealers.
In the end, people still need their homes, people still need a roof over their heads, and we're still here to provide them housing.