Projects

Turning Dirt into Gold at Devils Backbone Brewery

Written by Josefin Kannin

Twenty years ago, Steve Crandall opened Tectonics, a Lindal dealership located in central Virgina. At the time, he never dreamt that his job designing and building custom Lindal homes would lead to a second career as the owner of Devils Backbone Brewing Company. The hugely popular brewpub is a striking Lindal lodge, located in the Blue Ridge Mountains resort area.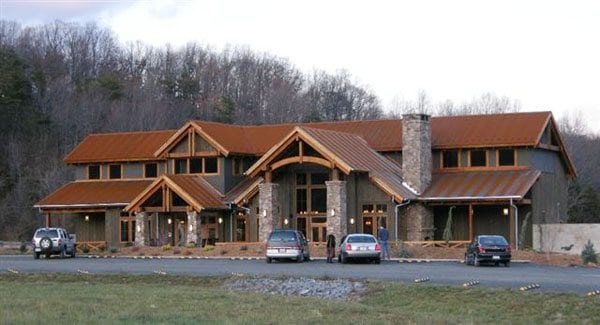 It was actually a business setback that triggered Crandall's entry into the craft beer market.
In 2005, he and his wife Heidi bought a 100-acre piece of property in the Blue Ridge Mountains, with the intent to divide it into six commercial and twelve residential lots. They sold four lots before the Great Recession hit.
"After the market went south, our dream of developing the property went south with it," Crandall said. "But a funny thing happened; the beer took off."
The Crandalls decided to turn part of the property into a brewpub, using premium Lindal-sourced materials and a Lindal-engineered design. It was a bit of a gamble: The country was in the throes of a recession, and the property itself was located in remote central Virginia. Sure, it was a beautiful location, but would anyone make the trek to visit? The Crandalls felt, however, that they had little to lose. With property values so low, it made sense for them to keep the land and develop it rather than selling it off for cents on the dollar.
Drawing on his years of experience as a builder, Crandall put a great deal of thought into the look and feel of the pub. "It's a timber frame building with glulam posts and beams and dimensional timbers," Crandall said. "There are rough-sawn saw marks on the wood. The project used a lot of recycled materials; antique wood for the tables and flooring, old tin metal off old roofs on some of the walls, three stone fireplaces, big stone columns, animal mounts. The feeling you get is coming in is like entering a ski lodge."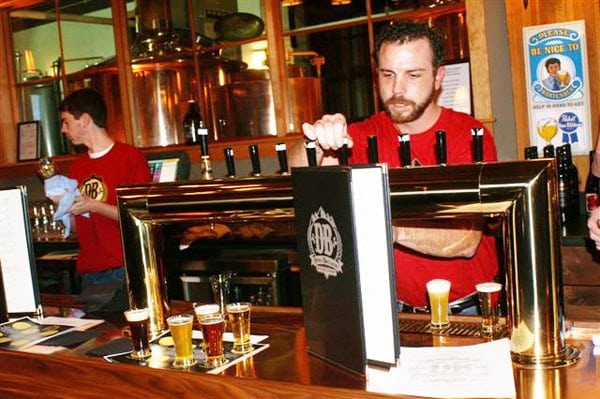 After the market went south, our dream of developing the property went south with it," Crandall said. "But a funny thing happened; the beer took off.
The Crandalls needn't have worried about whether Devils Backbone Brewing Company would attract visitors. From its opening 2008, the brewpub quickly became a popular destination for locals and out-of-state tourists alike. People loved the building's rustic charm and idyllic setting, surrounded by national forest in a designated wilderness area. They flocked to the 6,500 square foot pub, with its outdoor beer garden, large enough to seat 400, its bar and grill, and the tasty lagers and other craft beers sold under the Devils Backbone label. The brewpub hosted festivals and music concerts, from country and bluegrass to rock and roll. People would camp on the property for a weekend of brews and music. As business boomed, "we soon realized we wanted to devote the entire property to the beer," Crandall said.
Today, a half-million people visit the property each year. Devils Backbone beer is sold in five states and the District of Columbia. Its lager is the second-best selling craft beer in Virginia, and its IPA tops the state's craft beer charts. The company has 140 employees and is projected to produce 90,000 barrels of beer this year. Devil's Backbone brews have won multiple awards at the state and national level.
To maintain both the active Lindal dealership and thriving brewery and brewpub, Crandall enlisted the help of his son, who now handles the construction side of the Lindal business.
The two companies continue to work synergistically, as Crandall plans to develop the property further by building small "mountain contemporary" style Lindals around the property, "with a lot of glass and stone," for people who enjoy cabin camping. Lindal's signature walls of glass will provide guests with exceptional views of the surrounding mountains, lakes and forests.
To date, Crandall has built over 150 Lindal homes in the area. His clients range from Washington, DC, residents looking to build a rustic vacation home, to local Virginians drawn to Lindal's high-quality materials, wide range of home styles, and lifetime structural warranty.
In April 2016, Anheuser-Busch InBev purchased Devils Backbone Brewing Company. Crandall was optimistic about the development. "I still own ten percent of the company," he said, "but Anheuser-Busch is helping us build out the dream of turning the property into a true destination, with lodging and other great facilities for camping. And, of course, supporting our beer." With Anheuser's support, Devils Backbone plans to expand distribution to six more states, develop a barrel-aged beer, and build a distillery on the property.
"They are great folks to work with, and our employees, communities, and fans will all be seeing the positive result of Devils Backbone aligning with a 100-year-old brewing company," Crandall said.