Stories

Financing a New Home Build

There are several different home building loan options for financing your new home. Getting a loan to build a house can take some research and you may want to contact several banks and financial institutions to find the best fit for your needs. There are also some creative ways to put together financing to build a home, including using the equity in your existing home. Your local Lindal representative will be able to help you explore financing options and find the best home building loan option for you.
IS THERE A WAY TO USE THE EQUITY IN MY CURRENT HOUSE AS A DOWN PAYMENT ON MY DREAM HOME?
Yes, you may obtain a bridge loan to build a house. This enables you to use the equity in your home as the down payment on a construction-to-permanent loan. During construction, there are no monthly mortgage payments on the bridge loan. This lets you live in your existing home while you're building your dream home. Your bridge loan is not due until your new home is finished or you sell your existing home.
WHAT IS A CONSTRUCTION-TO-PERMANENT LOAN?
How does a construction loan work? Often, getting approved for a home construction loan can be tricky. In many cases, two loans are required: one for construction and one for permanent financing. Usually, you will have to pay closing costs on both loans, not to mention the extra paperwork, time, and hassle involved. A construction-to-permanent loan combines both a new construction home loan and permanent financing into one loan with one closing and related costs.
DO YOU ACCEPT VA LOANS?
Typically, our customers who want to use a VA loan finance with a commercial lender in the beginning, then roll over into a VA loan after a given time period. Those who have chosen to go this route felt it was a more efficient way to go through the loan process.
CAN YOU SUGGEST A LENDER WHO GIVES MORTGAGES ON YOUR HOMES?
We work with several national lenders. Your local dealer also has relationships with regional funding, and together, we can meet all your needs for financing to build a home.
IS MY DEPOSIT REFUNDABLE IF I DECIDE NOT TO GO THROUGH WITH THIS PROJECT?
If you cancel the process, valuable time and resources were already invested into your home.
Your deposit refund will depend on where in the process you are, and it becomes nonrefundable after a certain point. Consult your local dealer for details.
HOW LONG WILL YOU HOLD THE PRICE IF I ORDER MY PACKAGE TODAY?
The price is guaranteed for 60 days. Due to Lindal's large inventory and buying power, we usually do not have a price increase more than once a year. Lumber conditions do change, however, and sometimes, we have been able to go two years without a price increase, while other times it has been six months.
CAN I BUY A PIECE OF LAND THAT IS NOT A FINISHED LOT AND SAVE SOME MONEY?
That's a good question. While it may be possible to purchase an unfinished lot, generally, this is not advisable for the individual building his or her own home, because the costs of bringing roads and utilities to the first lot in a new area are usually very high. Typically, the first person to build pays for others who will build later. There are land developers who specialize in preparing lots for building. This may include zoning and/or soils issues, as well as bringing roads and utilities to the site, and creating a building pad. Often, these lots are in a planned community.
CAN I BUY MY OWN WINDOWS LOCALLY?
You can opt to do that. However, when most customers start comparing window prices, they decide to purchase Lindal windows. First, they are custom made to fit your home perfectly, making your home easier to build, while locally-supplied windows would likely have to be custom. Second, the pricing structure for our windows makes them very affordable. We stand behind the quality we provide 100%, but we cannot guarantee other product warranties.
HOW DO I PAY FOR THE PACKAGE?
Your local dealer can best outline the payment schedule. It is best to make an appointment to go through pricing structures. Lindal typically requires a 15% deposit with an order and a prepayment of the balance prior to releasing the home package shipment from the plant.
DO I PAY SALES TAX ON THE LINDAL PACKAGE?
Please check with your local dealer or an accountant. Sales tax is a local condition, and each state has its own guidelines.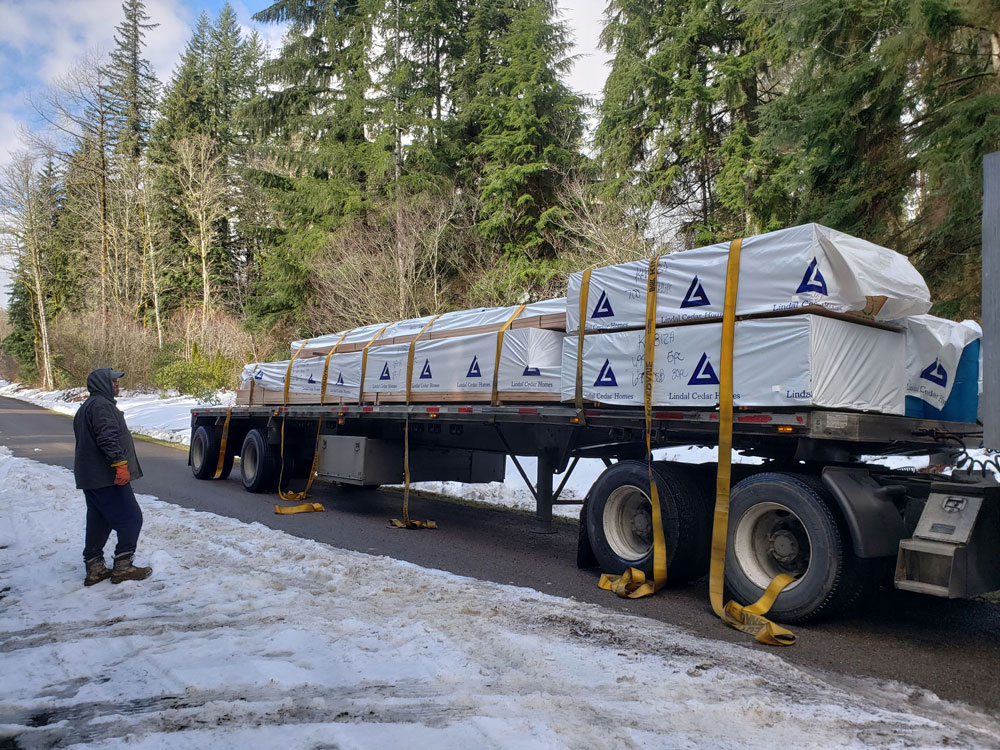 IS FREIGHT INCLUDED IN THE PACKAGE PRICE?
Yes. Your package price also includes design services and engineering!
IS THE PRICE I GET FROM YOUR DEALER WHEN I SIGN THE CONTRACT A GUARANTEED PRICE FOR A DELIVERY?
Yes it is! As Lindal provides a lifetime structural warranty, there are sometimes a few cases where changes must be made to meet local codes or conditions, and these may adjust the price. These items can be discussed and identified readily by your local dealer in the planning phase.
DO I PAY EXTRA FOR USING ALL YOUR "IN-HOUSE" DESIGN AND ARCHITECTURAL SERVICES?
When you work with Lindal to build your home, the package you invest in includes design services. To start, choose from one of our hundreds of floor plans, in the style of your choice. We can modify these plans to suit your needs and the requirements of your property. In addition, the typical package includes a weather-tight shell (framing, connectors, fasteners, siding, windows, doors, and trim). Options and upgrades are available, including decking, sunrooms, interior liner, etc. We design all components to integrate easily into your custom home. Take a look at Lindal's design program options and choose the one that works best for you.
WHAT WILL MY FINISHED (TURNKEY) COST BE AS A PERCENTAGE OF THE LINDAL PACKAGE COST?
The cost of your home depends on many variables in addition to the Lindal package. Of course, the Lindal package price will also vary depending on size and other choices you make. Other variables, including local labor costs and the lot price and development, will be key in what percent the Lindal building system will be of your total project cost. Your local dealer can better address the average cost for your area. In general, the Lindal package comprises 1/2 to 1/3 of the cost, not including land or lot improvements. Your overall costs will be higher if you choose premium finishings and appliances, clear cedar or other high-end materials throughout, have large sliding doors that open up a side of your house, or have a very customized home.
WE WOULD LIKE TO PURCHASE A LINDAL HOME THAT HAS ALREADY BEEN BUILT. HOW CAN I FIND A LIST ON THE MARKET?
We do not maintain a national list of Lindal's currently on the real estate market. Local dealers often know when their customers' homes are for sale. Your best bet is to contact your local dealer.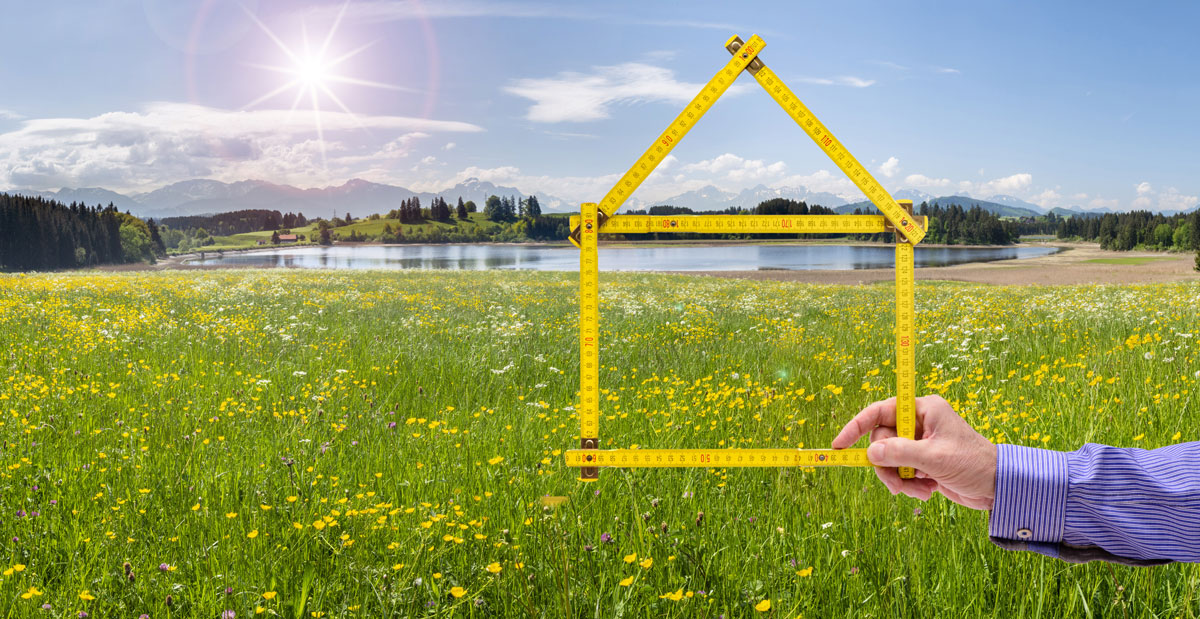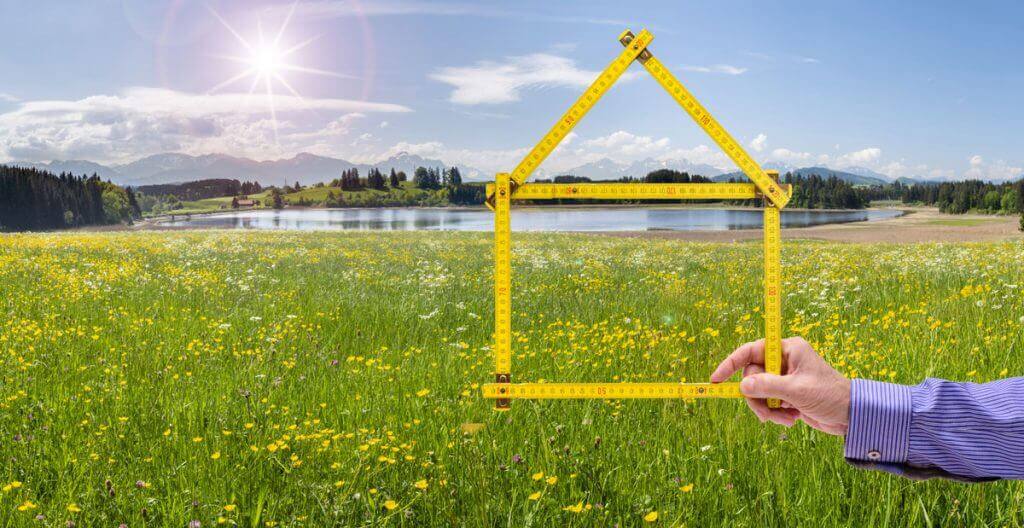 HOW MUCH DOES A LINDAL CEDAR HOME COST?
Your local dealer is the best source to answer this question. They will be able to help you estimate the package price along with local building costs. Variables to address include the lot, the package, and the finishes. Without knowing these factors, a price can not be determined with any certainty. Additional issues that you may want to discuss with your own dealer include the cost savings between one and two-story homes, total square footage of your home, the footprint and roof pitches, the time of year, your choices in millwork, and how the interior finish selections affect the final budget. The home construction loan and current home mortgage rates also need to be taken into consideration.
"How much does a Lindal home cost per square foot?" is one of the most frequent questions we hear. It is as easy for us to answer as "Can you tell me how much it costs to take a vacation?" Or "send my kids to college?" Or "how much should I expect to spend on a new car?"
Really, there is not a short answer to any of these questions. In each case, there are so many variables that it is not possible to provide an accurate answer without asking several additional questions and gathering more information. It is also why we do not have a "price list" of our homes on this website, since every Lindal home is unique, and the same home plan can cost more or less depending on several factors.
To learn more, visit our Budget and Pricing page.
LABOR AND MATERIALS: THE BIGGEST DRIVERS OF COST
The two major factors that can affect your final price per square foot for any new home building project are Labor and Materials:
• Materials. Material costs can fluctuate based on local building codes, construction moratoriums, zoning laws, covenants and restrictions, availability of supplies, weather conditions, natural disasters, public or private water and sewer and several hundred other factors. Then making personal choices to finish the interior will greatly affect the final price, depending on whether you choose standard finishes or luxury or somewhere in between.
• Labor. Labor can vary substantially based upon the time of the year, complexity or uniqueness of the project, good or bad economic times, job site conditions, regional markets, the unemployment rate, availability of workers and more.
NO UNIFORM METHOD OF CALCULATING COST PER SQUARE FOOT
To make it even harder to calculate a cost per square foot, there is no uniform method of measuring square footage. Depending on how the square footage is measured, cost calculations can vary greatly on the same project.
• Some will simply measure the exterior walls and then multiply that by the number of stories in order to get a square footage.
• Many builders only include the heated finished area of a home when calculating square footage.
• Basements and garages are counted depending on who is providing the quote. In a Lindal home, the basement is only counted as part of the final square footage calculation if it is a finished space with interior partition walls, doors, trim, etc.
• "Bonus" areas, such as lofts, screen porches, and covered breezeways may or may not be counted, yet can greatly affect your final price. In a Lindal home, loft space is measured as part of the square footage, but usually covered outdoor areas are not.
• Turnkey Cost Per Square Foot: Square footage costs often do not include the price of the land and site work, landscaping, design costs, wells and septic installations and utilities.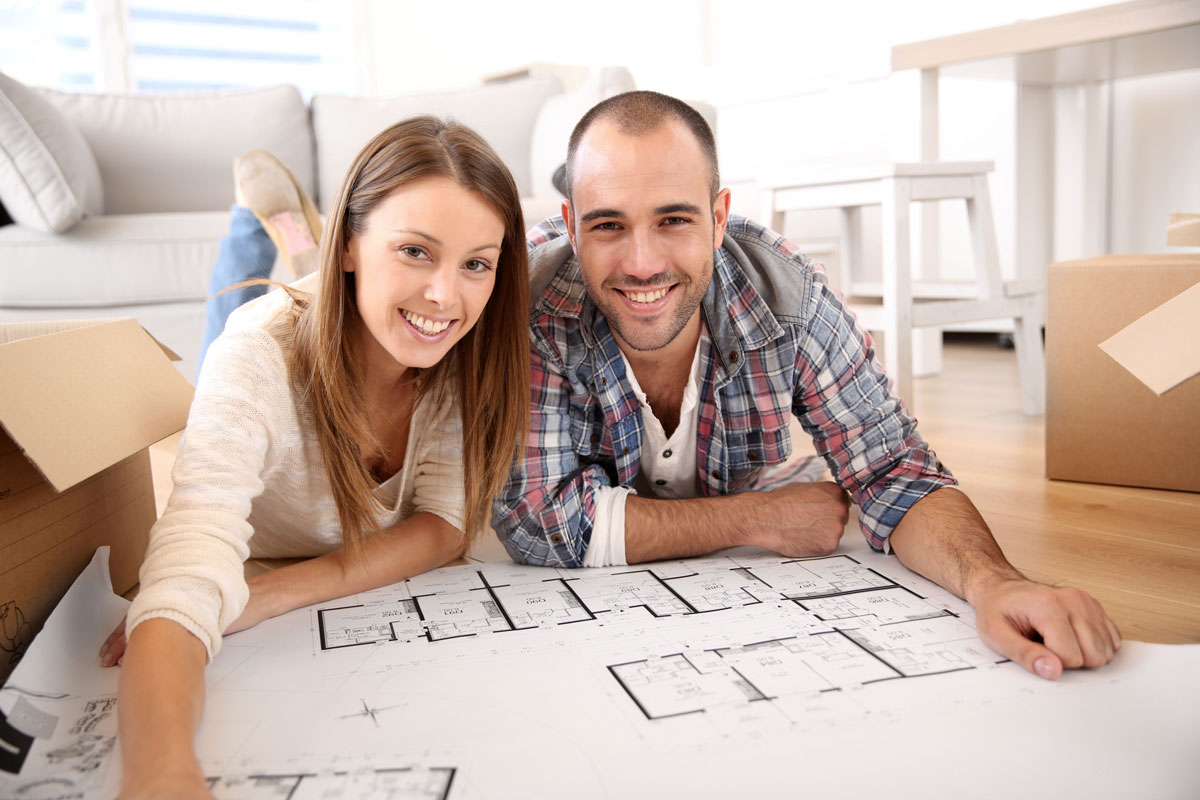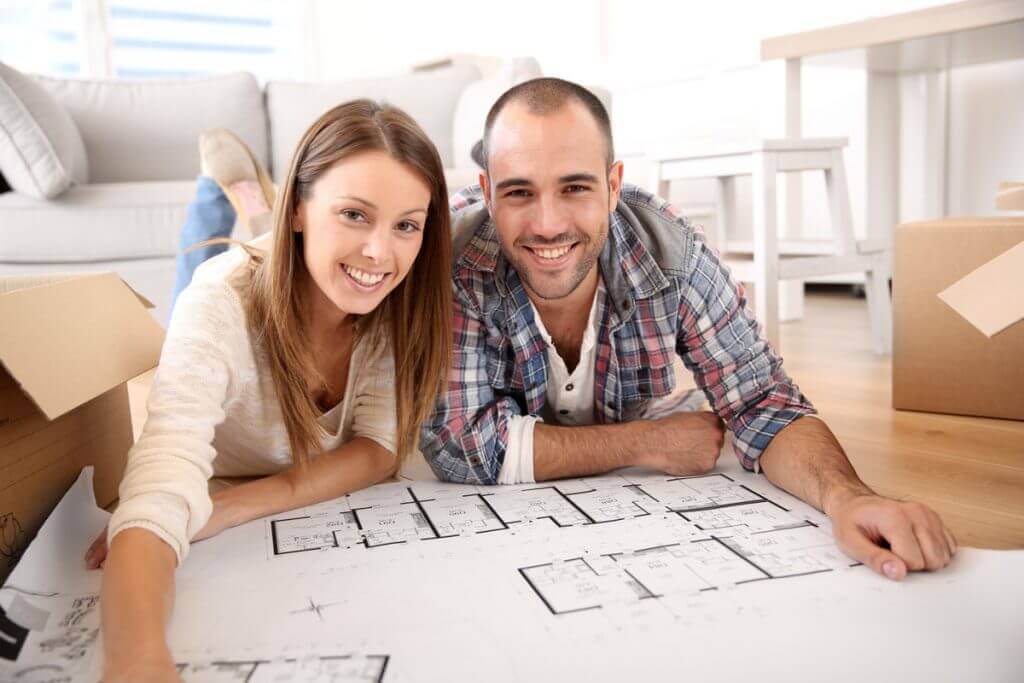 THINGS TO CONSIDER WHEN PLANNING
Here are some characteristics of your home to keep in mind that raise or lower your cost per square foot:
• One or Two Stories. Two-story homes are typically most cost-effective. A two-story home will have a smaller roof and foundation, and the plumbing and ventilation are less spread out.
• Size. The general rule is that large homes cost less per-square-foot than small houses. The larger the home, the more square footage to spread the cost of expensive items over. A fixed cost for a standalone item such as a $1000 refrigerator would add $1 per square foot to a 1000 square foot house, but only $.25 per square foot to a 4000 square foot home.
• Complexity. Simple rectangular houses with straightforward, moderately pitched roofs are less costly for labor and materials than houses that have many wall jogs, hips and valleys, steeper roofs and dormers. More complex homes will incur more engineering costs, possibly larger beams, and more details to finalize. Large roof overhangs can also add to the finished per-square-foot cost.
• When, Where and Who. The time of year a house is built, the building sites, accessibility and the contractor who builds it all play a part in cost. Starting your building project in the slow season can change labor costs. Some contractors demand higher rates depending on their workload and use sub-contractors who are slightly more expensive. A flat site that has been back-filled is easier for a crew to work on than a steeply sloping site that may have high land-development costs. Also, each and every Lindal home is engineered to meet or exceed local structural code requirements, so the high load bearing capacity of a roof in mountainous snow country will cost more than a lighter-duty roof in tropical locations.
• Windows and Doors. The best advice for making sure your windows and doors always perform is to make sure that you use good quality windows, doors, and skylights even if it costs a little more. Generally, casement windows cost more than double-hung windows. Hinged patio doors cost more than sliding patio doors. Operable skylights and roof windows cost more than fixed skylights. Arched fixed glass, circles, and trapezoids all cost more than rectangular glass. And, the wood species chosen for the frame will affect the price of your home. Often, Douglas fir costs more than pine; recycled timber is more expensive than new and kiln-dried timber raises the price of millwork.
• Interior finish affects price. Marble or linoleum? Tile or carpeting? Cedar liner or drywall? There are also various levels of quality for these interior finish selections in your home. These grades of finish can affect the final price per square foot of your home considerably. For example, you can select cabinets and appliances for a $20,000 kitchen or a $60,000 kitchen and greatly change your final price per square foot.
Your local Lindal dealer will work with you to determine your budget, which will ultimately determine the cost per square foot for your chosen home design.