luxury-homes Lindal homes

Crystal Springs
Crystal Springs
Bedrooms: 3
Bathrooms: 2.5
Master Bedroom: Main Level
Total Area: 2490 sq. ft.
First Floor: 1670 sq. ft.
Other Floor: 820 sq. ft.
Size: 75' x 34'
Inspired by Frank Lloyd Wright's Bachman-Wilson home design, Lindal's Crystal Springs Usonian home style stacks two bedrooms above the kitchen/dining/utility core, giving the living room a generous double-height ceiling with a wall of glass on the view side that makes the home seem larger than its 2,490 square feet. The utility core allows for a varied circulation pattern and direct access to the kitchen from the entry. The upper mezzanine wraps around the hearth, overlooking the living room, and can be used as a study.
In modernizing this three bedroom, 2  1/2 bath design, we moved the master suite to the main floor and also tucked it into a private wing with access to the outdoors. Deep overhangs shade the house from the summer sun and add to the horizontality of the design. The varied roof elevations and balcony create a harmonious exterior. Plenty of natural light enters from a wall of windows in the great room.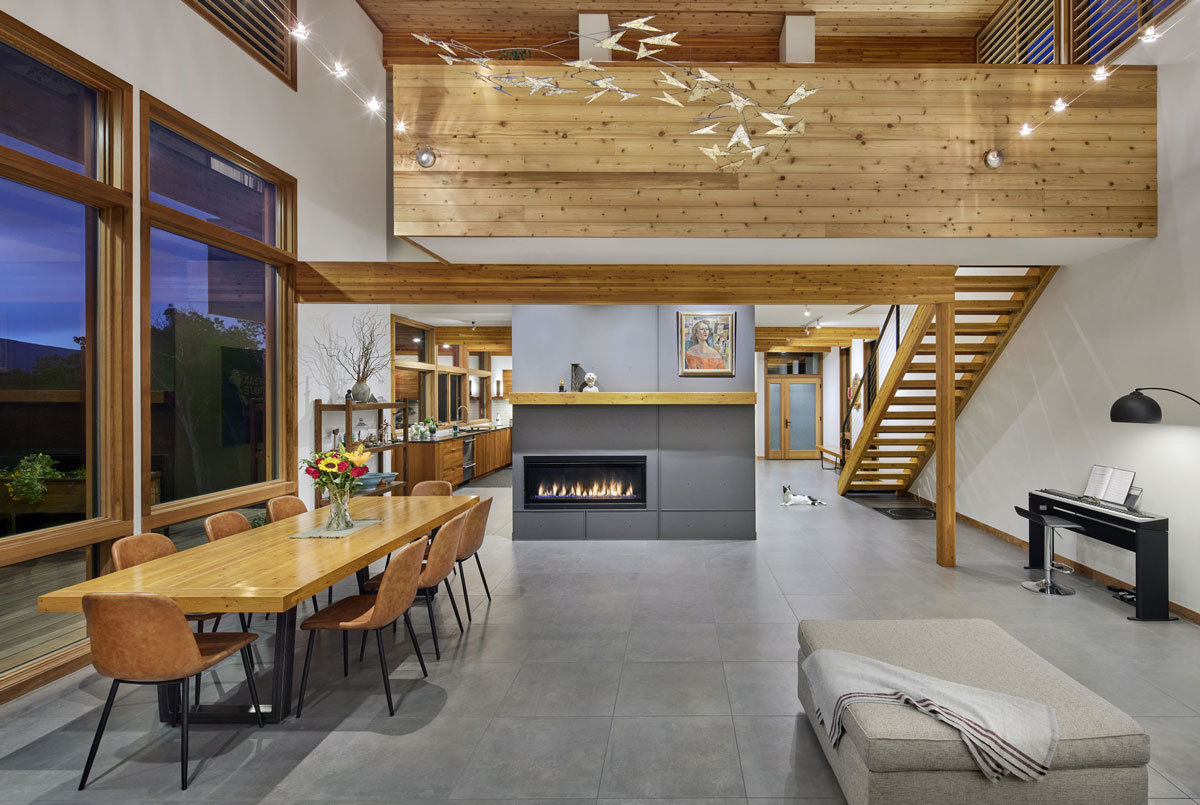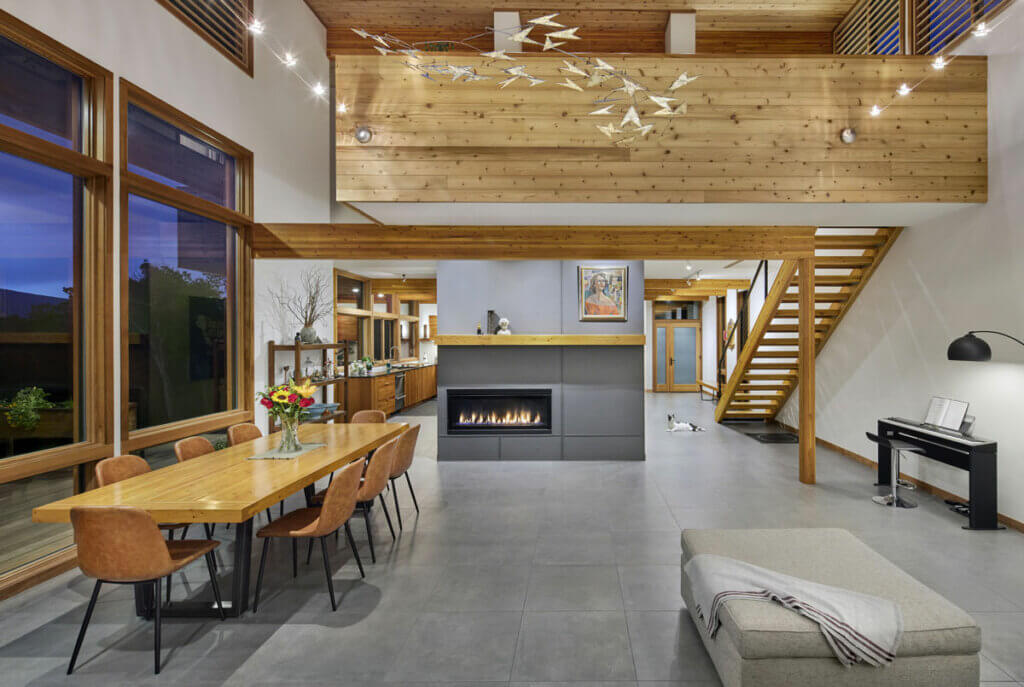 A covered entryway opens to the foyer and the living room is visible through the open staircase. The cozy fireplace seating area is located under the upper mezzanine. Upstairs the mezzanine can be used as a study, with three windows bringing plenty of light into the interior. The two upper-level bedrooms each have their own balcony and a shared Jack and Jill bathroom.
See more Lindal translations of Frank Lloyd Wright's Usonian houses. Learn more about the original Bachman-Wilson home. Contact your local Lindal representative to build your own house from one of our Usonian designs and continue the living legacy of America's greatest architect.
House reference number: 41921
Attend our Webinar to learn more:
Introducing the Lindal Cedar Homes Imagine Series:
Frank Lloyd Wright-Inspired Homes for Modern Living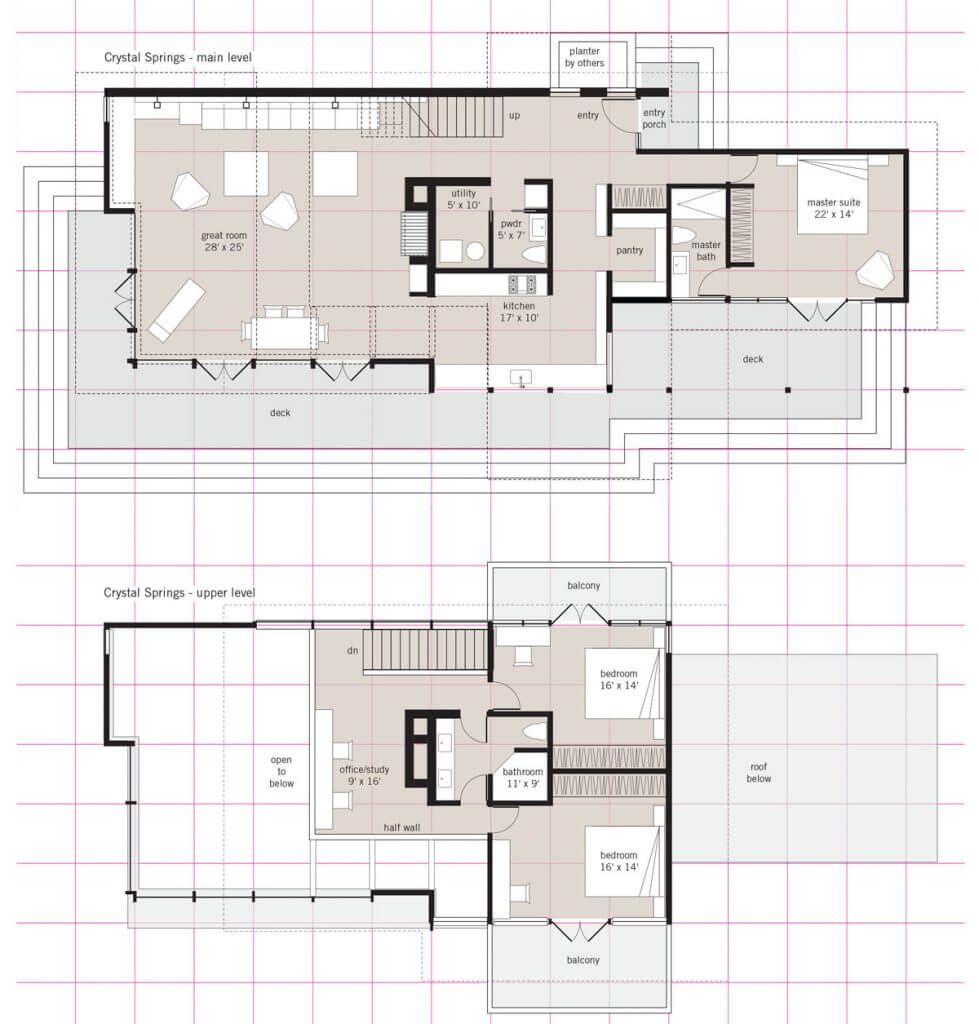 Enlarge
crystal springs

Image Gallery