quick-ship-program Lindal homes

Quick Ship Cascade
Quick Ship Cascade
Bedrooms: 3
Bathrooms: 2.5
Master Bedroom: Main Level
Total Area: 3331 sq. ft.
First Floor: 2037 sq. ft.
Other Floor: 1294 sq. ft.
Size: 3331 sq. ft. (565 sq. ft. garage and 2018 sq. ft. unfinished basement not included in total living area calculation).
A butterfly roof is the ultimate design element of the Quick Ship Modern Cascade. This roof style provides visual interest and allows for higher perimeter walls and a band of clerestory windows for greater light penetration through the interior.
The valley of the roof appears flat, but in fact consists of a viewing deck sheltered by a shed roof sloping to the view side of the home. The main floor houses a large master suite and office. Two more bedrooms are located on the upper level, one with its own generously sized balcony. A studio sits above the garage and is accessed from inside the garage. This home easily adapts to country or urban living.
This house is featured in the Lindal Quick Ship Program. These designs are drafted for faster delivery to your build site and often cost much less than one of our custom homes. We offer a limited menu of optional changes on our Quick Ship home packages. Please contact your local Lindal representative for details and pricing estimates to build a Quick Ship home in your area.
The image shown includes Lindal options that differ from the Quick Ship version.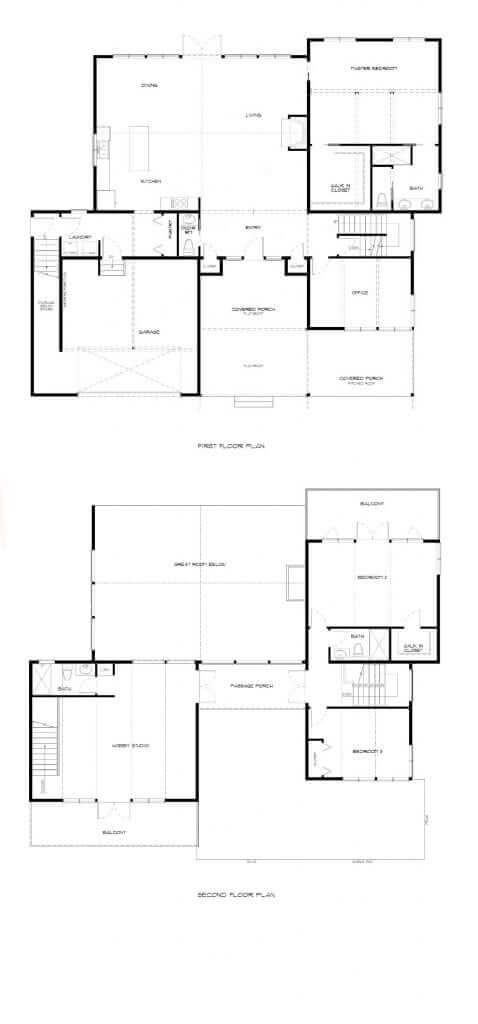 Enlarge
quick ship cascade

Image Gallery