Projects

A Small Home in WA State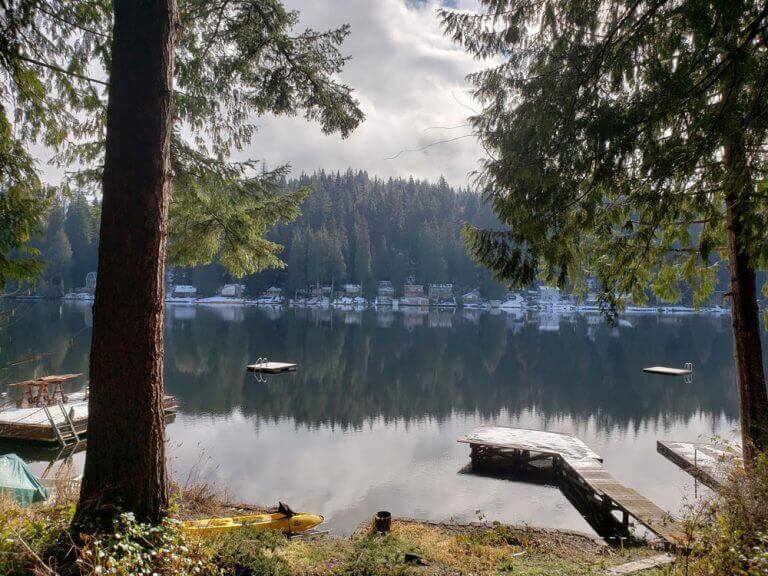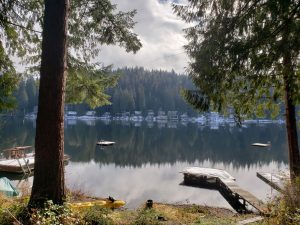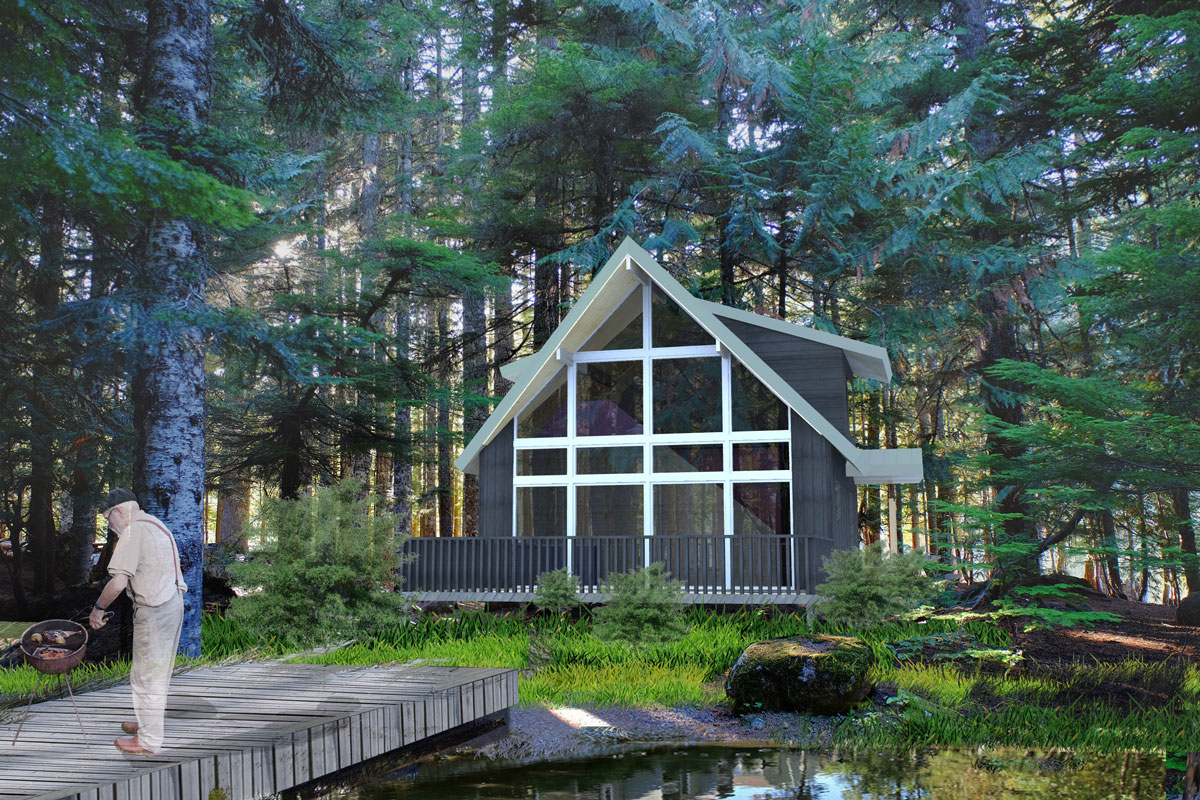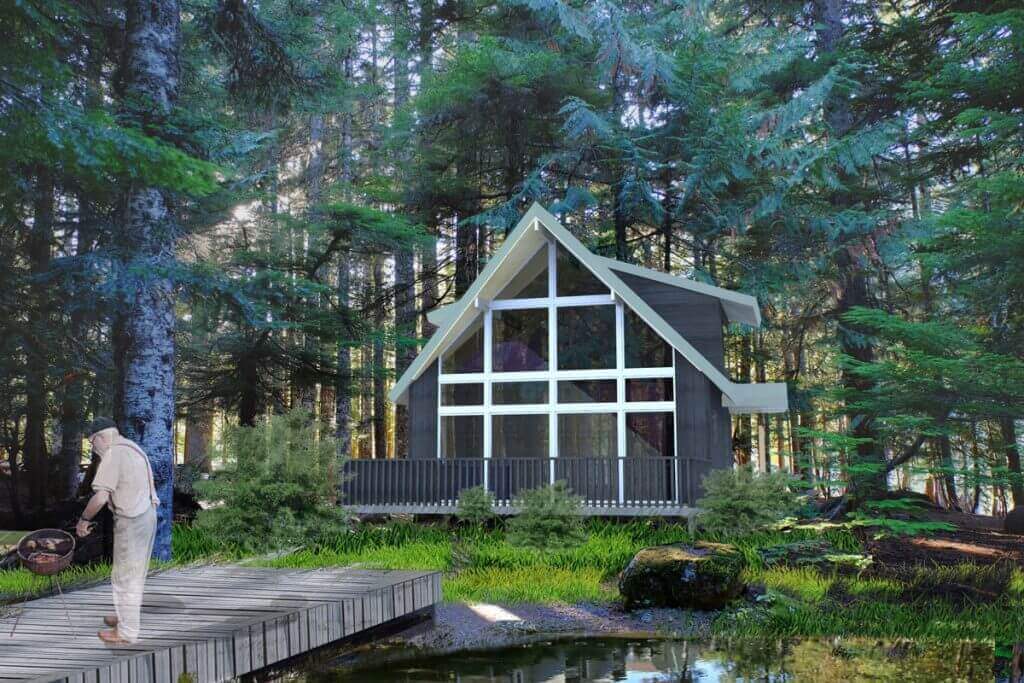 A rendering of the waterfront cabin viewed from the lake.
A Beloved Summer Retreat Becomes a Retirement Dream Home
For 30 years, a small cabin on the shores of Lake Roesiger in Washington State was a beloved summer retreat for the Wood family. When the couple retired, they decided to make it a permanent home. Their goal was to keep the old cabin charm with modern amenities and better energy efficiency.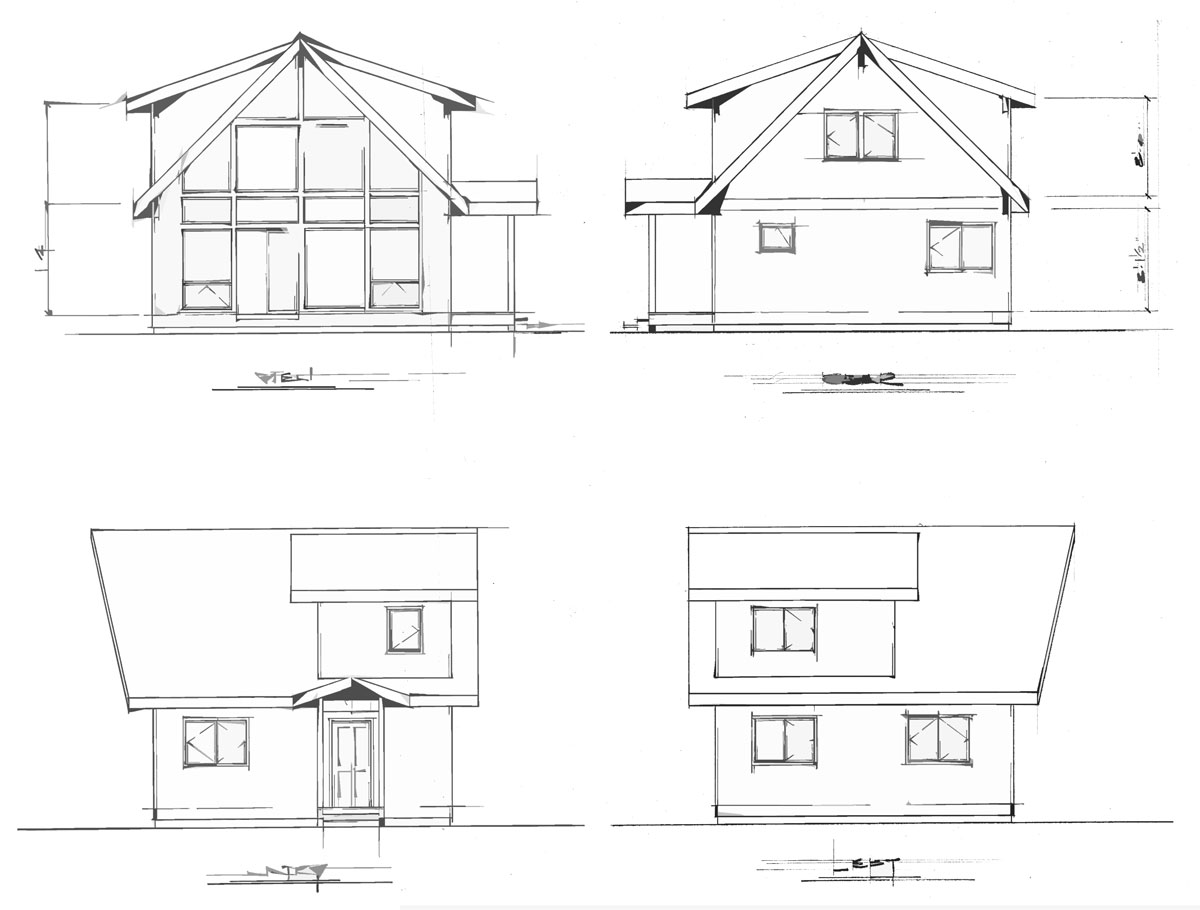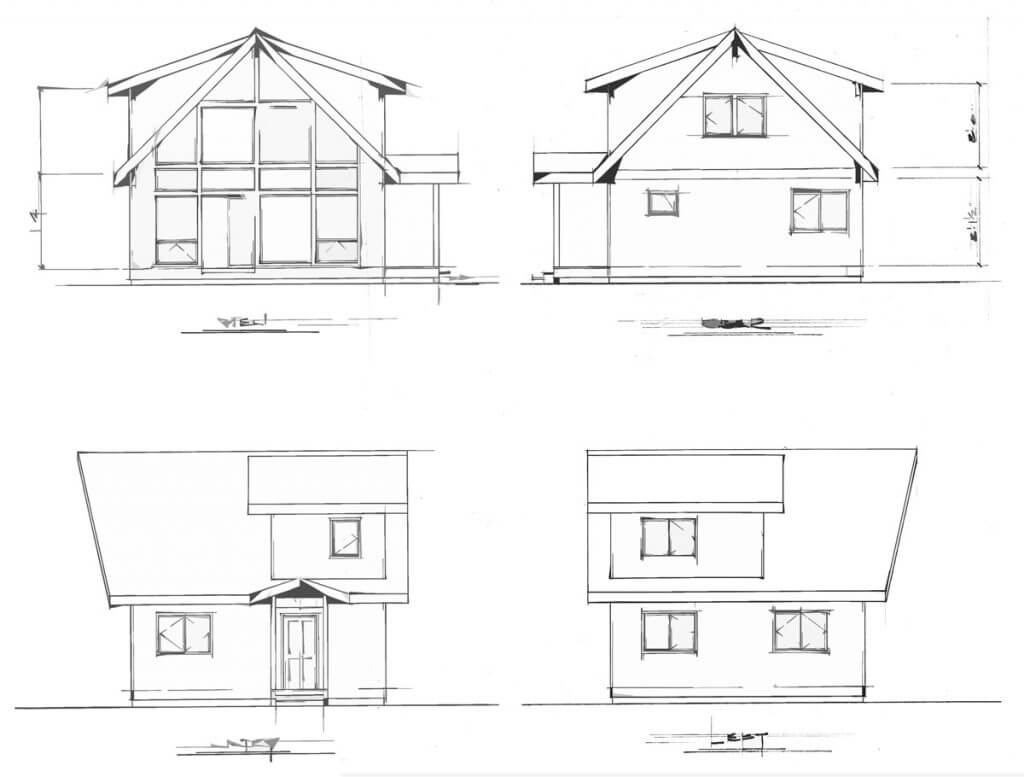 A Waterfront Cabin Custom Design
The Woods wanted a custom design suited to their favorite activities and lifestyle needs. Among their must-haves: A master suite on the ground floor, an outdoor fire pit on the deck, and plenty of wall space to house an eclectic art collection accumulated over many decades.
Architectural home designer Sakshi Uomoto of Seattle Cedar Homes (a corporately owned dealership for Lindal Cedar Homes) was pleased to take on this project.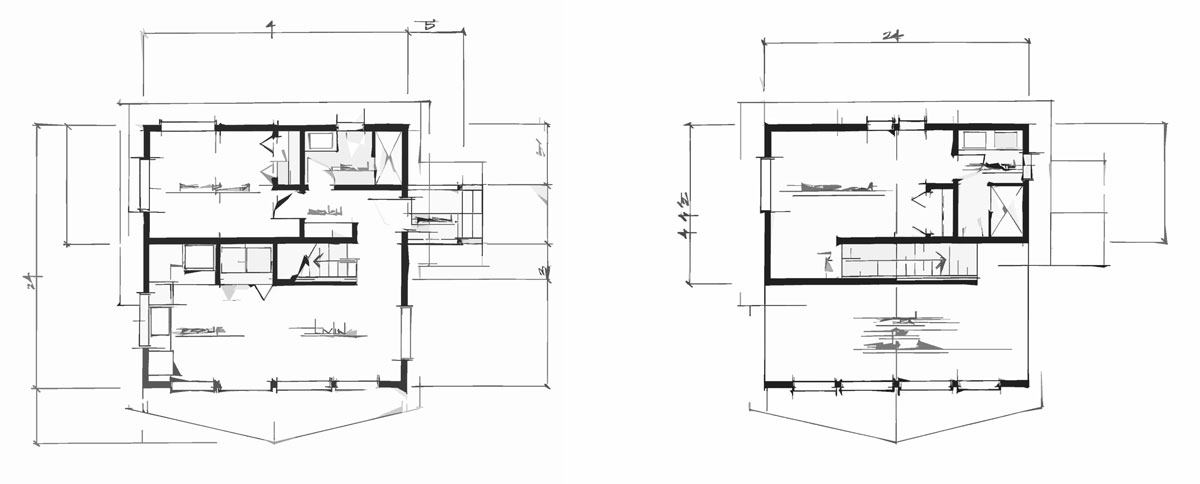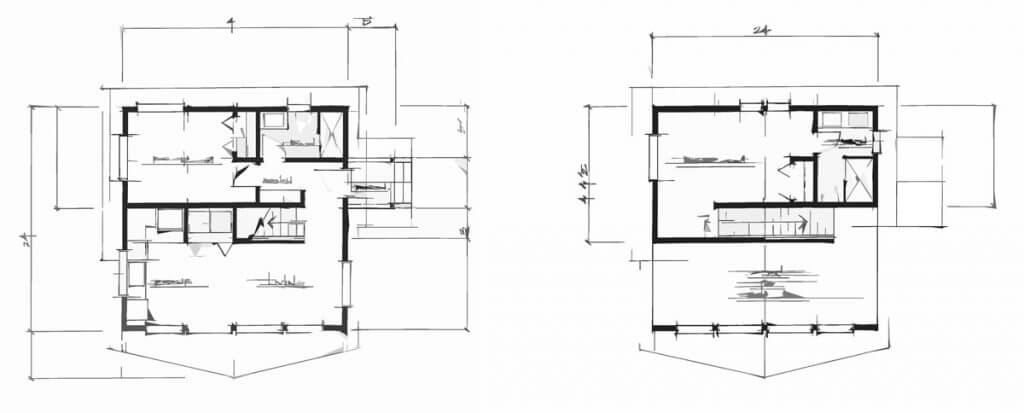 Elevations and floor plans for the new cabin, designed to fit on the existing foundation of the former home.
 Quality and Experience
"We chose Lindal following discussions with knowledgeable members in the building community," said homeowner Richard Wood. "Additionally, Lindal has been a [Pacific] Northwest presence for as long as I can remember, with a reputation of providing a top-of-the-line product."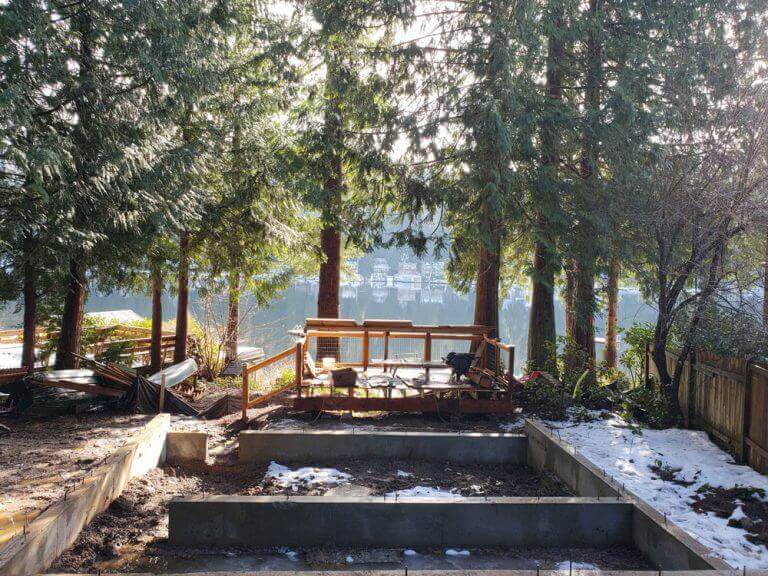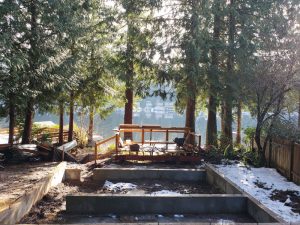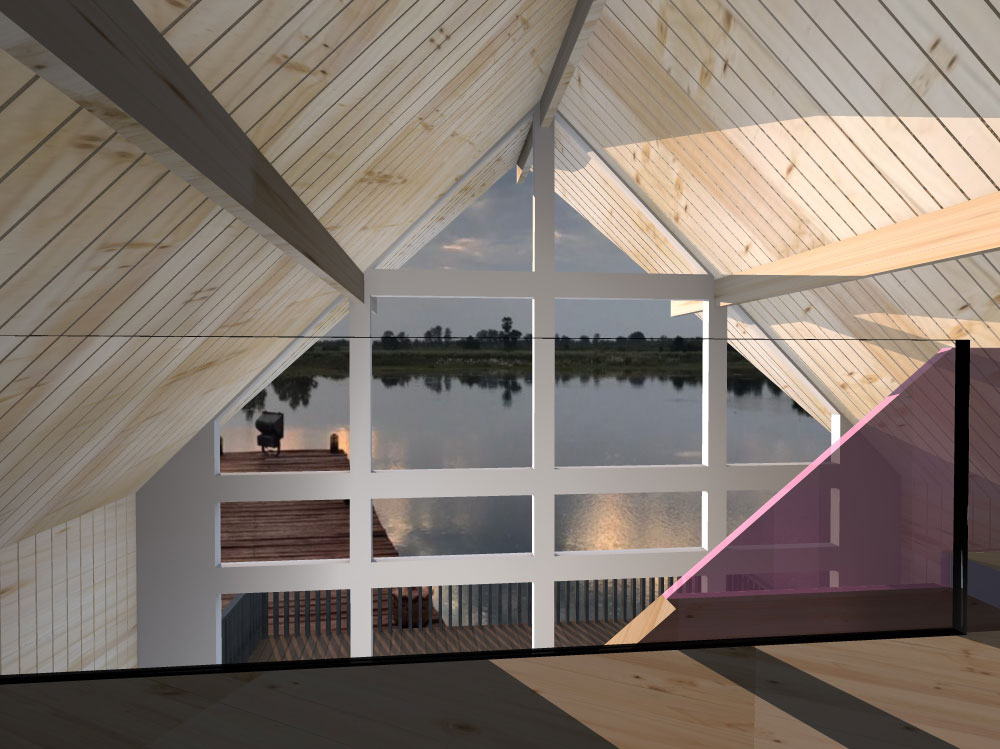 The home was built on the original foundation and footprint. A rendering of the view from the upper floor loft.
Designing for Zoning Laws and Building Restrictions
One primary restriction set Sakshi's design parameters from the start: In order to maintain its waterfront location, the new structure had to be built on the existing foundation of the old home; a 24' x 24' square.
Sakshi designed a simple, 800 square foot waterfront cabin with warm wood tones that blends into its surroundings. The walls, ceiling and soffits are pine, and the exterior is clad in black stained cedar.  A colored railing on the stairs and a bright kitchen add splashes of color in contrast to the home's exterior.
Lindal Premium Materials Package Delivery
The exterior materials package was delivered by truck to the Woods' build site. The home was positioned to nestle under a 100-year-old cedar tree.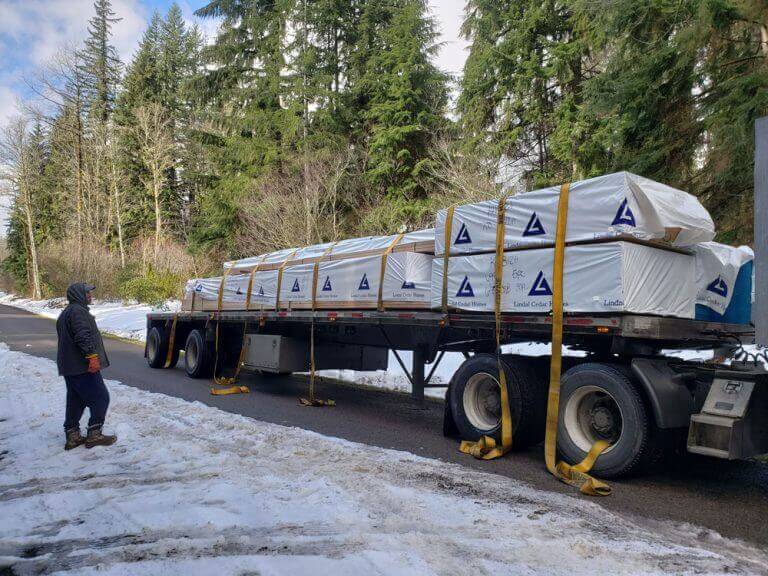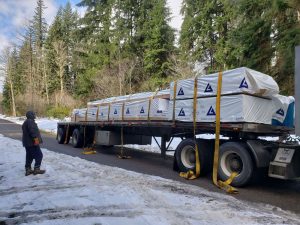 Lake Views and Natural Light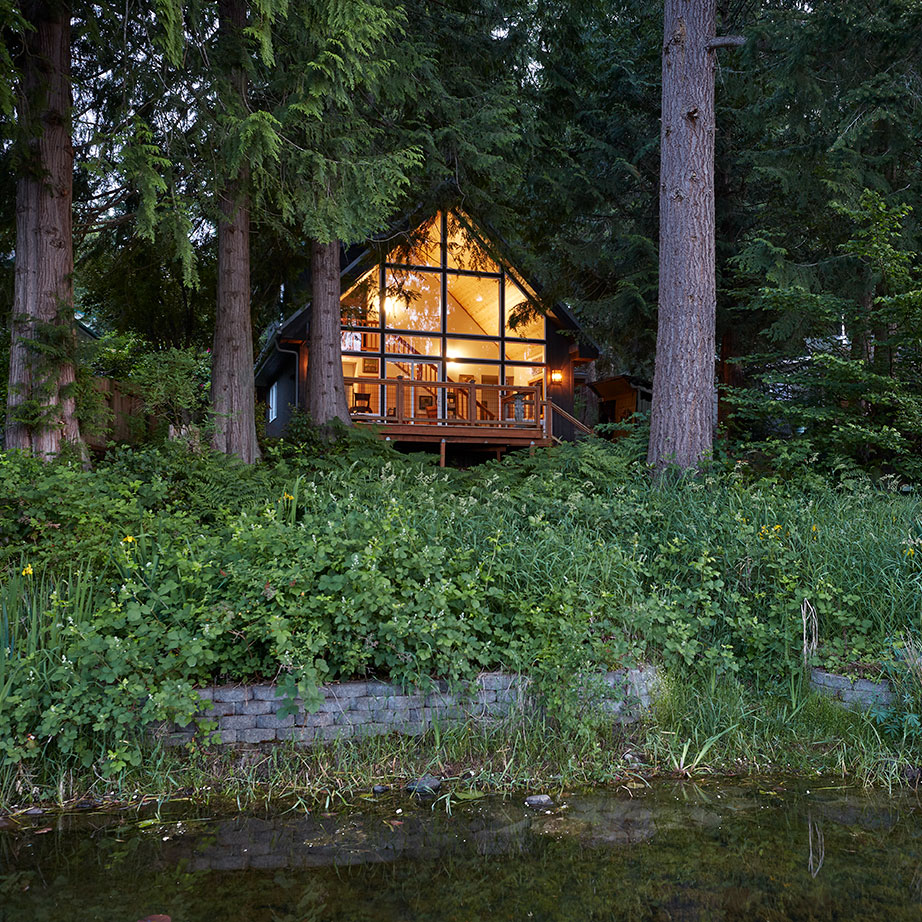 Warm light and an inviting color palette makes this small home feel larger than life. White pine soffits add to the character of this cabin. This combined with white walls on the interior create a more modern yet cozy space.
No matter where you are in this tiny 800 sq foot home, you are greeted with a stunning view of the lake and doused in natural light!
Lindal Cedar Homes Review
"We love the design. Sakshi has been wonderful to work with. I would be comfortable in recommending Lindal unequivocally."
Seattle Cedar Homes Review
"Sakshi, the new cabin is gorgeous, I frankly never expected it. I love the combination of beauty, light, and function. When these experiences occur later in life I believe they are deserving of an enhanced welcome."
-Richard Wood, Homeowner
A happy client is a testament to a job well done. Homeowner Richard Wood and his wife are thrilled with the skill and expertise of Sakshi Uomoto and the Lindal team.
"From the onset, my concerns were reducing the size of an existing design to accommodate the footprint of my location," Wood said. "The results were both timely and exceeded my expectations. Sakshi's constant oversight of the project continually reflected her professionalism and knowledge. I had little awareness of but certainly learned to appreciate and completely rely on her. I would unequivocally recommend her to spearhead an analogous project to any and all, and to use my name at will. I couldn't be more pleased with her efforts on my behalf."
For more information on how to build your own cabin or cottage, contact your local Lindal representative.
Learn more about Seattle Cedar Homes.
View our selection of small home styles and floor plans.