Unmatched Quality

Lindal Windows
Panoramic Views and Walls of Glass
Lindal is known for its classic and modern style homes, designed with full walls of glass on the view side. The reason Lindal homes can be built this way is because of their post and beam construction. When a home is supported by a series of vertical posts, topped by long beams, it eliminates the need to rely on interior walls for structural support. This means that Lindal homes are designed to allow for wide expanses of glass that do not compromise the structural integrity of the residence. With Lindal, you can open up the interior of your home with floor-to-ceiling windows and glass doors with expanses of up to 24 feet. These doors can open completely to remove the divide between interior space and the great outdoors.
Energy Efficient Windows, Built to Last
Installing the proper windows in your home is a crucial part of maintaining energy efficiency throughout the year. The right windows prevent energy from flowing out of or into your home's controlled indoor environment. Protect your indoor environment by choosing windows with the appropriate glass coatings, glass fillings, glass spacers, and window frames to suit your regional climate.
State-of-the-art, low-E argon glass is the standard for Lindal Windows, yielding comfort and energy efficiency with the highest industry rating for their ability to prevent air and water infiltration under even the toughest conditions. Choose from double and triple pane glass, depending on the climate in your region and the local permitting and building codes.
Windows with a Variety of Styles and Finishes
Lindal window options include vinyl, fiberglass, wood and aluminum-clad:
High-Performance Vinyl Windows
Our vinyl window line combines value and low maintenance in an energy-saving package. Vinyl is resistant to shrinking and swelling in extreme moisture, so vinyl windows will not rot, warp, or corrode. For the budget-conscious, our new modern vinyl windows from the Milgard Tuscany series and the Trinsic series have nice clean lines.
Fiberglass Windows
For a mid-range option, we offer fiberglass windows from Marvin Essentials or Milgard Ultra.
Information sheet: Fiberglass windows
Solid Wood Windows
Unmatched in rugged durability and natural beauty. Lindal is the only major home manufacturer to offer solid cedar windows. Our premium kiln-dried Western red cedar is of the highest quality on the market.
Cedar-Clad Windows
Combine the timeless interior beauty of our signature premium cedar window with the low maintenance and weather resistance of exterior vinyl construction, delivering years of maintenance-free living.
Information sheet: Fiberglass-clad windows (wood interior)
Aluminum Clad Windows
Aluminum exterior, wood interior. These outstanding windows feature maintenance-free, colorfast aluminum exteriors and the warmth of natural Lindal cedar on the inside. Each window has a range of glazing options for enhanced efficiency.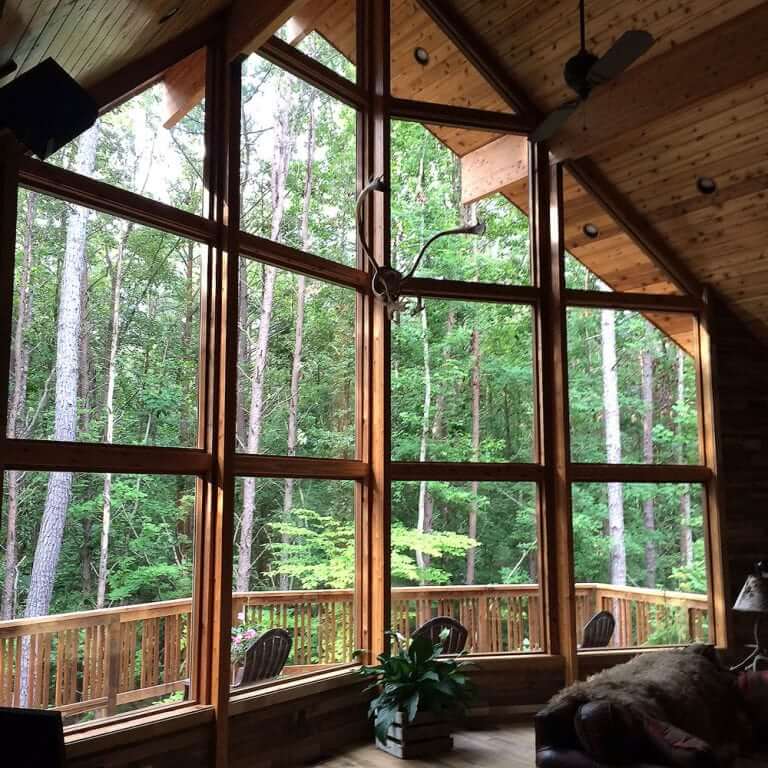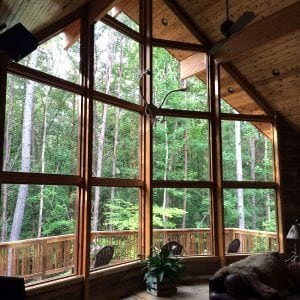 Available in an array of sizes and shapes, our aluminum clad cedar windows (available through our partnerships with Marvin and Stile) are custom crafted for each Lindal home.
Information sheet: Aluminum clad windows (wood interior)
Colors, Hardware, Glazing and Trim Options
Glazing options include new standard setting LoE-366 glass—exceeding Energy Star requirements, solar bronze, Neat™ self-cleaning glass, and hurricane glazing for coastal areas that require it. We even provide an option of removable protective construction film that protects the glass and reduces clean up during construction.
The aluminum cladding is available in a palette of  colors, from white and soft hues to bold deep colors that accent the exterior, and permanent colors that will not fade with age. Even the newest modern anodized metallic finishes are available.**
Hardware options include white, black, and tan, but also traditional oil rubbed finish and more contemporary polished nickel finish.
You can even order the interior screens framed in cedar to add a true touch of class!
**Premium special order colors and metallic finishes require additional lead time
Window Styles for Every Home
Energy-efficient Lindal windows are available in a broad range of styles, with glass and window grid options to enhance the architectural style of your home. Styles include casement, awning, picture frame, slider, double hung, bays and bows, garden, skywall, patio door, and others.
Not all window manufacturers have all window options available – please consult with your Lindal representative to find the best options for your budget and style.
We encourage you to visit your independent local Lindal dealer to learn more about our window options and see samples in person.
Lindal works with premium window suppliers including Marvin, Milgard, and Stile, among others, to offer a full selection of premium-quality windows in a nearly-limitless array of shapes, sizes, and options. These manufacturers provide windows specially designed and built to fit our homes precisely and to work with the Lindal system and Lindal hardware options and are included in the price of your materials package.
To figure out which windows will work best with your home design of choice, talk to your local Lindal representative. Build your own home, the way you want it, with the help of Lindal Cedar Homes.