Stories

Living La Vida Al Fresco
A Modern Lindal Home with Traditional Japanese Design Elements
By Jos Kannin for Lindal Cedar Homes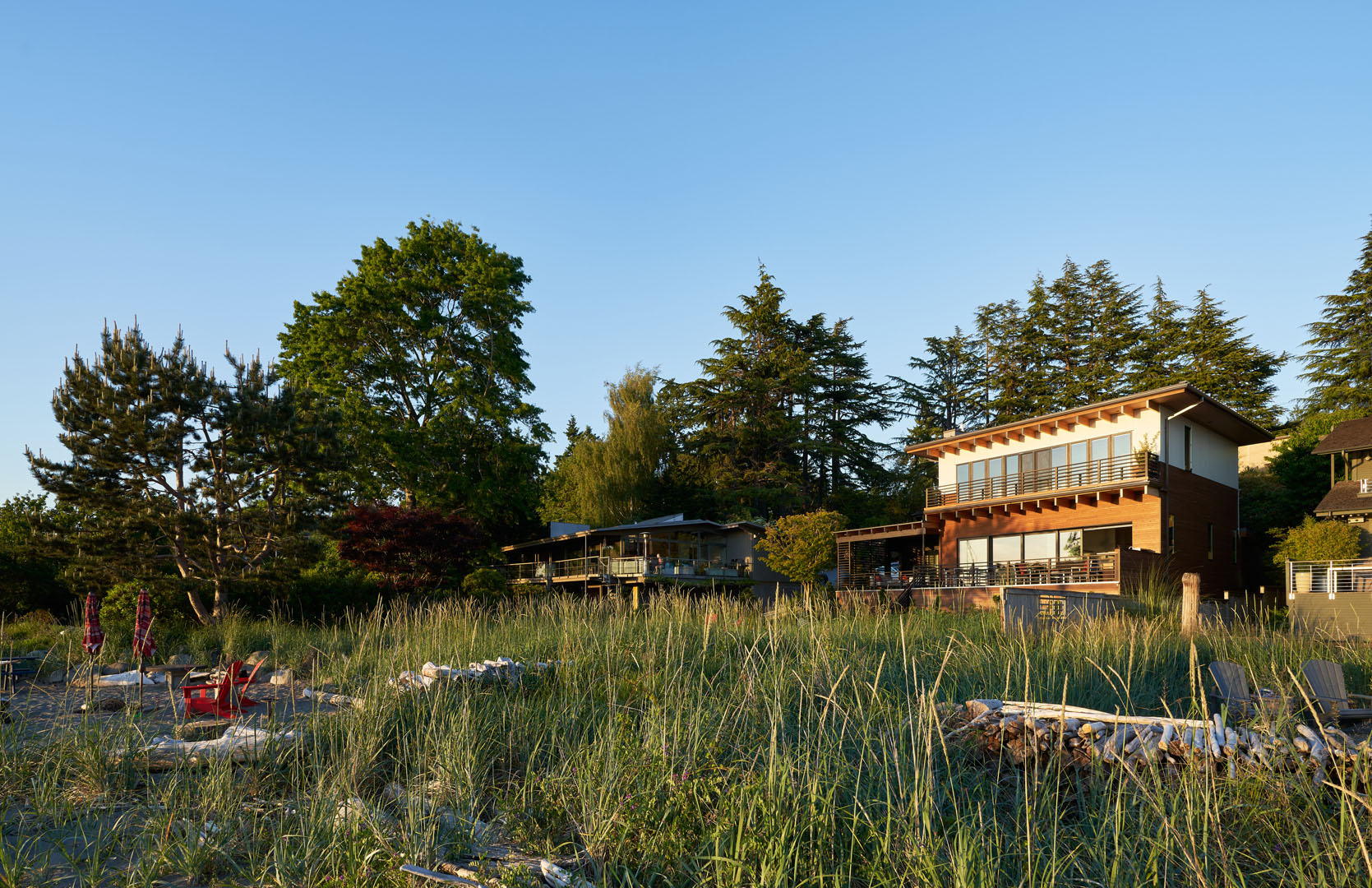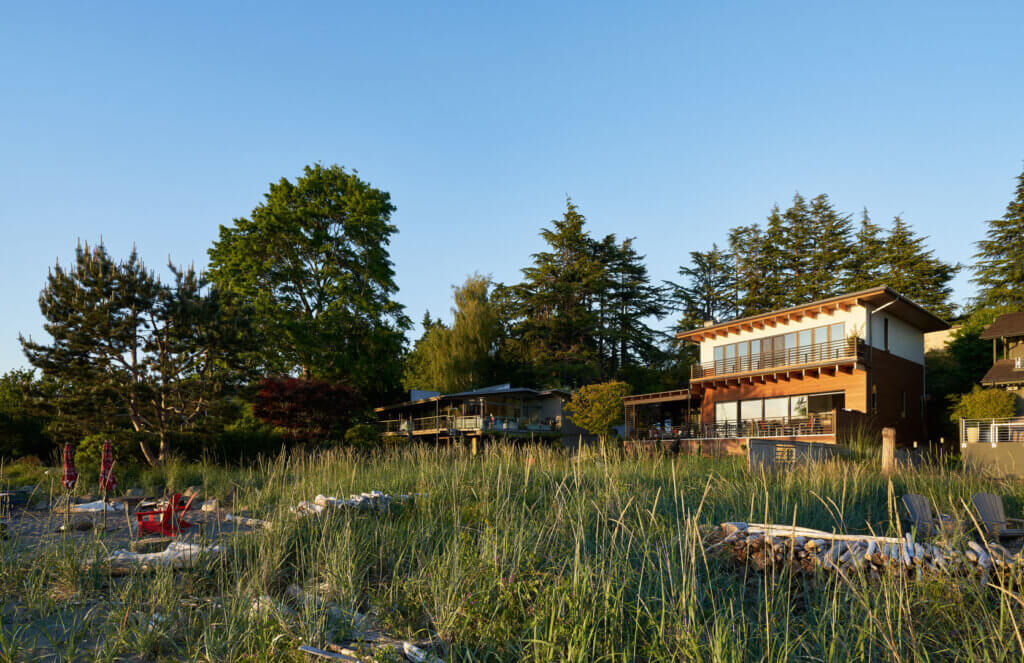 Photo: Kevin Scott
"I thought of this project as 'blurred lines.' I wanted materials to flow from inside to outside without a hard line. I'm a very al fresco type of person, and every hour of the day there's a different deck you can use."    -Dan Valente, Homeowner
Dan Valente's love of the sea began during his childhood growing up on Long Island, NY. He attended maritime college, served as third officer on a ship, and moved to Seattle, WA, in the 1980s to help a friend start a business, later founding his own shipping brokerage company on Mercer Island. So when a property on the banks of the Puget Sound with a rare 85 feet of no-bluff waterfront came available a few years ago, Dan jumped at the opportunity to own a waterfront lot. He decided to tear down the existing home and develop a beach house floor plan with a seamless indoor/outdoor aesthetic, and hired a local architect to draft the initial beach house plans. However, he soon found that he wanted more creative input. "The architect was set in the way that things should be done," he said. "I figured it was my house and I was going to do it my way."
Lindal's CEO, Bob Lindal, introduced Dan to Sakshi Uomoto, the architectural designer at Lindal's Seattle Cedar Homes dealership. Sakshi worked collaboratively with Dan to finalize his beach house plans through multiple iterations and to oversee the project.
Japanese Style House Influences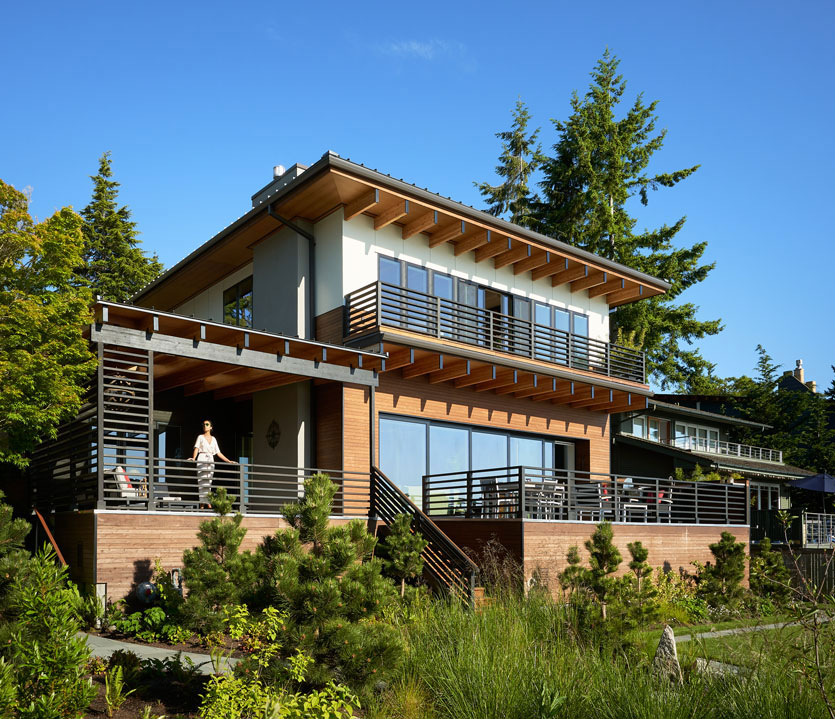 Black stained cedar rails on the multiple decks, indoor outdoor entry room, and outdoor stairway reinforce the home's horizontal emphasis and create a beautiful interplay of light and dark as the sun filters through at different angles throughout the day. Photo: Kevin Scott
After living in Japan for a few years, Dan developed a deep appreciation for the materials, color palette, and overall aesthetic of Japanese style homes. Sakshi was familiar with Japanese design principles and developed a floor plan and materials palette that includes many traditional Japanese elements. For the exterior siding, Dan opted to use shou sugi ban —  a specially charred wood that is resistant to water and insect damage — on the lower two thirds of the house in varied shades from brown to black. The upper third is composed of white fiber cement panels in the same proportions as Japanese tatami mats. The flat roof is made of steel.
"I thought of this project as 'blurred lines,'" Dan said. "I wanted materials to flow from inside to outside without a hard line. I'm a very al fresco type of person, and every hour of the day there's a different deck you can use."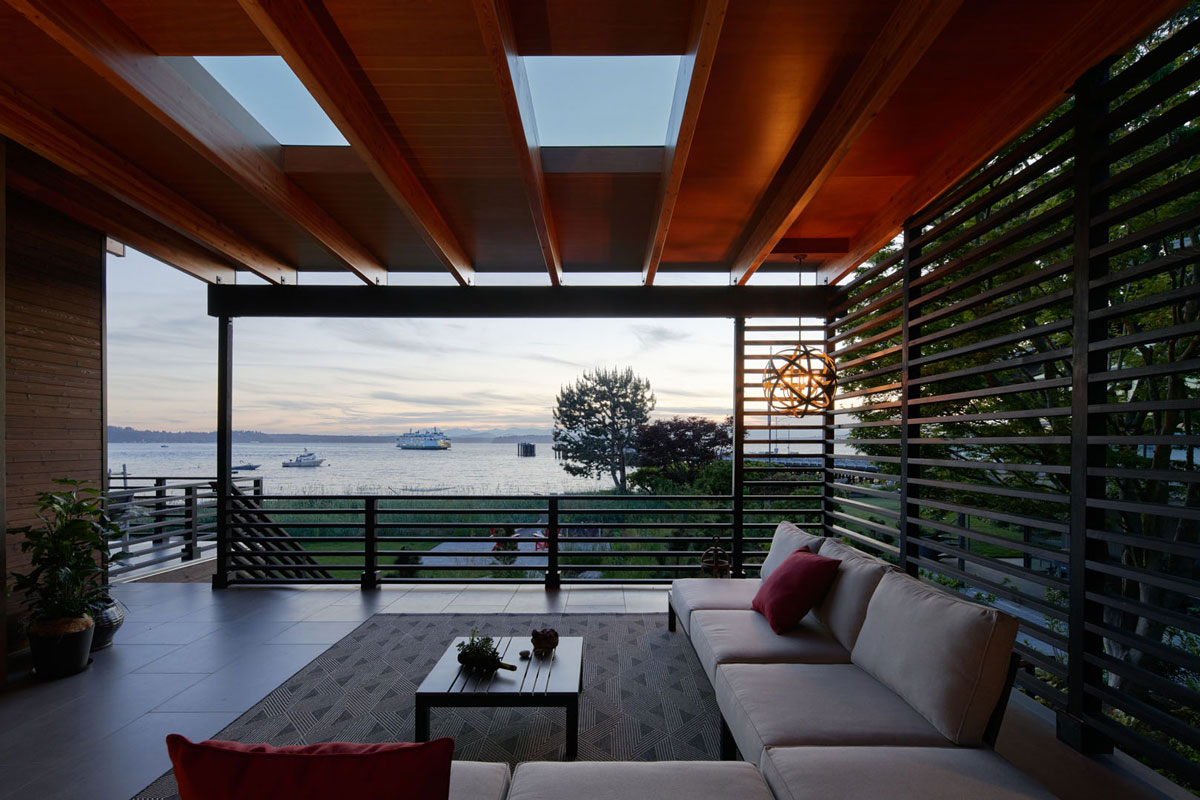 The indoor outdoor entry space is covered to create a privacy barrier from the neighbors and also provide protection from the elements so it can be used year-round. Photo: Kevin Scott
"I'm very proud of the materiality of the house in which different shades and types of material all come together seamlessly to create a rich and dynamic material palette," Sakshi said.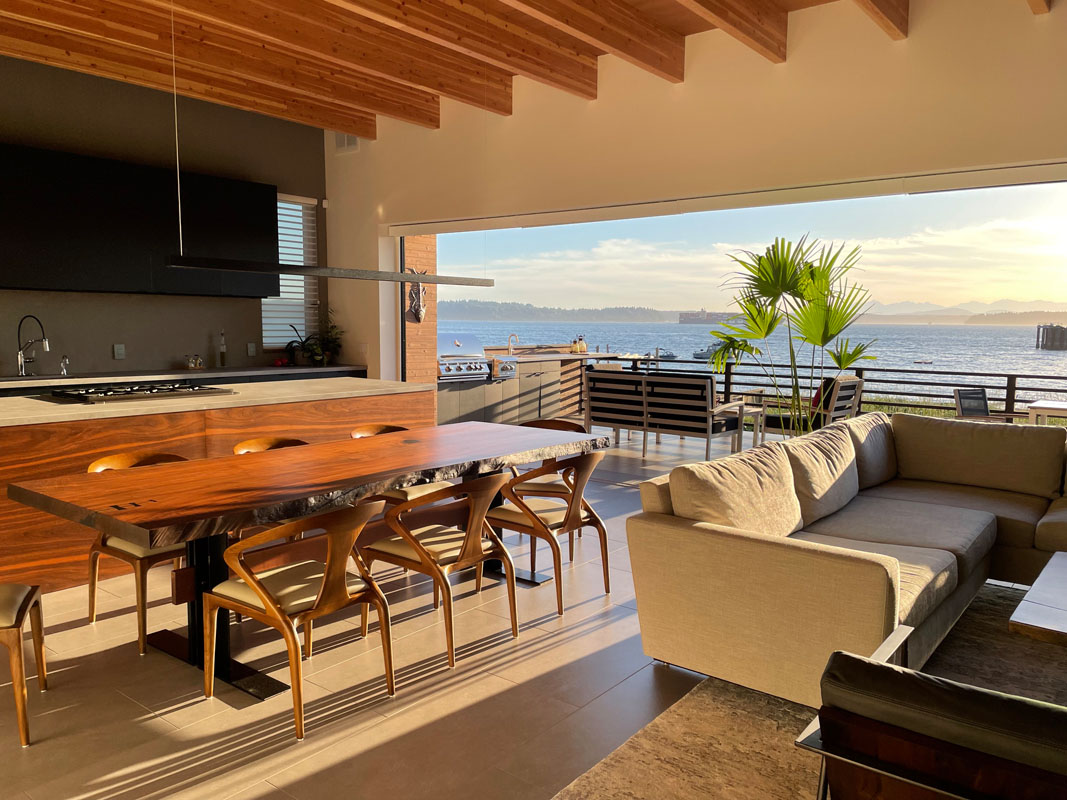 Tiling in the kitchen extends to the deck, so when the 32-foot lift and slide doors open there's no transition between indoors and out. Photo by author.
Site Challenges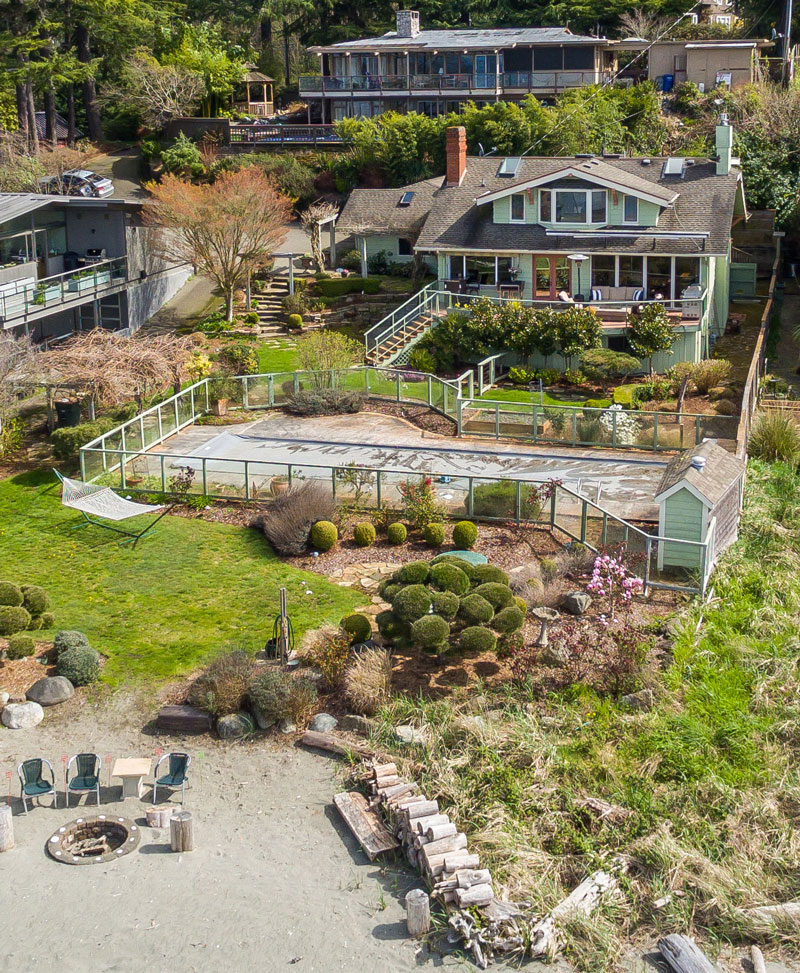 The original house was built in 1928. The swimming pool was filled in to create space for a backyard patio. Drone footage provided by homeowner.
To accommodate the City of Seattle's zoning and permitting rules, the new beach house plans blueprint had to fit within the footprint of the existing home and retain parts of the original, including the foundation. "The site has a steep slope, shoreline control issues and landslide hazards, as well as a stream set back," Sakshi said.
"This project presented numerous challenges related to restrictions imposed in permitting, limitations of the existing structure, site access, and probably most of all, my expectations," Dan said. "Sakshi always took time to listen and understand my vision for the project and at the same time was very good at helping me manage my ideas. With any project, there are changes and frustrations in the course of construction that at times seem overwhelming, but Sakshi was on top of it, attending on-site, coordinating with suppliers and contractors, keeping the project moving forward. We created drain fields to take all the ground water from the house to the west. We ended up making a lot of compromises on the original house floor plan, and it was good working with Sakshi on that."
A Beach House Designed for Entertaining
Dan tells the story of a Seattle building inspector who visited the property during construction. After walking through the house, he turned to Dan in amazement and asked, "Why are you building a 4,000 square foot, one-bedroom house?"
While technically a four-bedroom beach house, it's true that it doesn't feel that way. Two of the bedrooms are used as a workout room and home office, respectively. The guest room is intentionally small, "so guests don't stay for too long," Dan said, laughing. "This is not a family house. It's designed for empty nesters who like to entertain."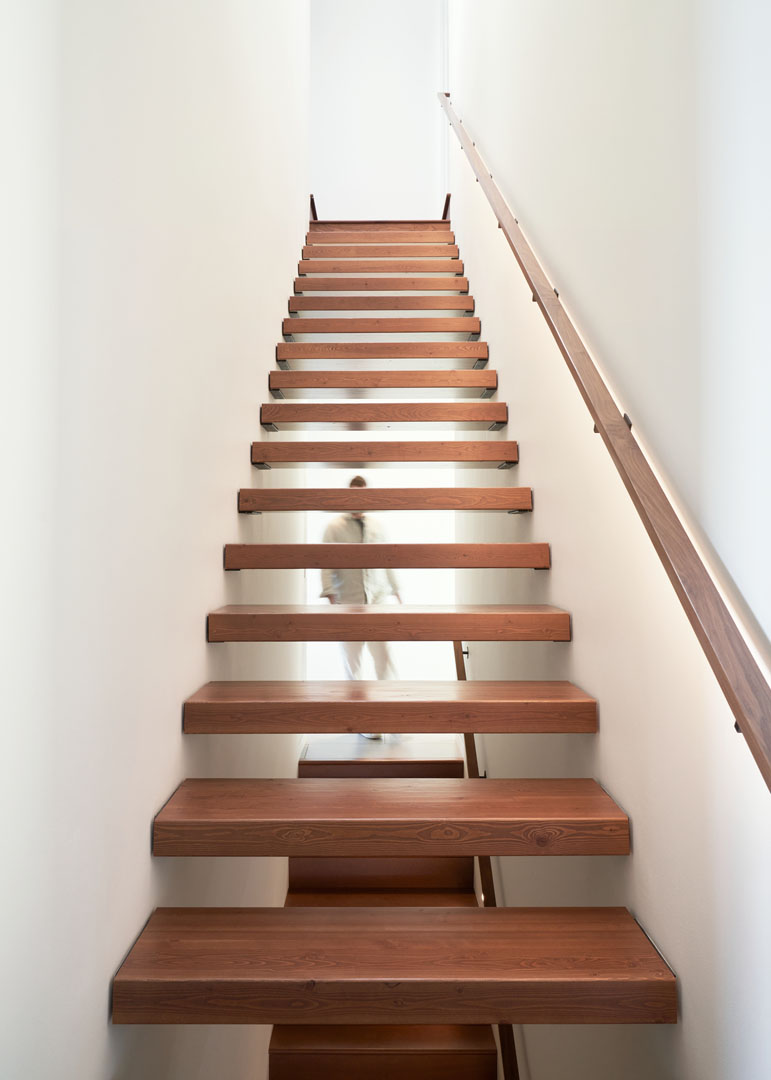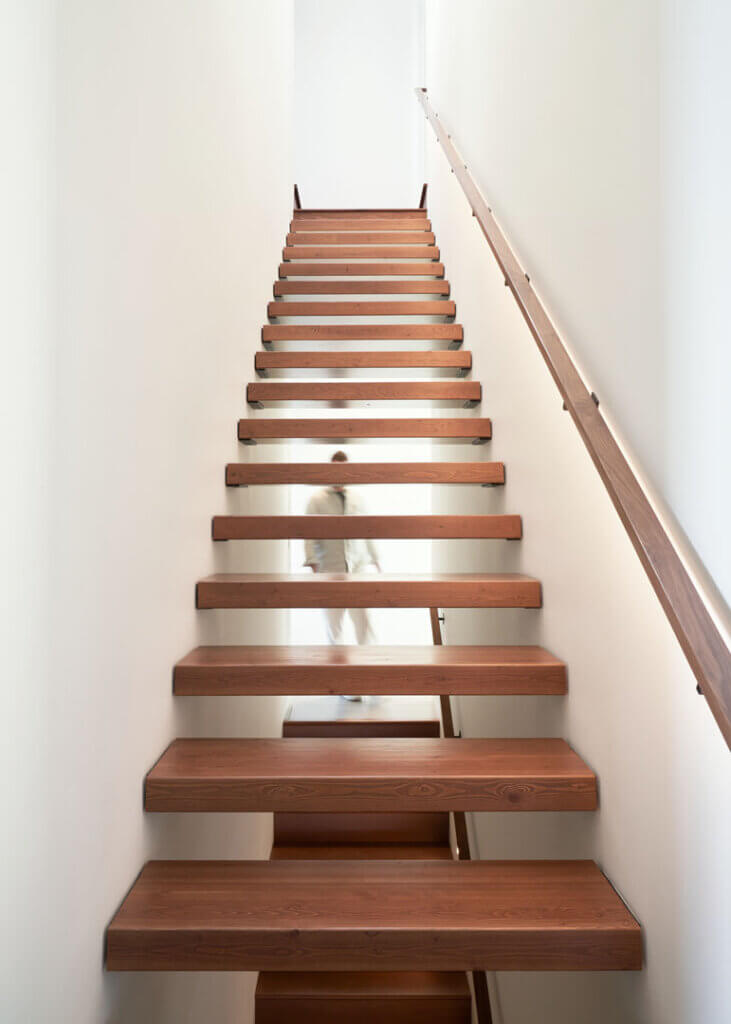 The upper floor is reached by a custom floating staircase with an operable skylight for light and ventilation. The handrail is underlit with LED lighting. Photo: Kevin Scott

The upper floor comprises a workout room and a luxurious beach house bedroom suite with a comfortable sitting area. Sliding doors lead out to a balcony where Dan and his girlfriend like to sit and drink their coffee in the mornings, watching the ferry come and go from Vashon Island to the West Seattle dock a stone's throw from their front door.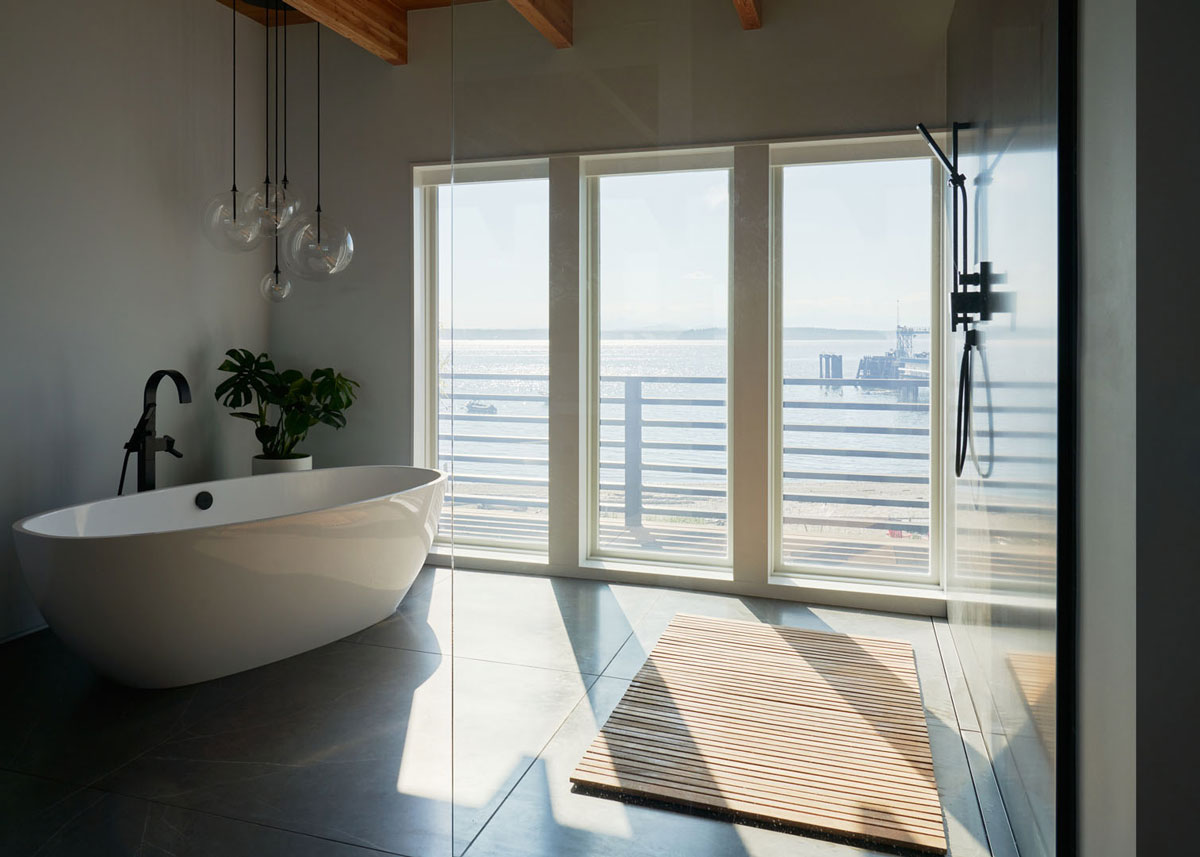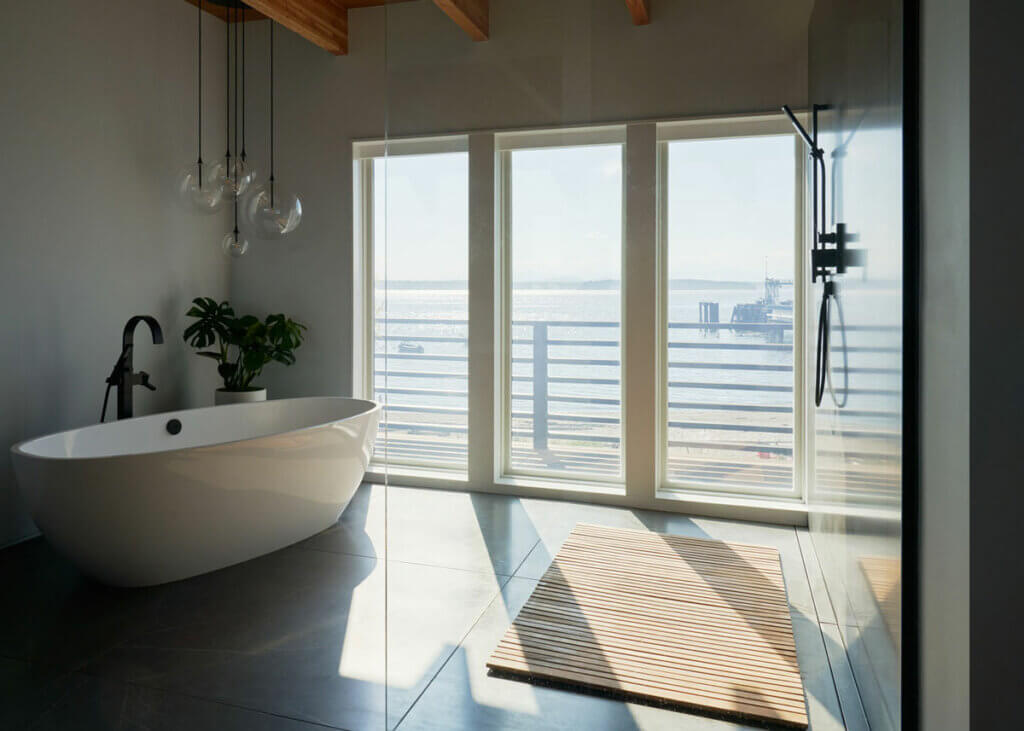 The master bathroom includes a soaking tub and a spectacular water view. The window contains a gas between the panes that fogs up to create privacy when bathing. The floor is slightly graded to slope down to the shower drain for easy cleaning and lip-free shower entry. Photos: Kevin Scott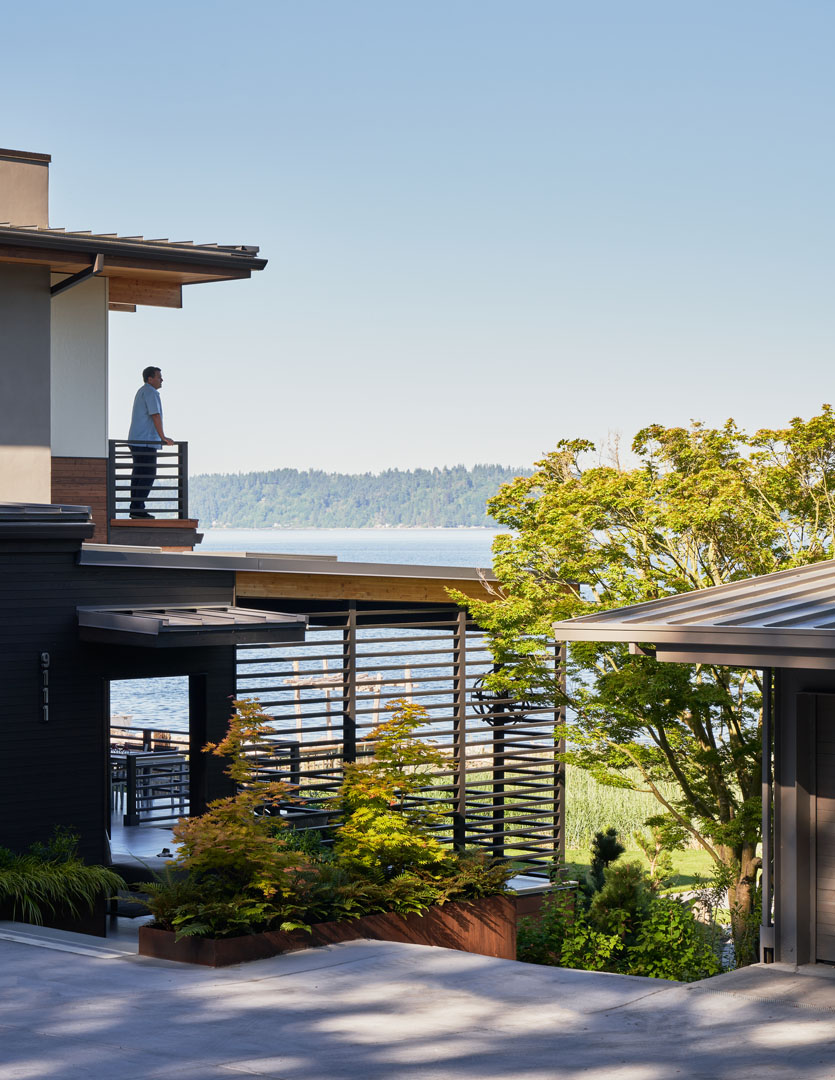 A balcony off the master suite affords a panoramic view of the Puget Sound. "We sit there and look over the whole world," Dan says. Photo: Kevin Scott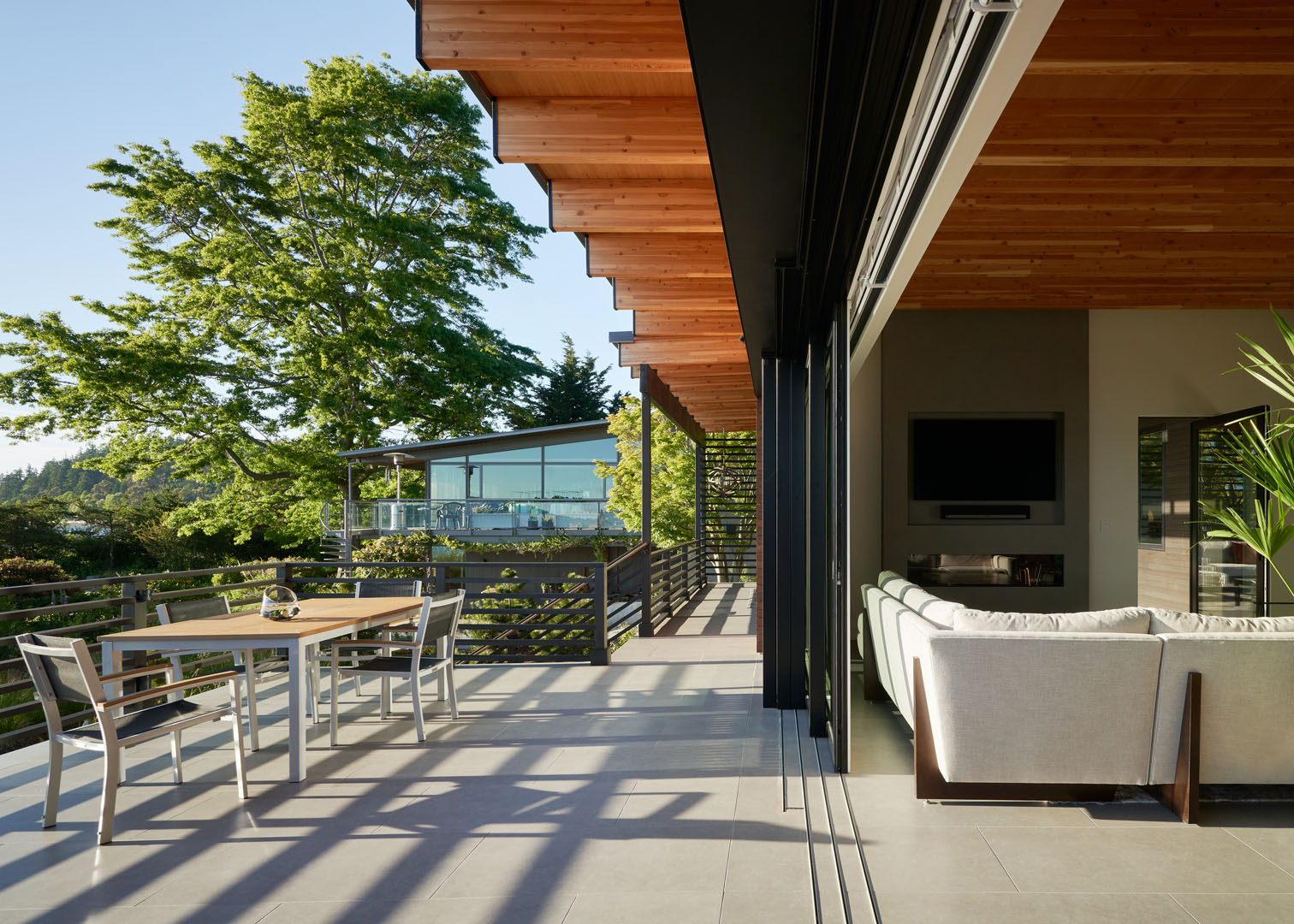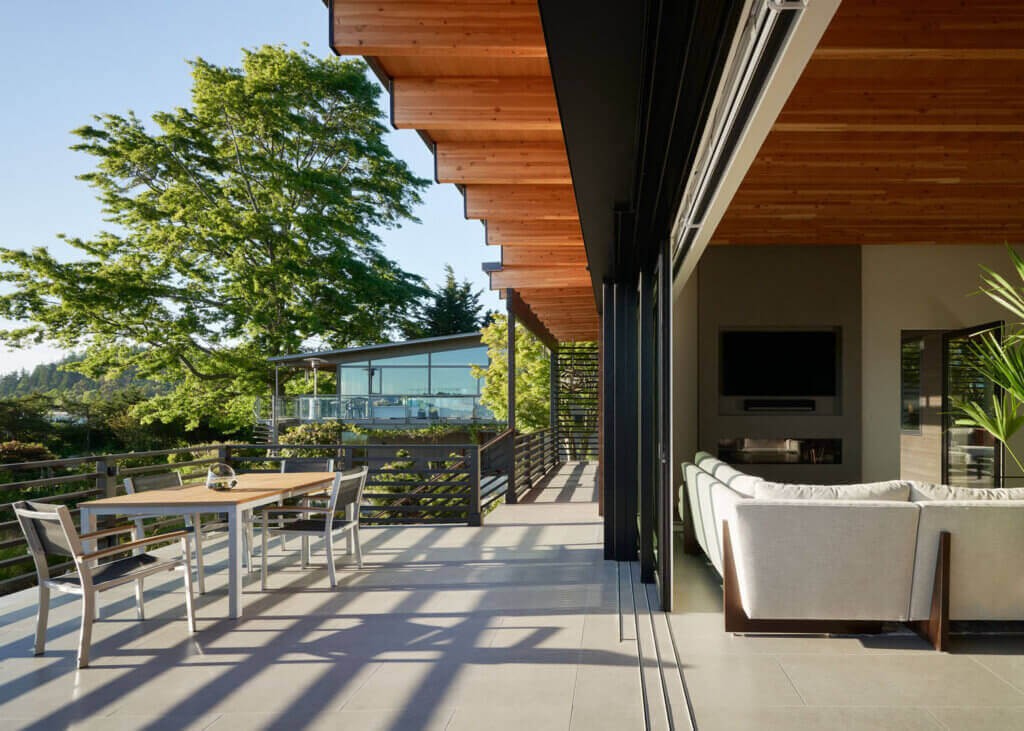 Lindal's post and beam construction allows for a massive lift and slide door with no supporting posts to block the view. Photo: Kevin Scott
Dan's favorite room is the kitchen and, by extension, the deck beyond, which has its own outdoor cooking area. The open floor plan concept is perfectly suited to a beach house design. Dan insisted that all three decks on the main level be at the same elevation, so there's no sense of transitioning in or out. The blurred lines effect is reinforced in subtle ways throughout the beach house design.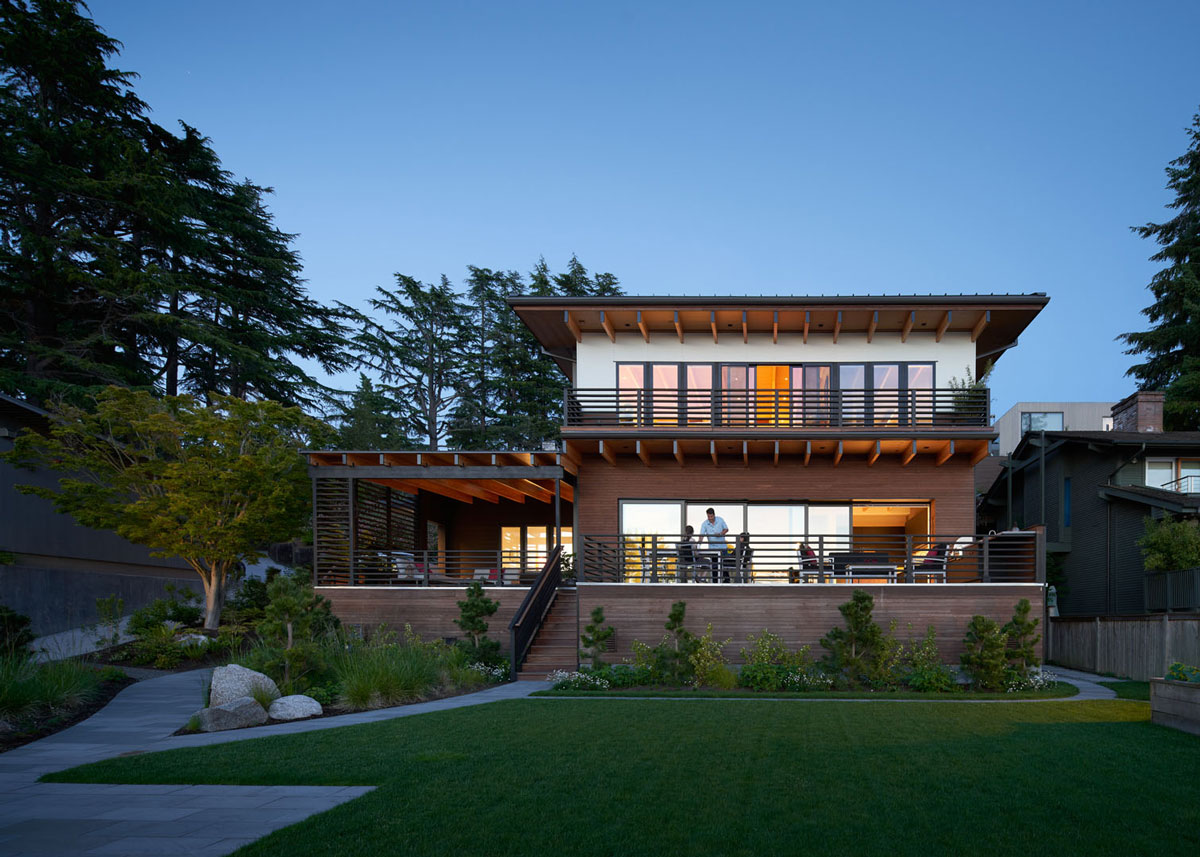 "I love to cook, and on days when I don't want to cook inside I move everything outside and we cook on the deck there,"  Dan said.  Photo: Kevin Scott
Dan's grown children, a son and daughter, often visit with their families and significant others, and he and his partner enjoy hosting parties on the waterside deck.
Construction and Landscape Design
Sakshi coordinated with Schaefer Construction for the build and worked with landscape architect Leslie Batten from Board and Vellum on the exterior landscape design and plantings, which were installed by Sly Landscaping. "Dan had a really strong vision," said Leslie. "He wanted a patio, some lawn, raised beds, and an area in the back that was a reprieve from the hot afternoon sun."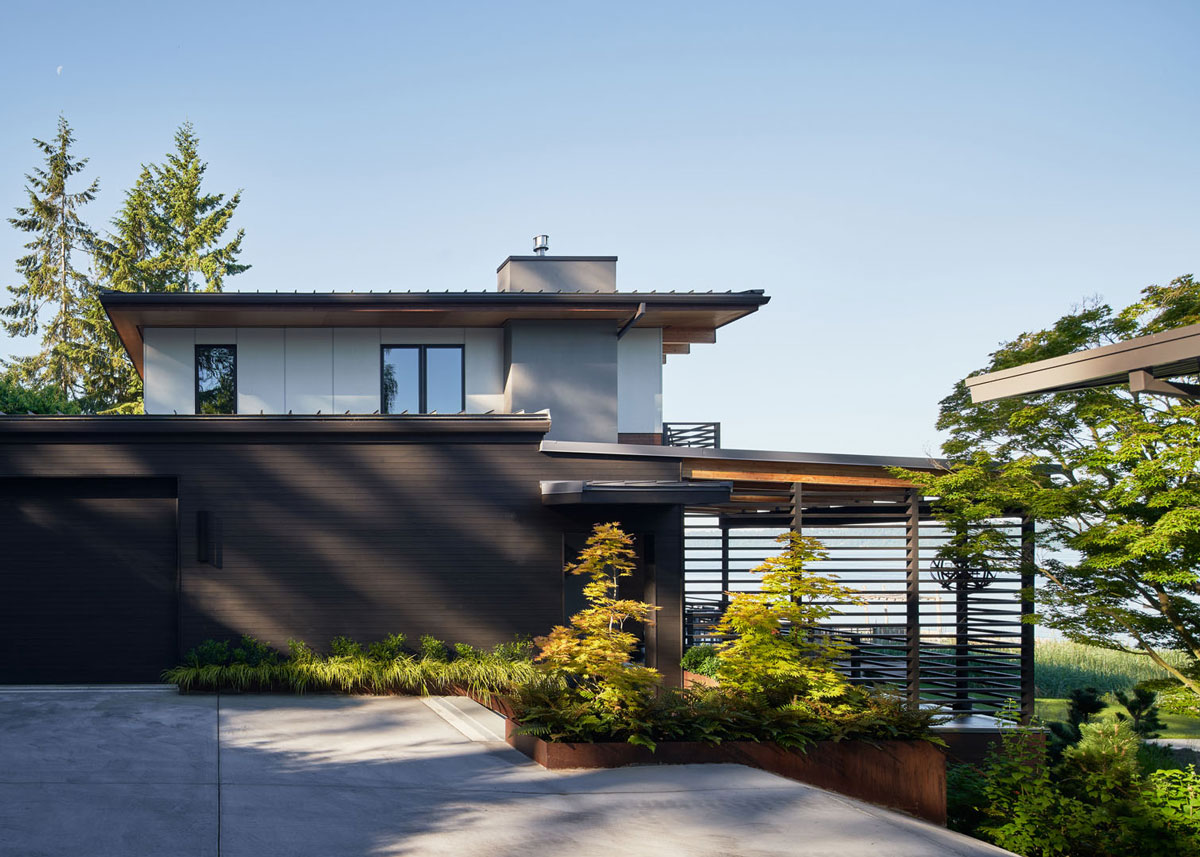 "The biggest challenge we tackled was the front entry sequence, which transitions from the parking area to front door, with a secondary path from the driveway down to the back yard. We wanted to celebrate where that door is to the indoor outdoor room, drawing your attention there using refined materials that are durable but also aesthetically appealing."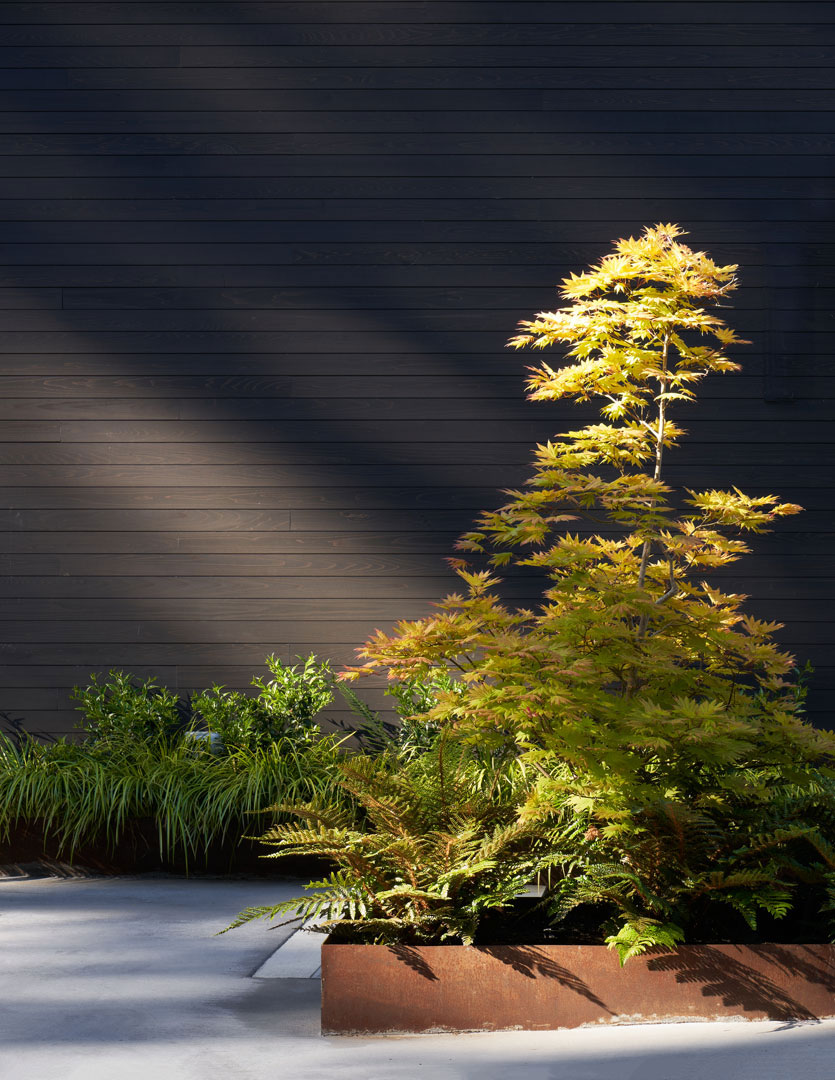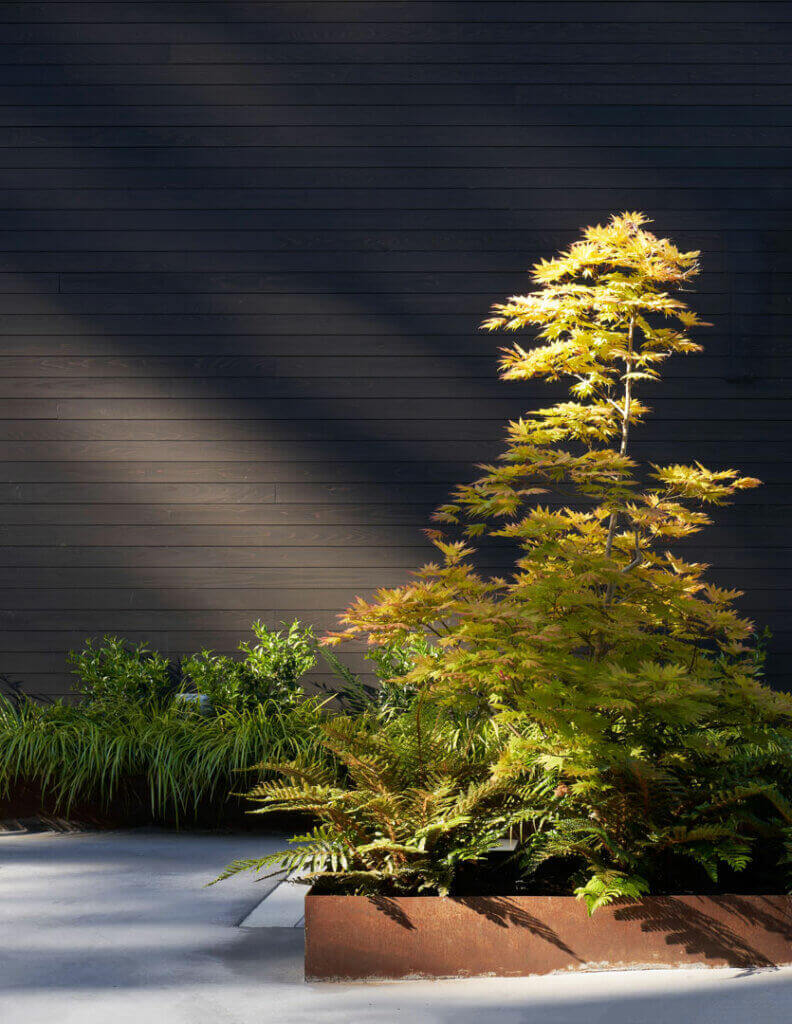 A steel planter with Japanese maples creates a landing space and serves as an edge for the stair. Photos: Kevin Scott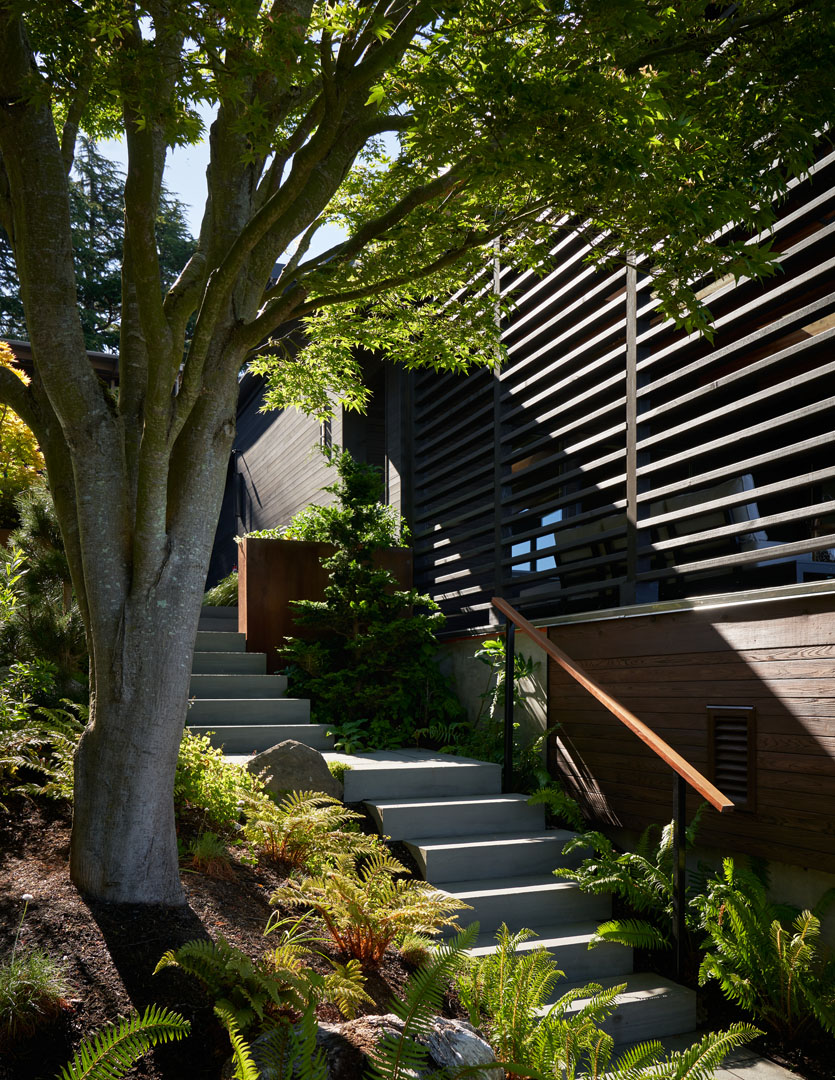 A Japanese stroll garden design for the stairs down to the back yard area uses native shade-loving Pacific Northwest and Japanese plantings including ferns, witch hazel Solomon's seal, and moss. The bluestone stair treads were staggered to accommodate the root system of an existing Japanese maple on the property. Photo: Kevin Scott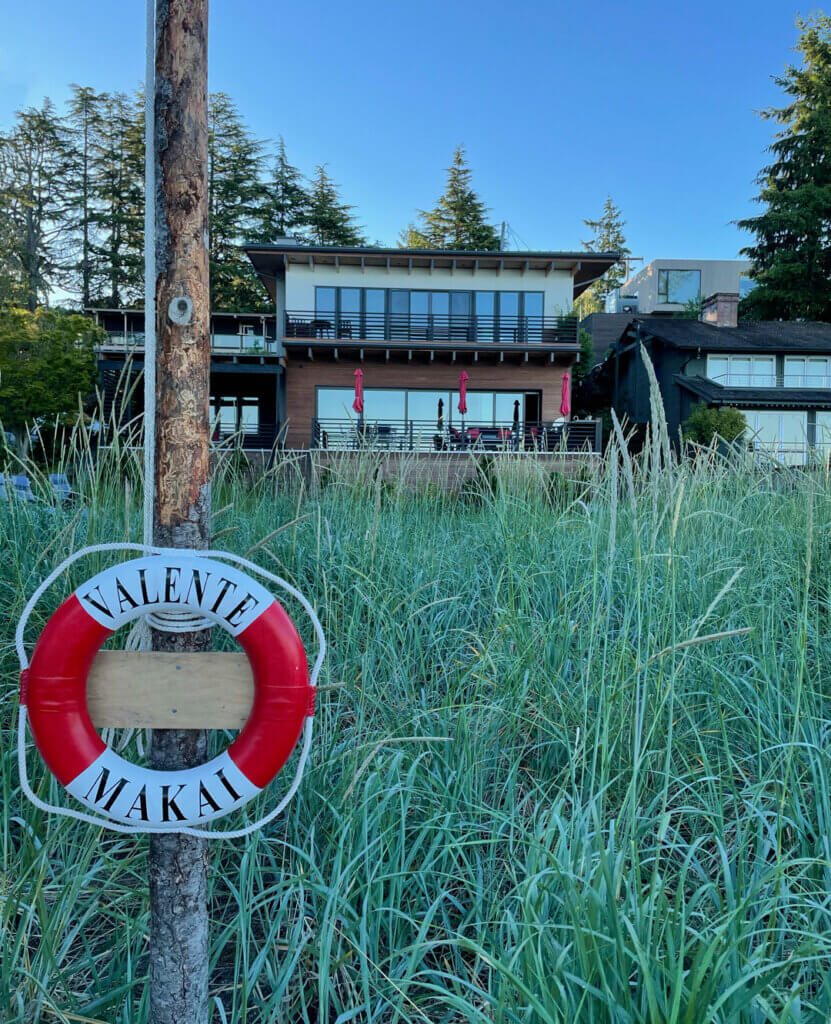 Sea grass covered sand dunes provide a drainage area for water runoff on the sloped lot. Makai — the name Dan gave to his new home — means "toward the sea" in Hawaiian. Photo by author.
As per city requirements and Dan's own wishes, the shoreline zone is composed of all-native plantings.
"Dan's goal was a really strong indoor outdoor connection, and I think we nailed it," Leslie said. "There's so much breathing room; so much connection between the architecture and the site work."
A Warm and Welcoming Beach House

Homeowner Dan Valente, photographer Kevin Scott, and architectural designer Sakshi Uomoto of Lindal Cedar Homes take a break on the deck during the photo shoot. Photo by author.
"The house is modern but very warm and welcoming at the same time. It has ample space to entertain as well as relax and unwind," Sakshi said.
"With Sakshi's help, we are now living in an incredibly beautiful unique Puget Sound waterfront home," Dan said. "Even more than her skills as an architect and project manager, it was Sakshi's designer eye and aesthetic sense that gave us the home I was dreaming of."
Written by Josefin Kannin, Marketing Director for Lindal Cedar Homes
Credits
Custom post and beam home by Lindal Cedar Homes @lindal_cedar_homes
Design by Sakshi Uomoto @otodesign_us
Build by Schaefer Construction
Landscape architecture by Board and Vellum
Landscape installation by Sly Landscaping
Photography by Kevin Scott (unless otherwise noted) @k7scott
Eco Friendly and Passive Beach House Plan Features
Operable skylights enclosed in the staircase circulate the cold air from the basement up two flights of stairs to cool the entire house
Solar-sensored blinds that come down to protect the house – which is primarily all windows on the western side – from solar gain
Screen porches on the northwest and Southeast to funnel colder air into the house
High-efficiency windows
Shou Sugi ban siding to minimize the maintenance of cedar in a marine climate
Digitally designed deep overhangs to limit solar exposure during summer months
Material palette connecting the interior and exterior of the house to have an indoor-outdoor feel not only in design of spaces but also in materials
Native plantings within the shoreline up to the Japanese stroll garden
Lots of natural area vs hardscape in landscaping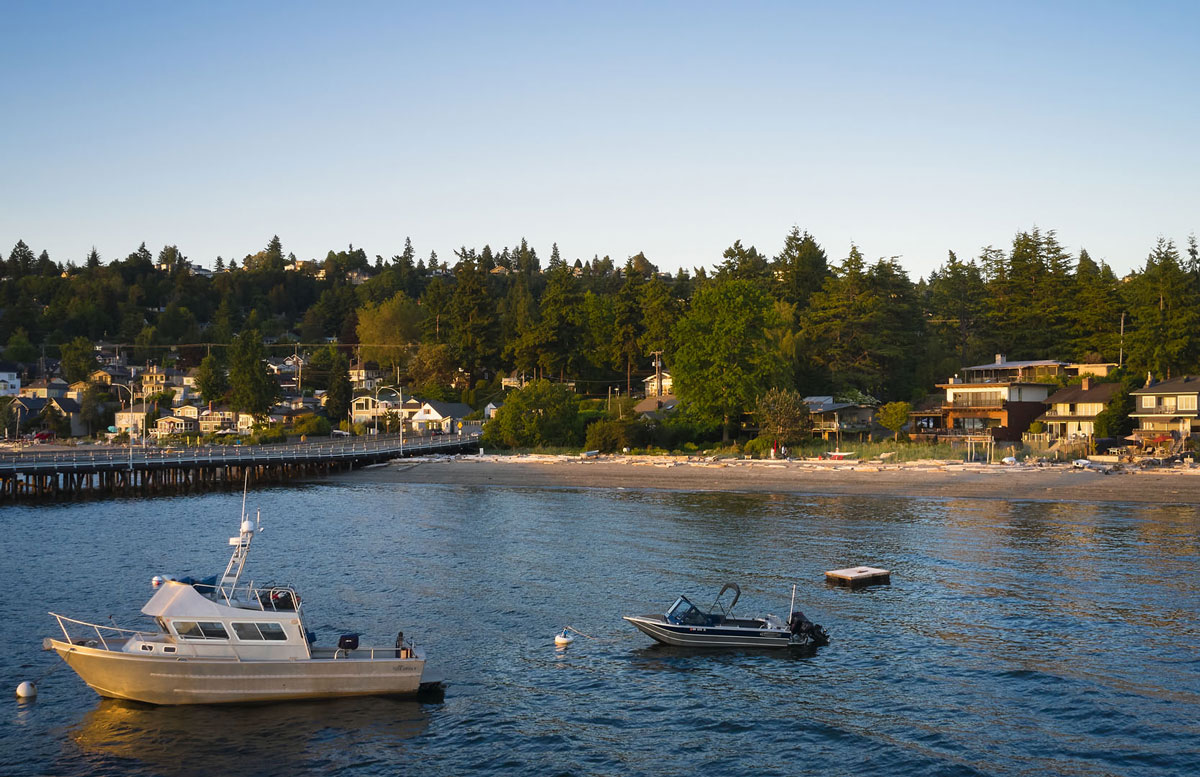 Dan keeps his boat anchored offshore in front of the house.  Photo: Kevin Scott
More Coastal Home Plans
Lindal Cedar Homes has a large selection of beach house plans and coastal home designs from classic to modern. From lakeside cottages to luxury beach house designs, Lindal has beach home plans for every site and lifestyle. See a few examples below, and contact your local Lindal representative if you are interested in building one of these home designs on your property.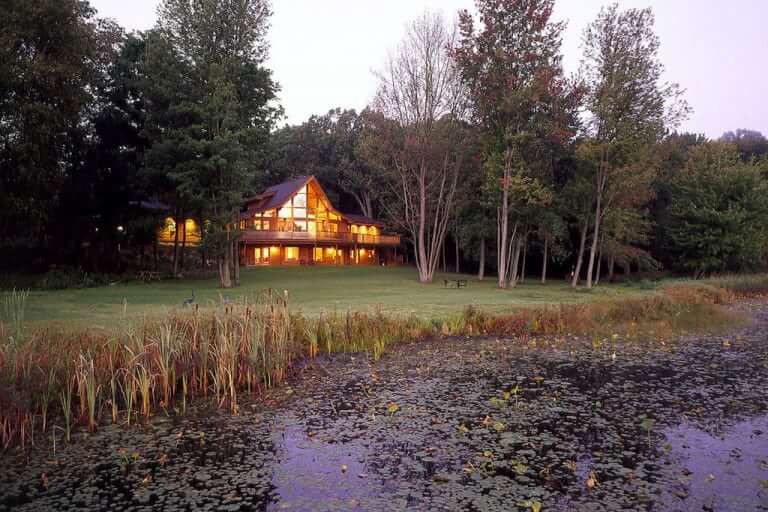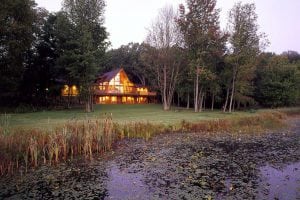 A popular design, the classic home Newport is a Summit Star series design with a two-story prow as the centerpiece.
---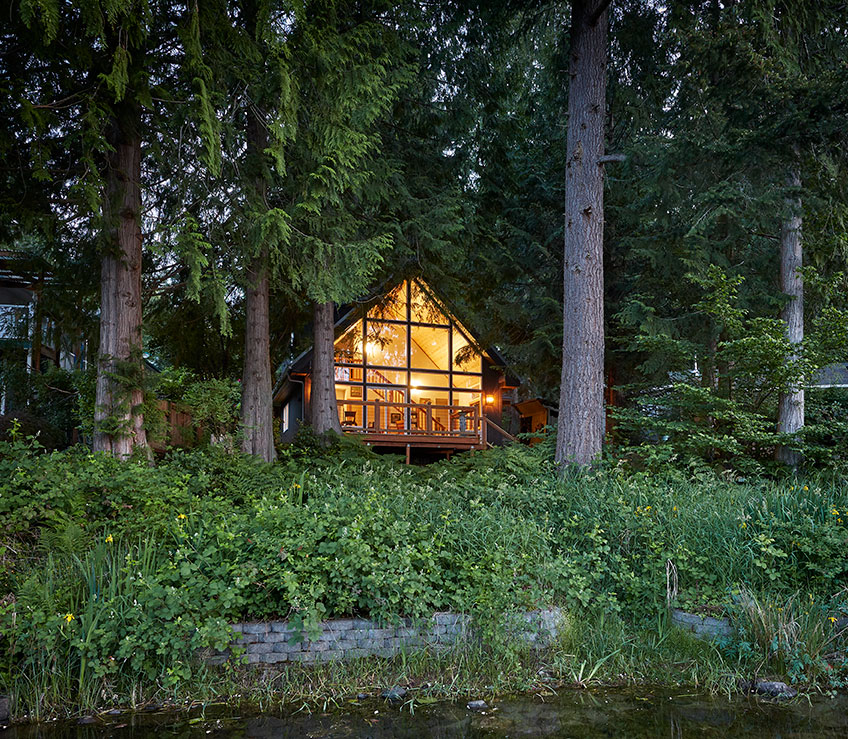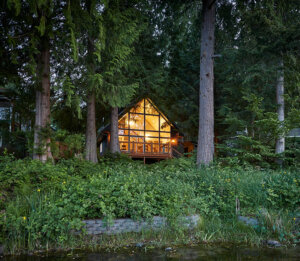 Winfield
Under 1,000 square feet, this compact residence feels spacious due to its post-and-beam construction, open floor plan, high ceilings, and a great room that opens to a large deck and panoramic vistas.
---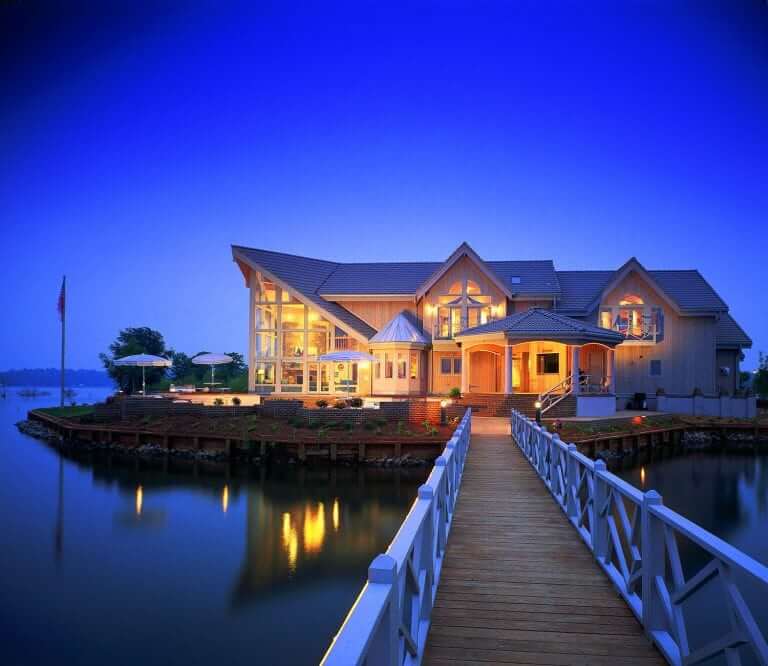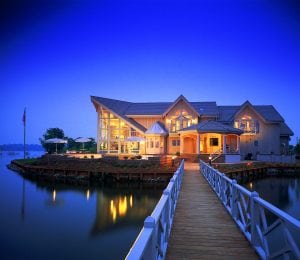 Casa Islena
Two wings of luxurious living space come together to culminate in a dramatic centerpiece: the great room with its 90-degree, two-story classic prow front and walls of glass to take in a panoramic view.
---
Heron Rock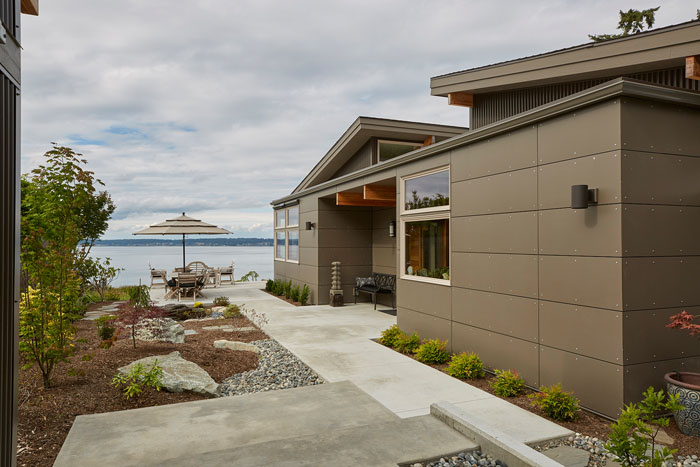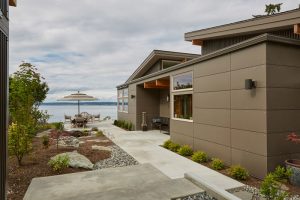 The Quick Ship Heron Rock Cottage packs a lot of beauty and functionality into a one-story floor plan.