Projects

The Courtyard House

At their first meeting, Mrs. Yoon and her husband told project designer Sakshi Uomoto of Seattle Cedar Homes that they wanted to create a home for their large family to nest and their church community to pray.
Modern Island Home is a Light-Filled Ode to Family's Korean Heritage
This vision of communal multi-generational living shaped the design of a 3,500 square foot courtyard house, nestled in the center of a five-acre site on Whidbey Island. The modern home is designed around a tranquil garden that acts as a visual and functional focal point.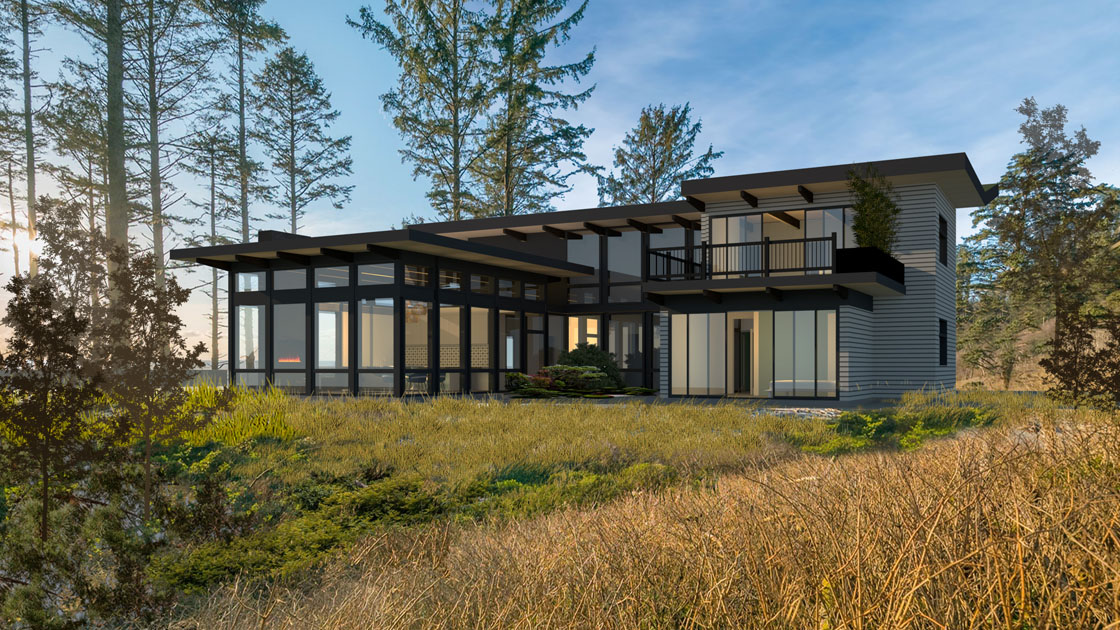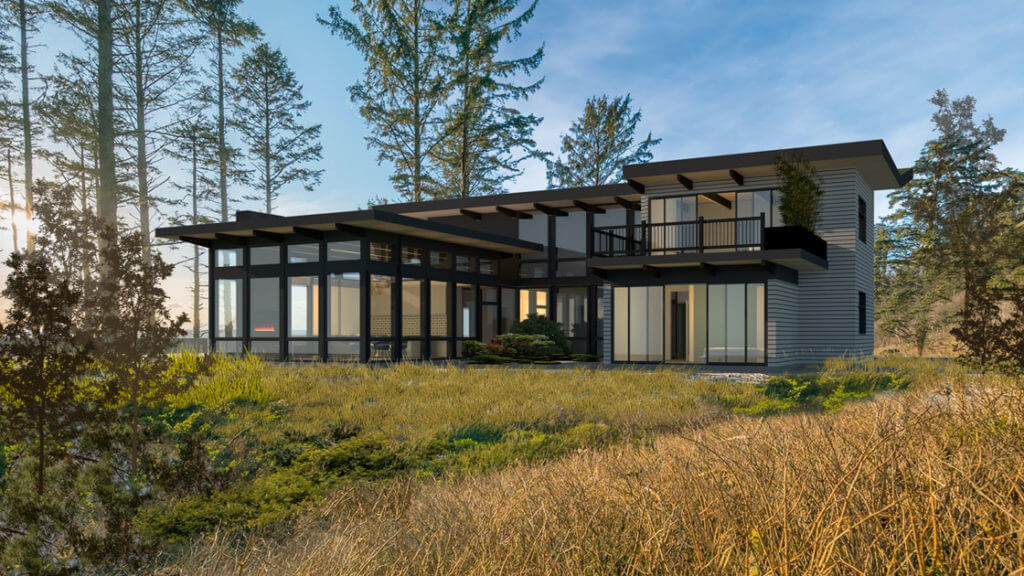 Rendering by Aris Georges of OM Studio Design for Lindal.
The central courtyard and garden is envisioned as a space for prayer and reflection. It acts as a piece of fixed art, constantly changing with different seasons and times of the day, while allowing for natural light to penetrate the communal areas inside.
Floor Plan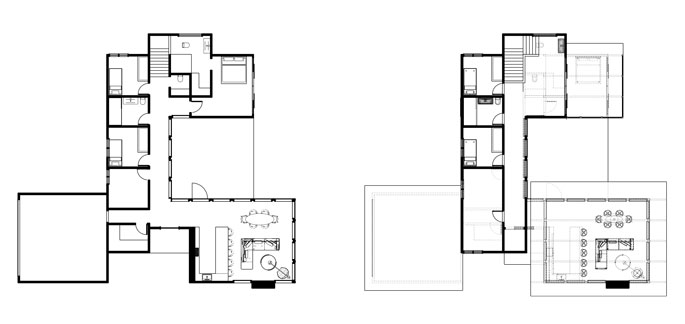 The U-shape plan is oriented southwest to maximize solar gain and views in the usually overcast climate of the Pacific Northwest. The large communal great room is designed with an oversized kitchen island, perfect for Mrs. Yoon and her family to get together for meals, as is their long family tradition.
The ground floor is designed with universal living standards to facilitate aging in place for the multi-generational house. A sunken tub in the master bath is a subtle nod to the traditional Asian style bathroom with a Pacific modern aesthetic twist.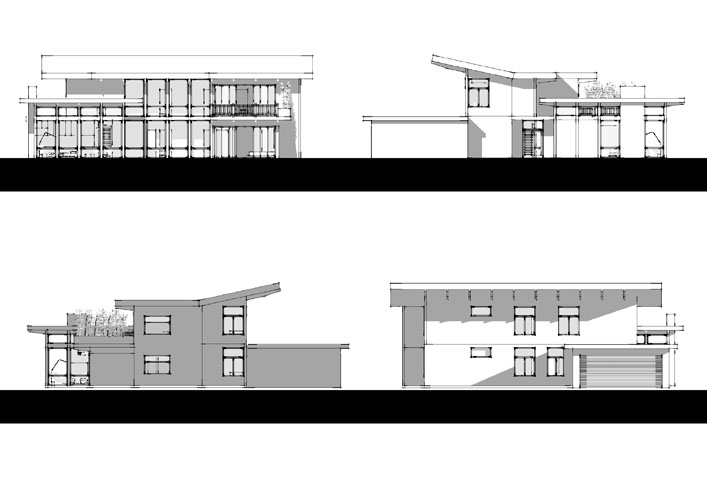 The large overhangs on the SW facade help reduce the solar gain in the summer months while still allowing for natural light to flow into the house year-round.
Low Maintenance Exterior Siding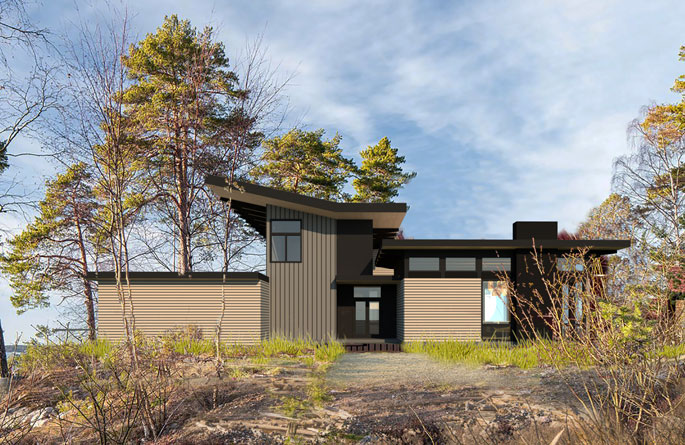 It is very important to the Yoon family to have the house be low maintenance and warm and inviting at the same time. The exterior of the house is clad in monochromatic fiber cement siding, with varying textures to create interest.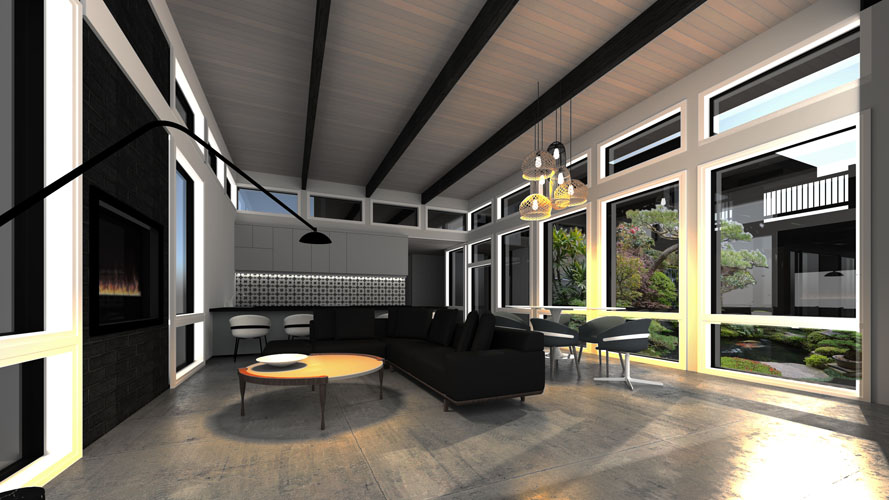 The dark glulam beams with cedar ceiling liners on the interiors create a naturally warm and modern space. The interior color palette has naturally light tones that form a neutral backdrop for the colorful finishes.
A Vibrant Interior Design Palette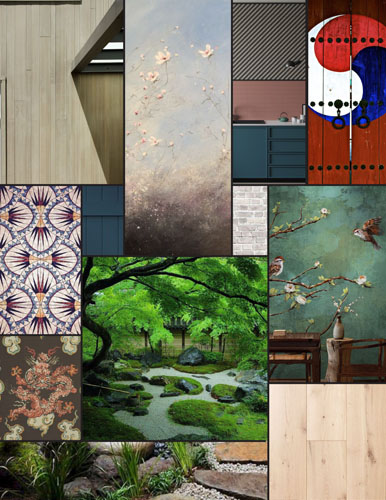 While designing the interiors of the house, Uomoto collaborated with the Yoon family to create a vibrant and dynamic space. The end result is an ode to their Korean heritage, filled with textures and patterns ranging from floral wallpapers to dual-tone kitchen cabinets and mosaic tiled floors.
The Yoon family is set to break ground in the summer of 2020. They are thrilled to move into their dream home that will be enjoyed by three generations and counting.
Seattle Cedar Homes
Seattle, WA