News

Creating an Industrial Buddhist Barn
One Client's Lindal Experience
by Michael Harris
For over thirty years, Maggie has built her career as a world-class creative director, collaborating with renowned visionaries in fashion, pharmaceuticals, and technology. Instantly recognizable industry icons—champions of change—rely on Maggie to translate their visions into well-understood motivational communication to thousands of employees worldwide—designers, production engineers, marketers—in order to build the universal understanding, enthusiasm, and momentum required to transform the vision into successfully launched reality.
But Maggie had never faced the challenge of translating her own personal vision into reality until she transformed her Lindal into an Industrial Buddhist Barn.
Today, high atop a windswept ridge in Central California is the stunning result of decades of formative thinking about her concept of "home," her ability to create community, and the work of her own two hands. In each of the images shown here are treasures from her past, carefully designed elements of daily living, and ample opportunity to nurture future passions and pastimes. Maggie's Industrial Buddhist Barn.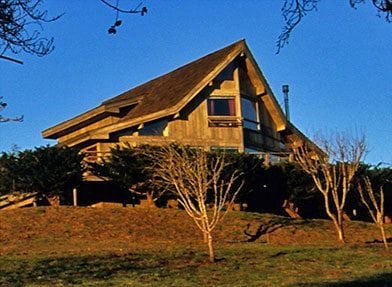 "View side" of Maggie's home… although, the "view" is 360 degrees!
Maggie's earliest recollection of Lindal goes back to the 1960s, when, as a young girl, she accompanied her father on weekend outings to a Lindal model near Toronto. Together, father and daughter marveled at the obvious enduring strength of the post and beam system and the expansive window walls that invited nature to stylishly decorate the interior.
Years later, in 1984, on weekend retreats from her intense work and urban home, Maggie and her artist mentor watched the construction of a Lindal with mixed wonderment. Dominating the highest ridge in the area, the house was larger and very different from the diminutive Victorians that dotted the countryside. While some questioned its size and siting, Maggie recalls being "taken by the strength of its glorious structure, its bold modernity, and its courageous ridge top perch."
The house changed hands before it was completed, and the new owners planted over 300 trees on the ridge, half of them fruit bearing, giving the house a wonderful softness and a home in a beautiful young orchard. For years, they nurtured the landscape but never completed the house. For years, when Maggie returned, she admits "It remained the most glorious structure around, and its unrealized potential kept haunting me."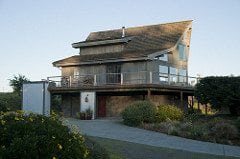 In 2005, long enamored with the idyllic local lifestyle, Maggie began to look for a home of her own, and at that very moment, the ridge top Lindal was listed for sale. On her first visit to the house, she recalls that, "When I walked into the house and closed the door behind me, I was immediately taken by the absolute quiet of the interior of the massive structure on the windswept ridge. The warm and clean fragrance of cedar greeted and enveloped me, welcoming me home for the first time.  I had never experienced such bold transparency. The security of a massive structure in contrast to its expansive openness to the natural world beyond, a front row seat to the ever changing light, the forces of nature, the bucolic landscape. It was providential: I would make this house my home." Maggie moved into her Lindal, obtained copies of the original plans from Seattle, and for two years planned how she would make this Lindal her own.
She shared her notes and sketched with friends—architects, artists, and local craftspeople—who encouraged her, and when asked to describe her vision she always referred to her mission as an "industrial Buddhist barn." The post and beam structure, systematic and factory-fabricated, were industrial.  The absolute solitude and the enduring strength of the timeless temple-like structure encouraged disciplined spirituality, creativity, learning, and introspections. And its architectural form and location in the center of the grove, spoke to nurturing, working the land, and the bountiful blessings of manual labor.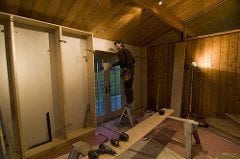 A year of manual labor, led by an incredibly gifted, thoughtful, and dedicated craftsman and crew with whom the notion of the industrial Buddhist barn resonated, transformed the vision into stirring reality. A new entry with double glass doors was positioned to enable an immediate and awe-inspiring view all the way through the massive home to the landscape beyond. Built-in bookcases for treasured books and artwork, divided into intimately sized grids, add color, texture, and an autobiographical spirit. The lovingly wrought oak floor with its own warm palette "grounds" the interior while creating a natural continuity between living areas in the open plan. The interior doors with barn-latch hardware are crafted of wood recycled from the original interior walls. "It's like a wooden jewel box," remarked Maggie, "made of honest and natural materials, lovingly constructed to protect life's cherished creations and treasures."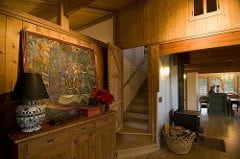 Corrugated aluminum wainscoting, furniture purchased at local estate sales and from her own family's past, covered in soft and deeply hued fabrics coexist in ying and yang contrast consistent with the vision. Like the Lindal model in Maggie's childhood memories, the signature prow reaches heavenward and gently bathes the interior with the changing light of each day and hue of each season. And after dusk, soft pools of light create personal retreats and a miniature 4″ crystal fixture lends a whimsical air of formality.
Attention to detail is evident on the exterior as well.  The finish on the siding was painstakingly created to simulate a venerable old barn by staining each board by hand with a slightly different blend of color applied over a subtle white wash. The technique was created and executed by Maggie and a local master painter. Even the decks that wrapped all four sides of the house and were originally of uniform width were rethought: narrow walkways for circulation only and wider expanses positioned for entertaining and lounging.
Even the most ardent modernists cannot help but appreciate and admire Maggie's fulfilled vision. Her work created community among the locals who once considered it an oddity. And most importantly, it is her haven for learning, introspection, and hosting treasured friends.
Reflecting on her Lindal Experience, Maggie concluded,  "This house is the largest investment of my life, and I am sure for many Lindal clients. Lindal honors clients by providing a structural system that is enduring enough to merit that investment, while still being flexible enough to accommodate—to celebrate—the personal individuality and values of those unwilling to accept bland anonymity."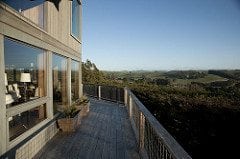 Photos by R. Valentine Atkinson. www.ValAtkinson.com
Every Lindal client begins with a vision, a hope that the effort to create "home" will be an inspiration for daily living and future growth. The enduring Lindal post and beam system provides a framework for realizing visions of every sort, an organizing element that exudes stability, longevity, and warmth. Every year it is our privilege to work with clients who entrust us with their visions and work with us to shape them into satisfying and joyful realities.  – Michael Harris