News

The Modern A-Frame House: A Classic Reborn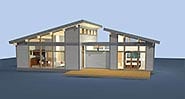 NOTE:  Since this article was first published in 2010, our modern Lindal Elements home styles have become increasingly popular.  Our Lindal Elements home designs now account for half of our sales annually. The Lindal Elements plan book is in its 6th edition. You may view the plan book here (free with registration), or purchase it here. 
The Modern A-Frame  house has been renamed Lindal Elements, The  Lindal Architects Collaborative uses the Lindal Elements building system to create innovative architect-designed homes. Sample home plans can be found in our searchable floor plan database (registration required to view).
The designers of the new Modern A Frame invite you to an introduction of a reborn classic. The new Modern A-Frame may not look a lot like the original, patented by Sir Walter Lindal in the 1960s, but its spirit lives in this fresh and inspired new family of Lindal designs.
Attend our free webinar to learn about the development of the Modern A-frame; how the disciplined use of the classic Lindal building system simplifies the design, personalization, and construction of these houses without ever sacrificing material quality.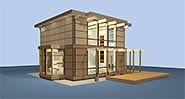 See how the Modern A frame building blocks enable every Modern A-frame to adapt to its site conditions : the path of the sun, the terrain, and the need for privacy. See how the building blocks easily transform each floor plan into an amazing variety of very different houses, ready for your personalization.
This is an ideal program for an aspiring homeowner who wants an efficient planning process, a fresh smart house and the simplicity of a modernist lifestyle warmed by wood.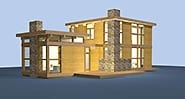 After the presentation, there will be a question-and-answer period, during which you can linger and explore the Modern A-Frame with our talented design pros.