News

Sustainable Living in a Lindal Home
A Lindal House is a Sustainable House
For many years Lindal has pioneered green home design initiatives. Clients often ask for information on our environmentally-friendly, green-building practices, and we are happy to explain.
Proper Site Placement
We've all seen cookie-cutter developments where every house is placed squarely next to the one beside it. In such developments, little consideration given to the way light and shadow move across and through the house and yard through the day and night, and from season to season. In contrast, Lindal places a great deal of importance on siting a home properly on the land. There are three primary reasons that site placement is crucial.
View: One reason, of course, is to capture a beautiful view. After all, Lindal is known for designing homes with walls of glass to take in the view.
Passive Solar Heating and Cooling: Just as important is the desire to take advantage of the natural features that will allow for passive solar gain in the the winter, and to make best use of the prevailing winds to help cool the home in the summer.
Minimal Environmental Impact: Your Lindal dealer will carefully consider siting your home to ensure minimal disturbance of the site during construction.
Less Construction Waste
Being a pre-engineered, pre-cut building package of architectural-grade materials that is delivered to your building site, there is far less waste than with conventional stick-built homes. Our customers often remark on the fact that they "barely filled a dumpster during construction of our 2,400-square-foot home!"
Post and Beam Construction
In addition, the Lindal building system, using post-and-beam construction, allows for large, open spaces that facilitate air circulation, and can reduce the surface area of the home which in turn reduces the amount of building materials.
Partnering with American Forests to Plant Trees
Lindal is also committed to the sustainability of our building materials and, in the name of each of our homeowners, plants enough trees through the American Forests' non profit Global ReLeaf program to replace those used to construct our homes.
Working with Environmentally Conscious Architects
Lindal has partnered with many architects over the years. Some have designed homes for Lindal that adhere strictly to the Lindal system-built grid. Others have taken architectural license to design 'Lindalized' versions of their homes exclusively for Lindal clients.
Jim Cutler
The Far Horizon Reflection Home (pictured at the top of the page) was designed for Lindal by renowned Pacific Northwest architect Jim Cutler, who also designed the 66,000 square-foot estate of Microsoft founder Bill Gates in Medina, Wash.
Cutler is an almost fanatically environmental architect. He designs houses twisted around trees, digging them into hillsides and covering them with vegetation, or putting them on stilts and trestles so they span an ethereal forest floor and leave it as pristine as possible. His houses are of natural materials – wood and stone – with natural finishes, with soft, grayish trim. They blend into the earth, increasingly so as his career progresses, until it seems that eventually his quest to be unobtrusive might lead him back to the cave.
-Seattle Times
Read the full Seattle Times Article on Jim Cutler >>
Turkel Design
When Lindal first partnered with Turkel Design, building a sustainable house was a primary goal for both parties.
"Dwell and Lindal Cedar Homes have tapped Joel Turkel of Turkel Designs, a veteran prefab architect, to design three new architectural designs that will be manufactured through the partnership with Lindal Cedar Homes, known for their experience building environmentally responsive houses of natural materials. The Lindal/Turkel design team will also offer clients a custom home option in the Dwell Homes spirit.  The partnership between Lindal and Turkel  has already won them accolades as one of the 2009 Design 100, the  best designed green products by Time Magazine (May 2009)." (Excerpted from DWELL press release.)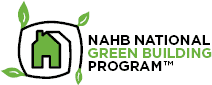 Pictured: A custom Turkel Design for Lindal home built on Gambier Island, Canada.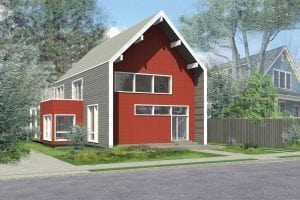 Lindal Architects Collaborative
Lindal developed relationships with major architectural firms in the US and Canada to produce the beautiful architect-designed homes that comprise the Lindal Architects Collaborative. Among the architects in the collaborative is Boston based architectural firm ZeroEnergy Design, whose vision is to strive for "a socially just and equitable world where buildings make positive contributions to the environment. We envision a status quo of energy positive, carbon neutral buildings, made of biodegradable and recyclable materials."
National Association of Home Builders Green Building Certification
In February of 2009, Lindal Cedar Homes became the first green systems builder approved by the National Association of Home Builders (NAHB) as part of their National Green Building Program:
"Green building has arrived, and Lindal is clearly prepared to embrace it. Over the decades, Sir Walter Lindal's leadership in this direction has been clear. He is an industry pioneer who has set a deliberate path in energy- and resource efficiency—the fruits of which are becoming more and more apparent today." –  Joel Robson, chairman of NAHB.
As part of this recognition, over 80% of Lindal dealers became NAHB Certified Green Professionals after completing an intensive 5-day course on green design and construction. Interesting to note is that much of the material covered in the courses is already part of Lindal's comprehensive and ongoing dealer training program.
A Green Certified Home
Lindal helped a client build the first NAHB green certified home in Washington State.
The home was featured in a book by author Sheri Koones, Prefabulous + Almost Off the Grid: Your Path to Building an Energy-Independent Home. 
National Recognition for Sustainable Luxury

In May 2009, TIME magazine released their annual Green Design 100, recognizing Lindal's DWELL Homes Collection plans in the "Architecture" category, under the heading "Sustainable Luxury" – Lindal being the only residential architecture firm with product available to the general public.
The word is out! Lindal is leading the pack when it comes to sustainable, environmentally-friendly green building practices.