News

Keeping our promise: Moving forward in 2009

After a successful Dwell on Design LA '09, it's time to regroup and take a look at some of the other fabulous green home design initiatives that have been brewing this year here at Lindal.

January 2009: The Dwell Homes Collection was "soft-launched" with a full page ad in DWELL magazine. The calls and inquiries came flooding in, and just prior to the Dwell on Design show DWELL officially announced their partnership with Lindal and Marmol Radziner Prefab for this year's Dwell Homes Collection.
"Dwell and Lindal Cedar Homes have tapped Joel Turkel of Turkel Designs, a veteran prefab architect, to design three new architectural designs that will be manufactured through the partnership with Lindal Cedar Homes known for their experience building environmentally responsive houses of natural materials. The Lindal/Turkel design team will also offer clients a custom home option in the Dwell Homes spirit.  The partnership between Lindal and Turkel  has already won them accolades as one of the 2009 Design 100, the  best designed green products by Time Magazine (May 2009)." (Excerpted from DWELL press release.)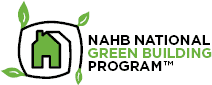 In February, Lindal Cedar Homes became the first green systems builder approved by the National Association of Home Builders (NAHB) as part of their National Green Building Program:
"Green building has arrived, and Lindal is clearly prepared to embrace it. Over the decades, Sir Walter Lindal's leadership in this direction has been clear. He is an industry pioneer who has set a deliberate path in energy- and resource efficiency—the fruits of which are becoming more and more apparent today." –  Joel Robson, chairman of NAHB.
As part of this recognition, over 80% of Lindal dealers have become NAHB Certified Green Professionals after completing an intensive 5-day course on green design and construction. Interesting to note is that much of the material covered in the courses was already part of Lindal's comprehensive and ongoing dealer training program, such as the importance of siting a home properly on the land, not just so the house has the best view, but also to take advantage of the natural features that will allow for passive solar gain in the the winter, use of the prevailing winds to help cool the home in the summer, and to minimize disturbance of the site during construction.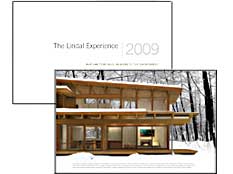 In conjunction with these partnerships, we released a new "mini" planning booklet, called The Lindal Experience 2009. It contains 9 new home plans, including those in the DWELL Homes collection, as well as details about our partnerships with the NAHB and Wells Fargo Home Mortgage (WFHM). In addressing the difficulties that some people face when trying to finance a custom home, our partnership with WFHM makes it easy for our customers to secure financing with a mortgage lender that understands the Lindal process and building system.

In May, TIME magazine released their annual Green Design 100, recognizing Lindal's DWELL Homes Collection plans in the "Architecture" category, under the heading "Sustainable Luxury" – Lindal being the only residential architecture firm with product available to the general public.
It's great to be recognized by these prominent organizations. Even with this recognition, however, one of the questions that was asked several times during the Dwell on Design show was "What makes Lindal 'green'?" As I mentioned above, one of the most important, yet often overlooked, aspects of green home design is proper siting of the home on your building lot. But with Lindal it goes beyond that. Being a pre-engineered, pre-cut building package of architectural-grade materials that is delivered to your building site, there is far less waste than with conventional stick-built homes. Our customers often remark on the fact that they "barely filled a dumpster during construction of our 2400-square-foot home!" Also, the Lindal building system, utilizing post-and-beam construction, allows for large, open spaces that facilitate air circulation, and can also reduce the surface area of the home which in turn reduces the amount of building materials.
Lindal is also commited to the sustainability of our building materials and, in the name of each of our homeowners, has planted enough trees through the Global ReLeaf program to replace those used to construct our homes.
The word is out! Lindal is leading the pack when it comes to sustainable, environmentally-friendly green building practices. With over a dozen Turkel plans in the planning stages, and several scheduled for delivery this summer, I have it on good authority that the first open house for a Turkel-designed Lindal home in Washington state is just around the corner!