News

These Modern Times

The spirit of modernism is the spirit of the times, a reflection of important economic and cultural issues of the times. As a result, in contrast to static "period architecture," modern design is continuously evolving.
Modern Homes and ADUs
Two of the important cultural phenomena of these times are the first inward migration of families to urban environments in over 60 years and the emergence of the accessory dwelling unit (ADU) as an important housing type for the new American family. 
The New Taliesin Mod.Fabs
Accessory dwelling units are being constructed in the backyards of homes all over America to meet a new demand for multi-generational housing. Combining the privacy and independence of a single family home but within watchful eye of the main house, they are economic solutions (owners don't need to purchase a second building site and usually share other amenities with the main house) for elder housing or for the sometimes reluctant return of college grads or young married to the family homestead. They also in some cases function as income generating apartments, artist studios, media suites, or professional offices.
ADUs, permitted now in most communities, are restricted in size by each community. The size limitations are quite often in the 500-800 square feet range.
While many ADUs are miniaturized offspring of the main house's architecture, modern families frequently choose bold modern designs that are bold beacons of a new time.
A Natural Collaboration
The 2009 Time Green Design 100 featured only two single family residences: a Lindal Cedar Home by Turkel Design for the Dwell Homes Collection, and the Taliesin Mod.Fab created by the students of the Frank Lloyd Wright School of Architecture, under the direction of Professor Michael Johnson. The 432 square foot Mod.Fab is a striking one bedroom accessory dwelling unit with bold roof projections that extend the living space well beyond its modest footprint.
A Lindal Architects Collaborative charter member, Frank Lloyd Wright School of Architecture and the Frank Lloyd Wright Foundation has selected Lindal Cedar Homes to produce the original Mod.Fab design, along with two new Mod.Fabs of approximately 700 and 800 square feet.
Mod.Fab Options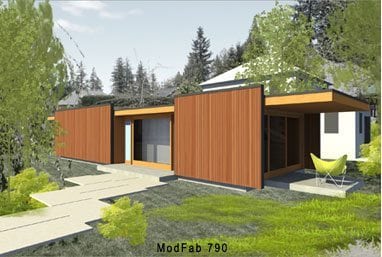 The Lindal Mod.Fabs will be available in two exterior finishes:
The original maintenance-free exterior with bold cement board panels and white or bronze high efficiency vinyl windows and doors,
An exclusive Lindal finish, featuring clear vertical cedar siding with steel cornerboards and trim elements, Lindal high performance cedar windows and doors, and clear cedar ceiling liner and roof extensions.
To maximize value by eliminating design, drafting, pricing, and engineering costs, the  the Mod.Fab exteriors dimensions are fixed, while the interior layouts may be modified on site.
The New Marmol Radziner Urban Designs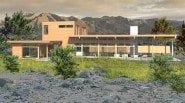 Lindal Cedar Homes is pleased to announce the July 4th introduction of a trio of homes designed for confined urban sites by Lindal Architects Collaborative charter member Marmol Radziner. These distinctive signature MR designs were created for sites that are as narrow as 50 to 60 feet with nearby neighbors on either side. Reflecting the need for privacy, these homes nonetheless maintain our trademark transparency and sun drenched warm modern Lindal interiors.
Clad with prestained vertical or clapboard cedar siding or new maintenance-free factory-finished corrugated steel siding in a brilliant array of 24 colors, these designs are ready to be personalized for site and self.
The Marmol Radziner homes, between 2,400 and 2,800 square feet, designed with the features, openness and flexibility required by modern families, will be at home on large sites subdivided into smaller 1/4-1/3 acre lots or replacing older structures that are removed to make way for energy efficient green homes.
The Marmol Radziner urban designs are joined by a trio of Lindal Elements designs created in the same spirit of the times.