Remodel Your Lindal Home
Your Lindal Home Remodel or Addition
As Greek philosopher Heraclitus of Ephesus noted some 2,500 years ago, "The only constant is change."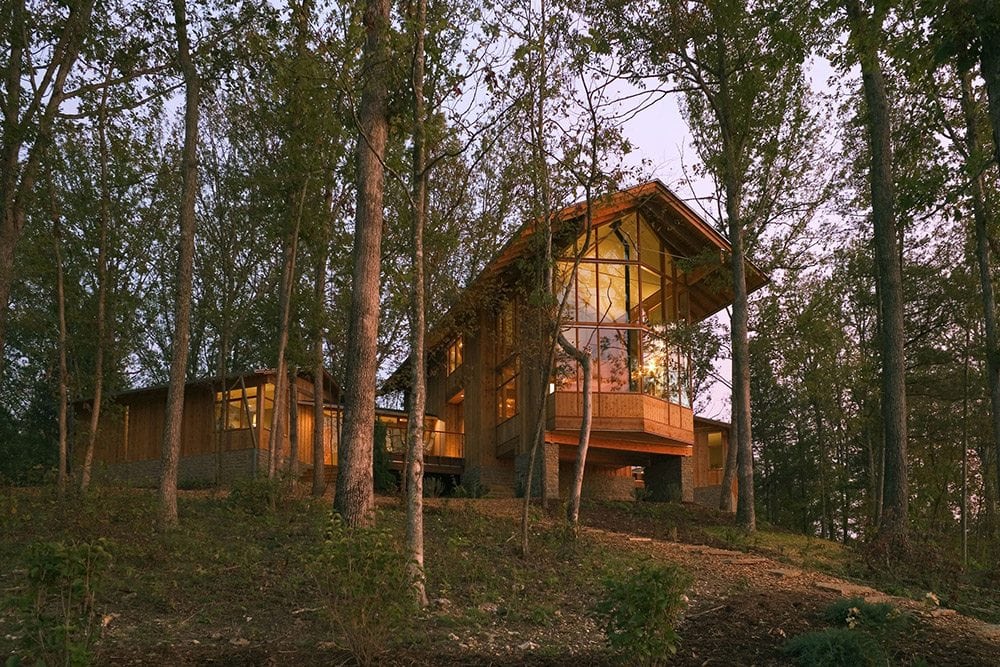 If you own a home, no doubt you can relate. Over the years, families expand and contract, trends in home decor come and go, and technology evolves. The Lindal home you loved for years may be in need of some TLC. The deck may need new planks or railings, or you may want to upgrade to new, lower-maintenance materials. If your family has expanded, an addition could give everyone a little more breathing room. When children leave home, empty-nesters may want to remove a bedroom wall to create a spacious master suite. People hoping to age in place in their Lindal home also may need to make accommodations, adding railings, remodeling bathrooms, and moving bedrooms to the first floor of the home.
The Most Popular Remodeling Choices
Kitchen and bathroom remodels are among the most popular of all. And of course, all the basic components – electrical, heating,  plumbing, roof, siding, etc. – wear out gradually and need periodic maintenance, repair or replacement in order to keep your home functioning smoothly.
Local Representatives for Your Lindal Remodel & Addition Projects
Alaska
Michigan
CANADA
Backed by the Expertise and Resources of Lindal's Corporate HQ
Our Lindal dealers liaison with you as a homeowners and Lindal's corporate headquarters – including our drafting and operations department – to ensure that your home remodel project is handled in a professional, timely and efficient manner. If you don't see a dealer near you listed above, please call our Client Concierge at (800) 508-1833. They can help you locate a Lindal dealer near you to assist with your Lindal home remodel.
Remodeling is Usually Better Than Selling
Unless a new job or other major life change necessitates a move, most people will benefit from a home remodel rather than buying a new home. A 2018 Zillow study  revealed that when given the choice, 76% of Americans would choose to renovate their existing home rather than move. The percentage is even higher – 85% – for people ages 55 and older, and 91% for retirees.
Why Remodel?
Moving is expensive: There are many costs associated with moving: Advertising your property, paying a realtor, sprucing up or staging the house, and paying closing costs once the home does sell. There's also the cost – in time and money – of packing up all your belongings and moving them to a new location. Not to mention closing costs on a new home purchase. Moving makes sense if you want to downsize to a smaller house, as this couple did

. It also makes sense if a job or family situation necessitates a move across town or out of state. In these situations, we recommend you connect with your local Lindal dealer to design and help you

build a new home

.
Additions and renovations add value: You may not recoup 100% of your investment if you choose to remodel when you sell your home. However, you still get to enjoy the benefits as long as you live there. In "hot" markets, you generally can recoup your full investment. While selling a home may cost you money, improving the home you have generally adds equity to your initial purchase price.
Lindal can help: Lindal has been in business for 75 years. As a result, we work with a lot of homeowners who love their older Lindal homes but want to upgrade them. Our international network of independent Lindal dealers can work with you on a home addition and remodel. They can ensure the changes are beautifully integrated with your existing home – because they know our homes and system-built design better than anyone else!
Top Home Remodeling Projects
Basic Maintenance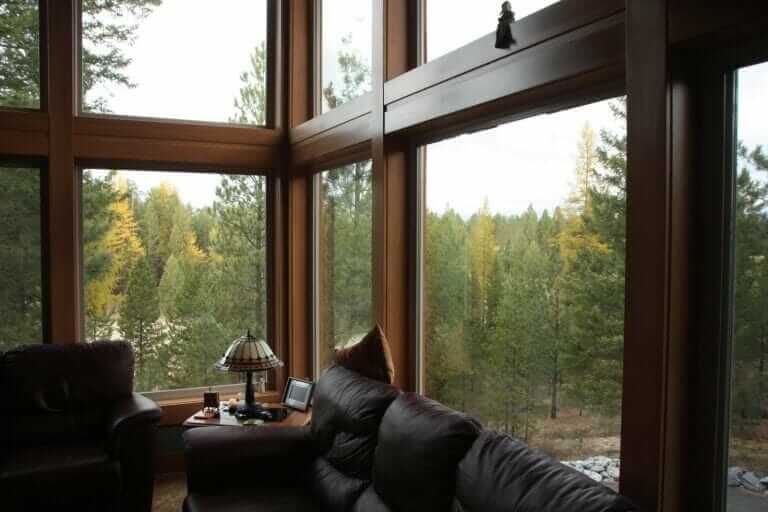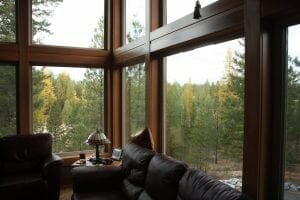 Basic maintenance and repair should take precedence over any other remodeling work. Gutters, furnace, roof, windows and siding – all should be in tip-top shape before you consider other more cosmetic improvements.   While the results aren't as visible,  these kind of improvements are the most important and popular home renovations. They prevent damage to your home due to leaking pipes, burst water heaters, mold and rot, faulty wiring, etc. In addition, they give homeowners a big return on their investment. The number one thing potential buyers and realtors look for when the time comes to sell a property is not a soaking tub or marble counter tops – but rather the basic functionality and good condition of essential home components.
Curb Appeal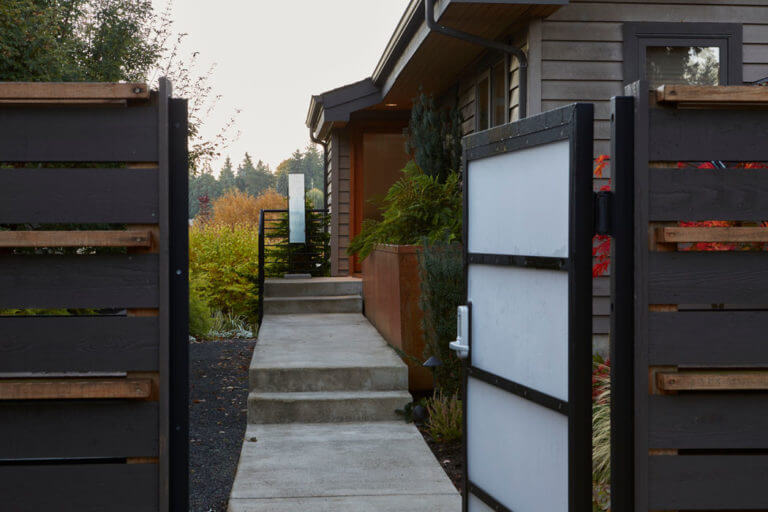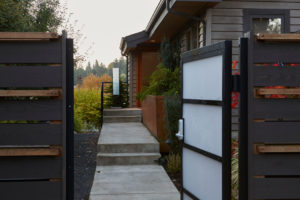 If your goal is to increase the value of your home, consider prioritizing anything that positively impacts curb side appeal. Improve landscaping or add a new entryway or front door. Spruce up the exterior with a new coat of paint or re-stain the cedar siding.
Read about how these Lindal homeowners turned their entry from "so-so" to "wow" with their Classic Home Remodel.
Decks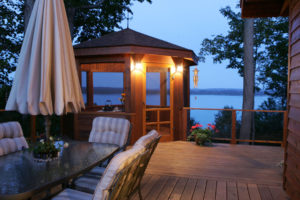 Adding a deck is one of the additions or renovations that adds the most value to your home. Lindal homes are known for their beautiful and expansive decks. They can be built out of cedar or composite planks, with a variety of options for railings and stairs. Our experienced network of Lindal dealers can help you build a new deck or repair an existing deck on your older Lindal home.
Bathrooms and Kitchens

Most people think that remodeling the kitchen and bathroom adds the most value. The truth is that while they can improve your resell value, it's not a guarantee. These renovations may add more to your enjoyment of your home than to the actual resale value. To get the most bang for your buck in a kitchen or bathroom remodel, focus on premium wood cabinetry, appliance upgrades, floors of natural stone or wood, and high-end countertop materials such as stone and granite. In the bathroom, large walk-in showers are a popular feature. Often homeowners will replace a traditional bathtub to make the space for a walk-in shower. If you have only one bathroom in the house, however, it may make more sense to add an additional bathroom rather than make expensive renovations to the existing one. A bathroom addition is a home improvement that generally pays off, and often adds more value to your home than any other room addition.

Home Additions: Adding a Second Story, Building Out, or Building an ADU
If you're considering adding a second story or an ADU to your Lindal home – you may want to read our blog on ADUs and DADUs (attached and detached accessory dwelling units). Because of Lindal's modular building system, it's relatively easy to add a second story over the garage. Alternatively, you could build out the house to add an additional bedroom, rec room, or sunroom. Lindal's team of designers and drafters can work with you to integrate the addition seamlessly into your current home design.
This Lindal Elements modern home, built on Vancouver Island in British Columbia, features a separate studio apartment built over the garage with its own private entrance.
Contact Your Local Lindal Dealer: The Perfect Choice to Help with a Lindal Home Remodel or Addition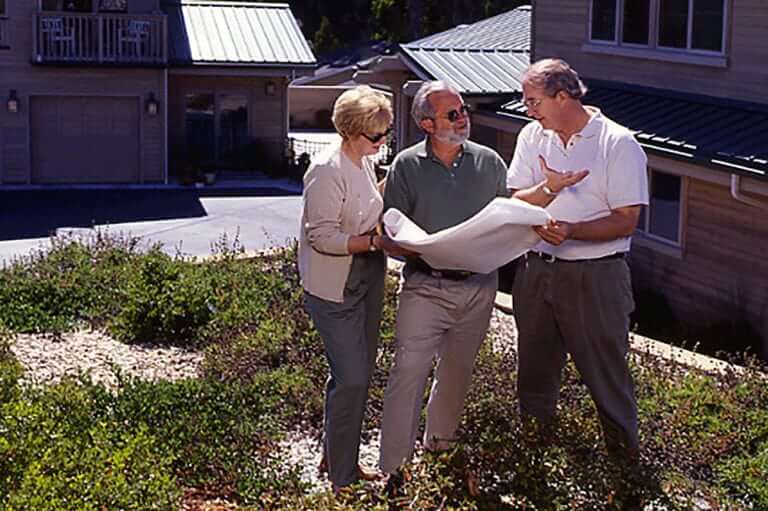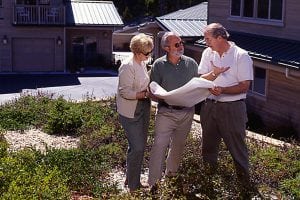 When you think about it, who is better positioned to help you remodel or add on to your Lindal home than one of our network of experienced Lindal representatives?
Experienced, Local, Connected
Your local Lindal dealer may have even helped you or the original owner build the Lindal home in which you now live. Many of our Lindal dealers have been in business for many years. They have deep roots in their communities. They will be able to recommend people to help with the construction, interior finishing, and other aspects of the home remodel. Some Lindal dealers are also builders. They may be able to do the remodeling work themselves (though it is always up to the homeowner to choose the builder with whom they wish to work).
Familiar with the Lindal System
Lindal representatives are familiar with the Lindal system- built approach to home design. They can help you design new layouts and floor plans that will help your remodel integrate seamlessly into the home, rather than looking like something tacked on afterwards. Because of Lindal's open post-and-beam structure, moving interior walls to open up or enclose spaces is relatively easy, as in most cases the walls aren't necessary for structural support.