Stories

Ranch House Plans
Key Features of the American Ranch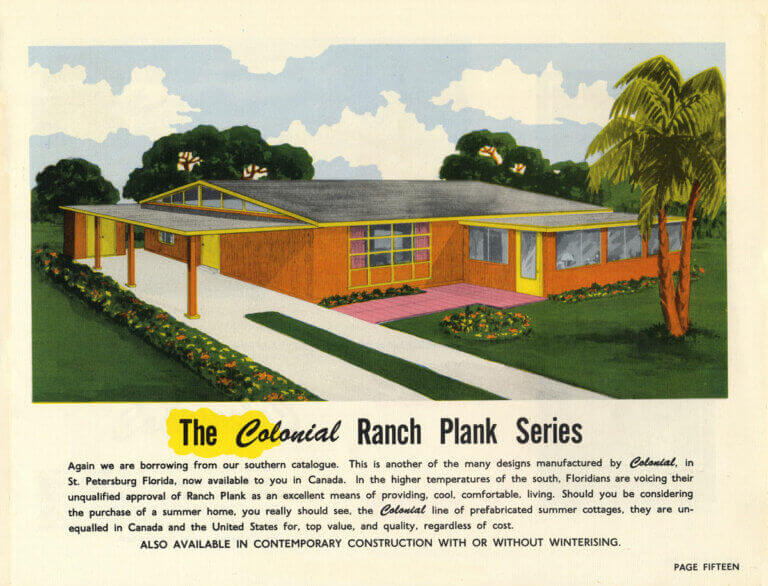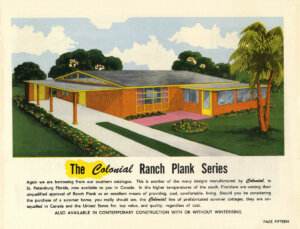 A ranch house, also known as a rancher or a rambler, is a particularly American style of home. Although the original ranch homes date back to the 1920s, they really became popular in the boom years after WWII. A ranch house plan is generally characterized by certain key features:
All One Level
A ranch home is usually a low-lying, one story house. Their single story layout is one reason these homes are endemic to the suburbs. Because of the large footprint of the ranch home, it is neither economical or feasible to build one in a densely populated urban area. One-level living makes this home particularly attractive, as every room can open to the next and to the outdoors.
Open Floor Plan
Ranch homes are known for airy open interior spaces, a far cry from the regimented and broken-up structure of older, more traditional homes. Lindal's post and beam construction is ideally suited to the multi-purpose room and open floor plan concept, as it does not rely on interior walls for structural support.
Seamless Transitions from Inside to Outside
Ranch house plans are designed for an informal and relaxed approach to living and entertaining. Great rooms open to courtyards through large doors that blur the distinction between inside and out. The extensive use of windows allows natural light to flood the interior of the home. Decks and pools are common additions that make ranch homes ideal for family gatherings and outdoor entertaining.
Six Lindal ranch style house plans
A Modern Ranch House With an Open Floor Plan
The Quick Ship Sargasso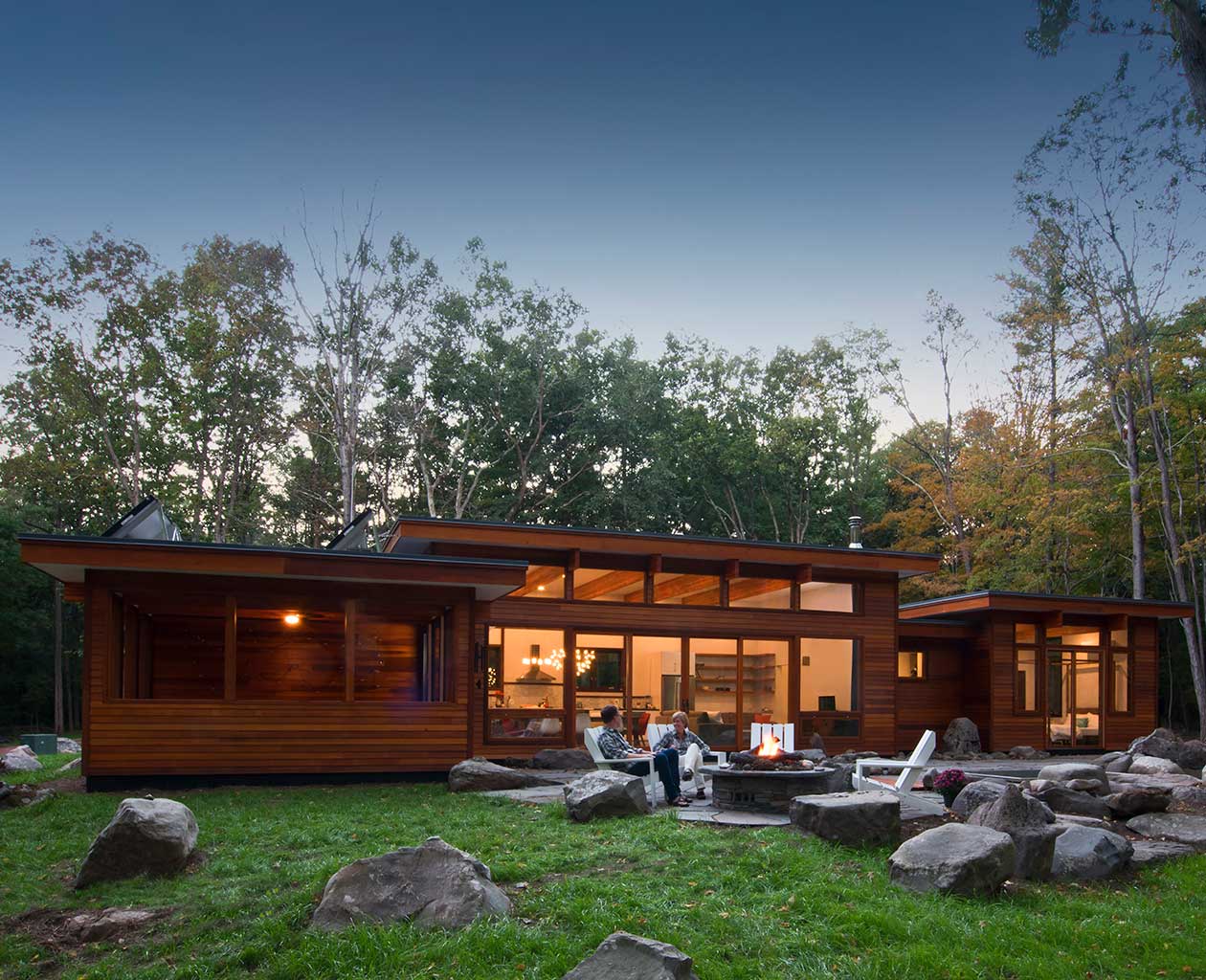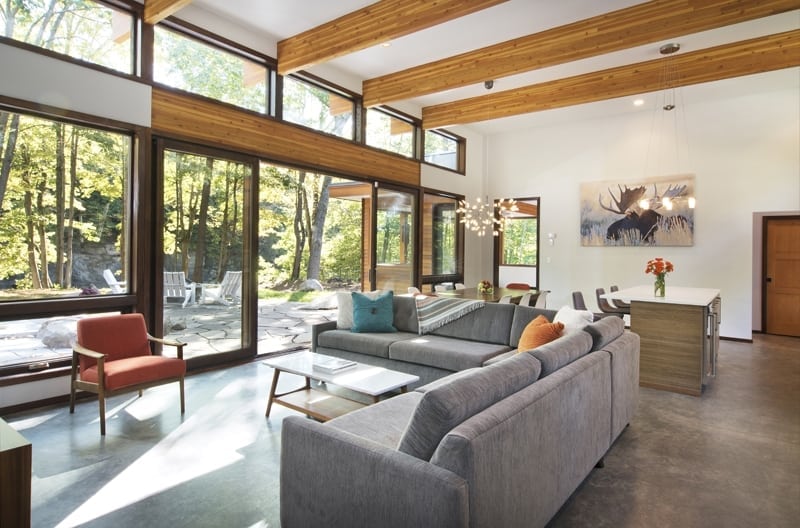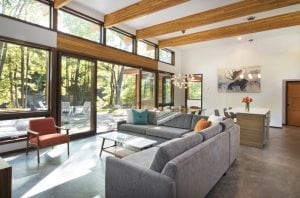 The  Sargasso is a ranch-style house with an efficient single story floor plan. This home exudes a spirit of comfort and ease. A large open gathering area allows for informal seating and relaxing or eating before a roaring fire. The expansive wall of windows and large sliding door let in the view.  A  screened porch and deck area allow family and guests to enjoy the outdoors any time of day or year. Part of the Lindal modern Elements home line, the three-bedroom, two-bath Sargasso is a perennial favorite of clients to build on their property.
Contact your local Lindal rep for details and pricing: Reference #41458.
VIEW FLOOR PLAN & IMAGES >>
---
A Three Bedroom Ranch That Wraps Around a Private Courtyard
The Hestia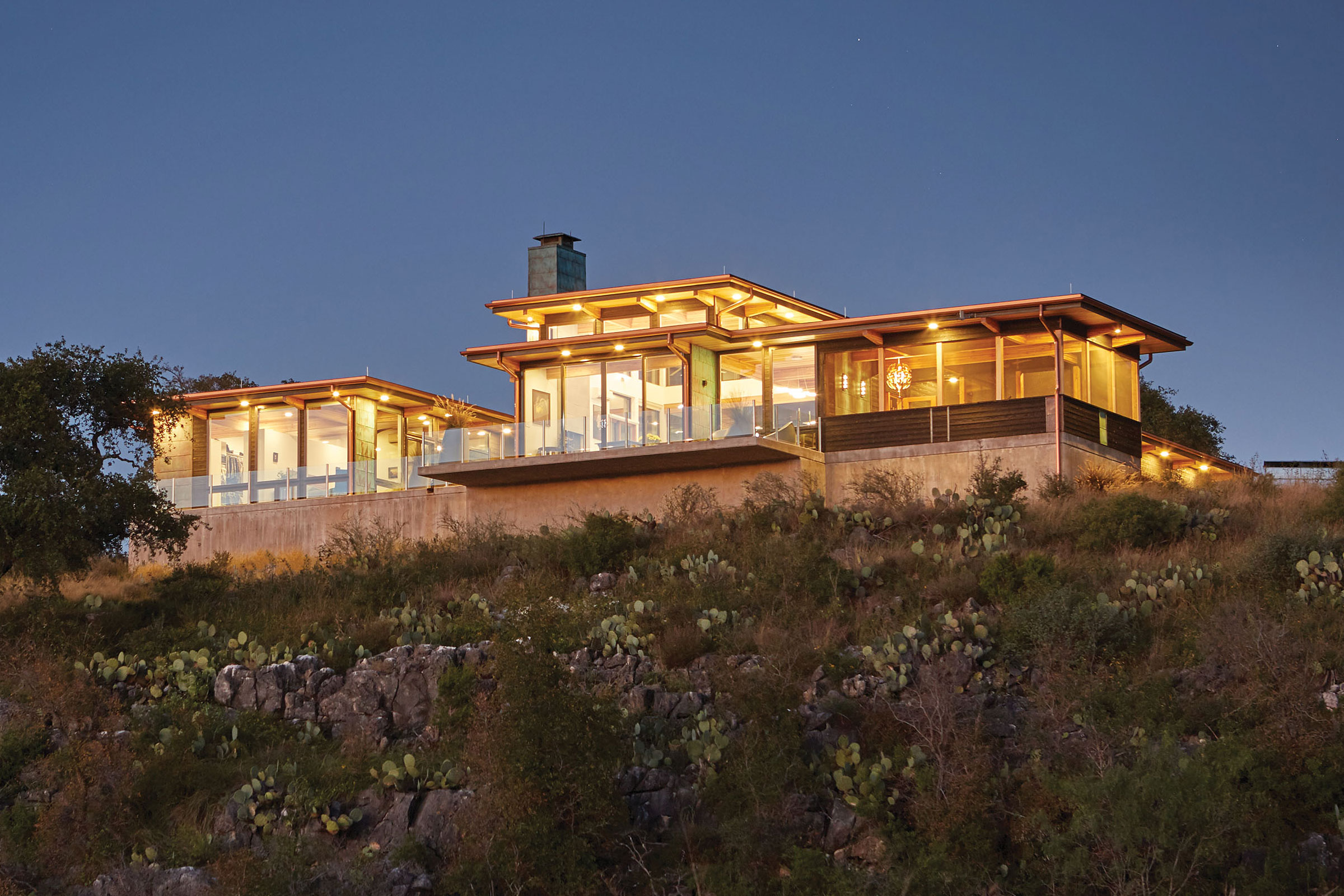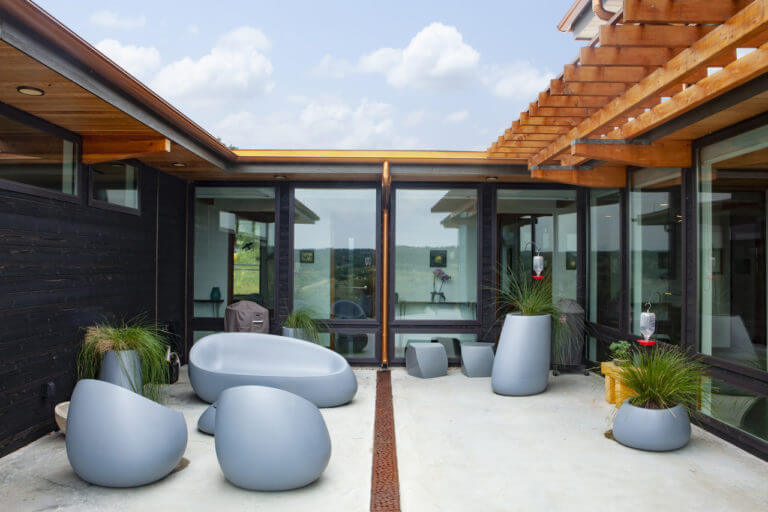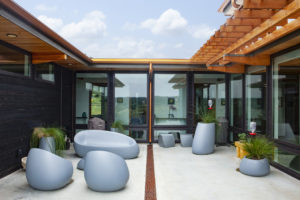 The Hestia design by OM Studio – profiled in the Wall Street Journal – is a stunning example of a ranch style home. The home wraps around a private courtyard surrounded by glass halls. A full band of clerestory windows above the great room uplifts the living, dining and kitchen space. This custom home was created  by architectural designer Aris Georges of OM Studio for Lindal.
Contact your local Lindal rep for details and pricing: Reference #41664.
VIEW FLOOR PLAN AND IMAGES >>
---
A Simple Ranch House Plan
The Quick Ship Ludlow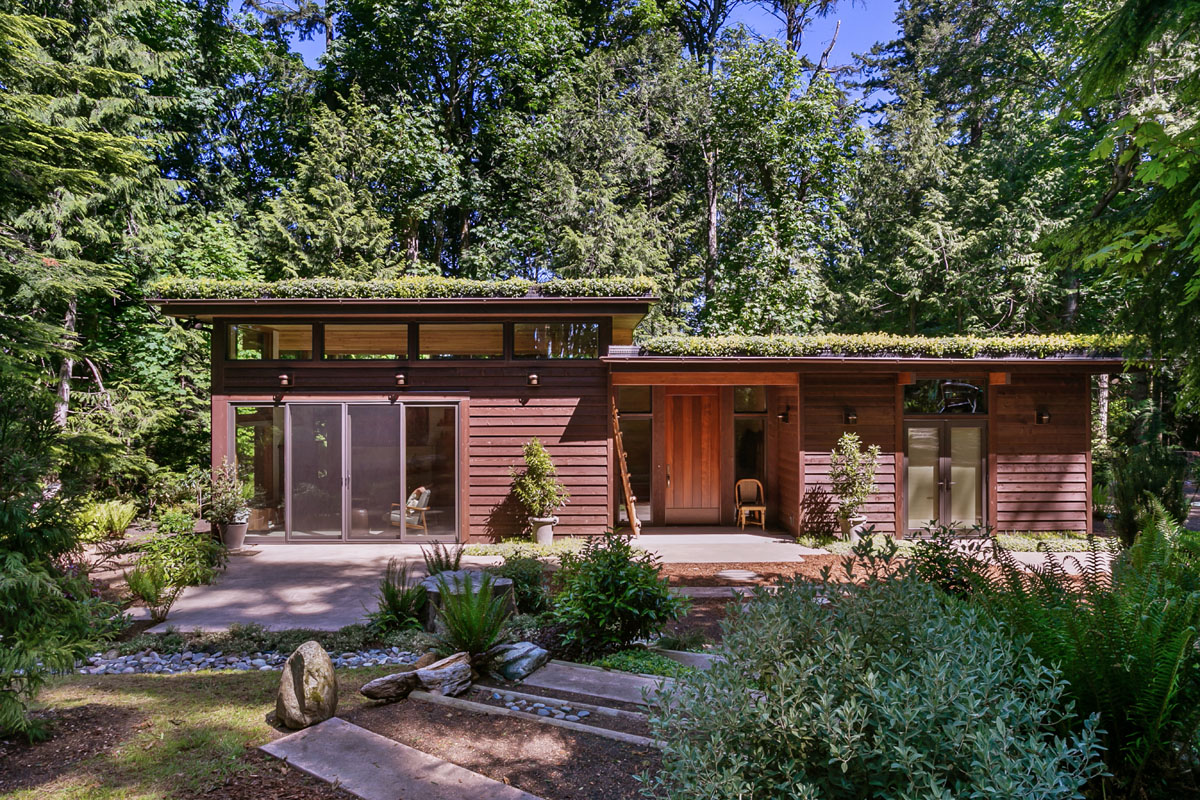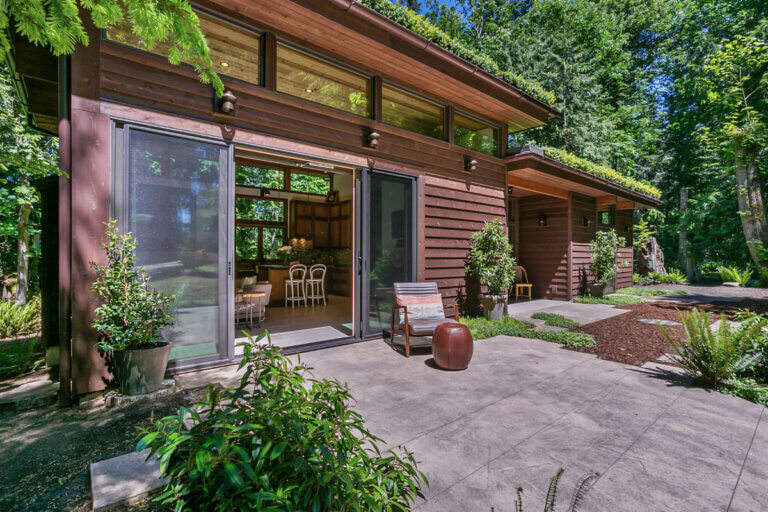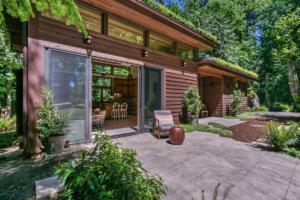 The Ludlow is a compact and functional small ranch style house plan. Under 1,000 square feet, the floor plan includes a spacious master bedroom suite and a great room filled with natural light from the band of clerestory windows, large windows, and sliding glass door that opens to a patio space.
Contact your local Lindal rep for details and pricing: Reference #41706.
VIEW FLOOR PLAN & IMAGES >>
---
A Rancher With a Classic Roofline
The Beaumont Ranch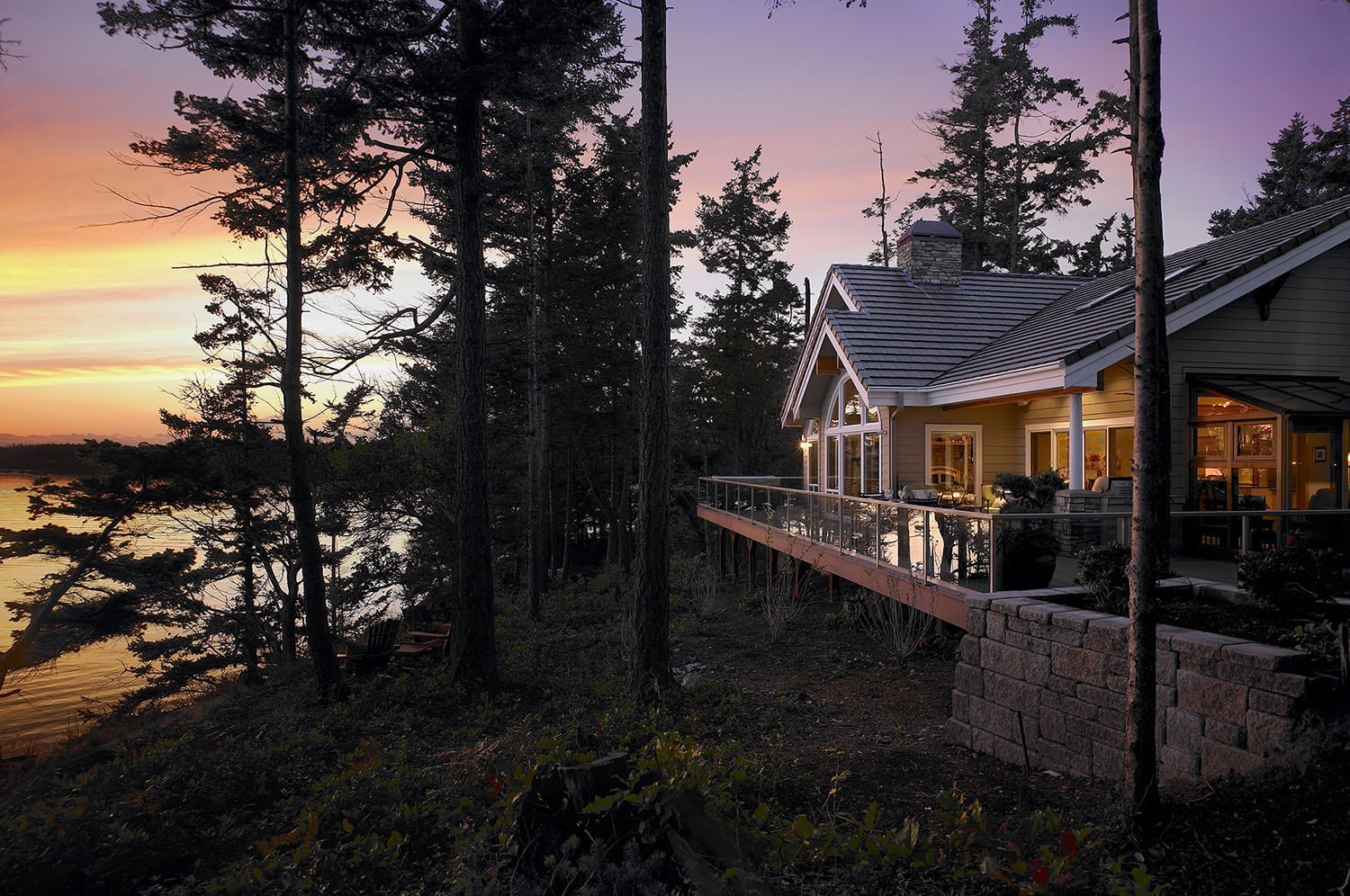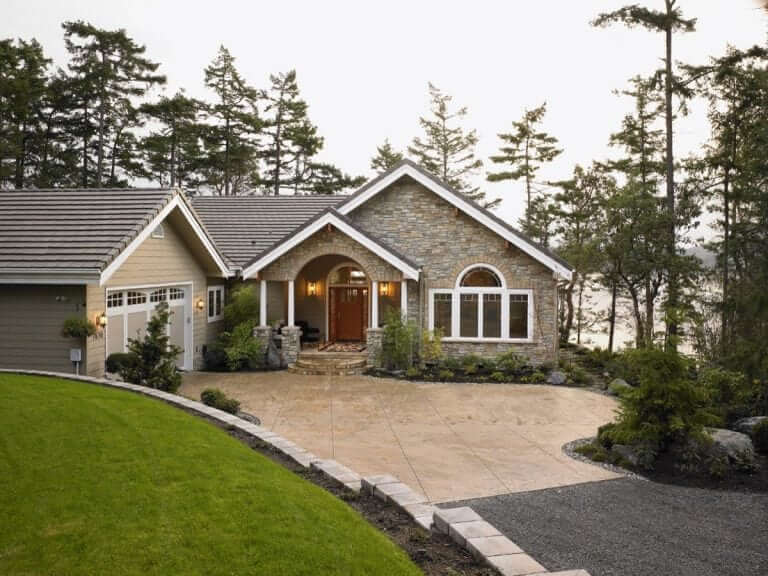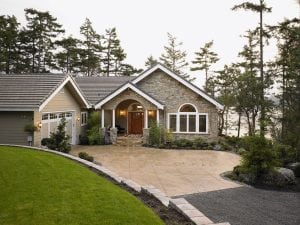 The Beaumont Ranch celebrates the convenience of living on one level. The ingenuity of a well-zoned floor plan honors both public and private spaces by devoting different parts of the home to them, and creating an easy flow throughout. The covered entry is as poetic as it is practical – perfect for flower boxes and other container plantings. In the back of the home, the large deck makes a major design statement, with entrances to both the master bedroom and the dining room.
Contact your local Lindal rep for details and pricing: Reference #39902.
ViIEW FLOOR PLAN & IMAGES >>
---
A Frank Lloyd Wright Inspired Ranch Style Home
The Madison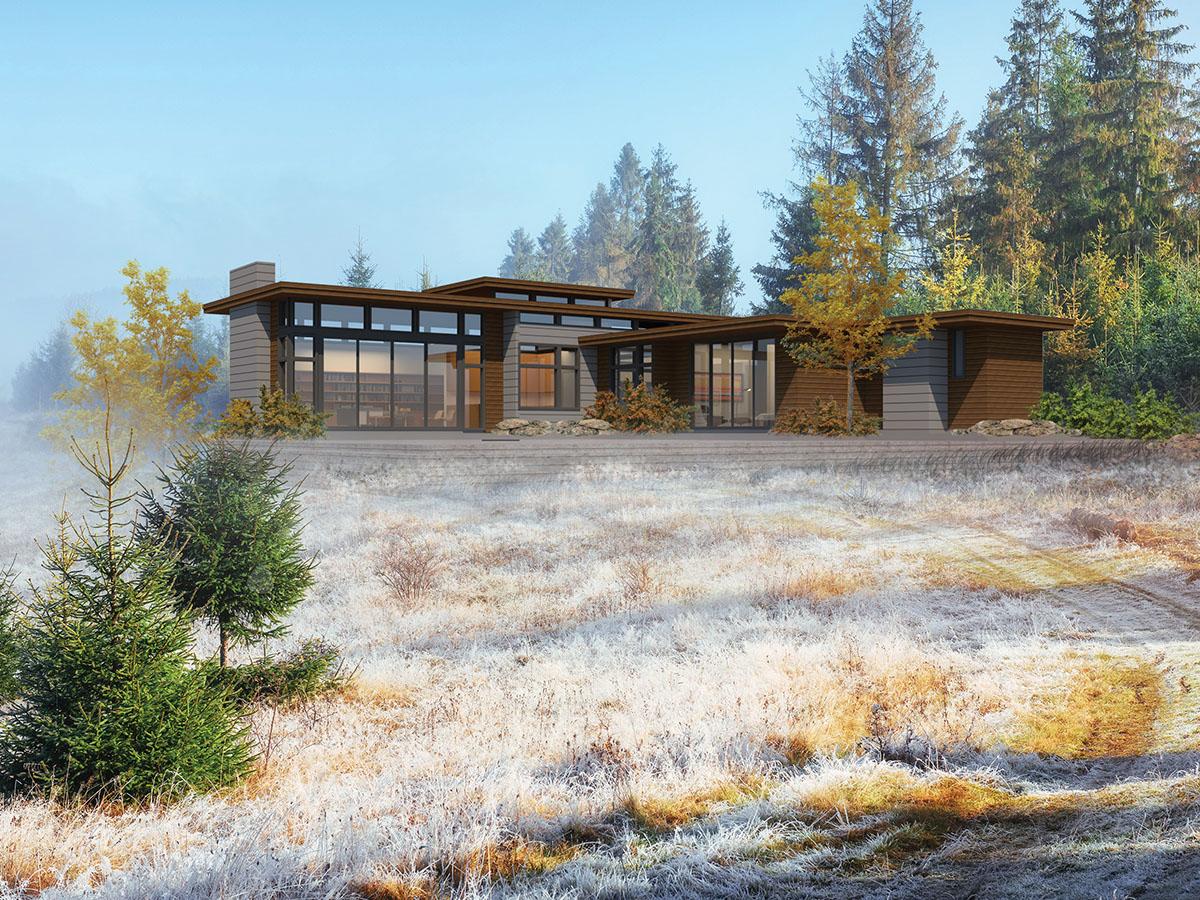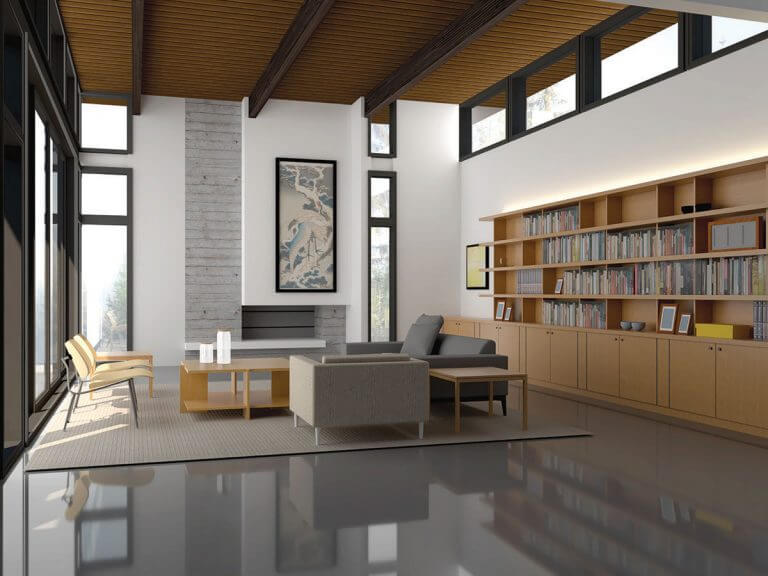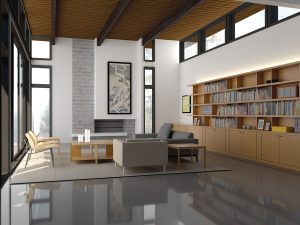 As a founder of modern American architecture, Frank Lloyd Wright is largely responsible for popularizing ranch style home design in the United States. His ideal of bringing affordable, well-designed homes to the masses, beginning with his Prairie style homes, reached its  zenith in his Usonian house plans, which include many of the features of a modern ranch style home. Wright's Usonian homes were typically one story, low-lying structures composed of natural materials like wood, stone, and glass, with seamless indoor/outdoor transitions, attached carports, and an open floor plan. In collaboration with the Frank Lloyd Wright Foundation and the Frank Lloyd Wright School of Architecture, Lindal debuted the Imagine Series in 2018. These homes are unique translations of Wright's Usonian homes. The Madison is a translation of Jacobs 1, Wright's first, iconic Usonian home. The original is inscribed on UNESCO's list of World Heritage Sites because of its seminal influence on modern residential home design.
Contact your local Lindal rep for details and pricing.
VIEW FLOOR PLAN & IMAGES >>
---
A 2,000 Square Foot Architect-Designed Ranch Style House Plan
Dowling Studios 2230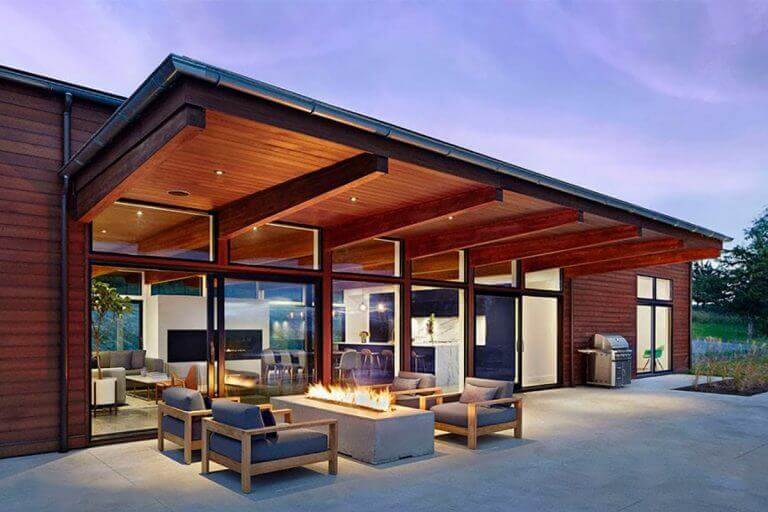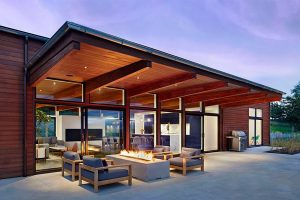 Over the years, Lindal has collaborated with some of the US and Canada's most influential architects – as seen in the Lindal Architects Collaborative portfolio of architect-designed homes for Lindal. Dowling Studios, a bi-coastal architectural firm owned by the Dowling sisters, designed this simple yet exquisite home. Private interior spaces are organized around a large central living area with clear views of the front and rear landscapes. The Lindal post and beam structure enables deep overhangs for shade and protection from the elements. Large lift and slide doors open each space to the natural environment. The abundant use of premium clear cedar siding gives the home a warm yet elegant ambience.
Contact your local Lindal rep for details and pricing: Reference #41622.
VIEW FLOOR PLAN & IMAGES >>
---
The Rise of the Ranch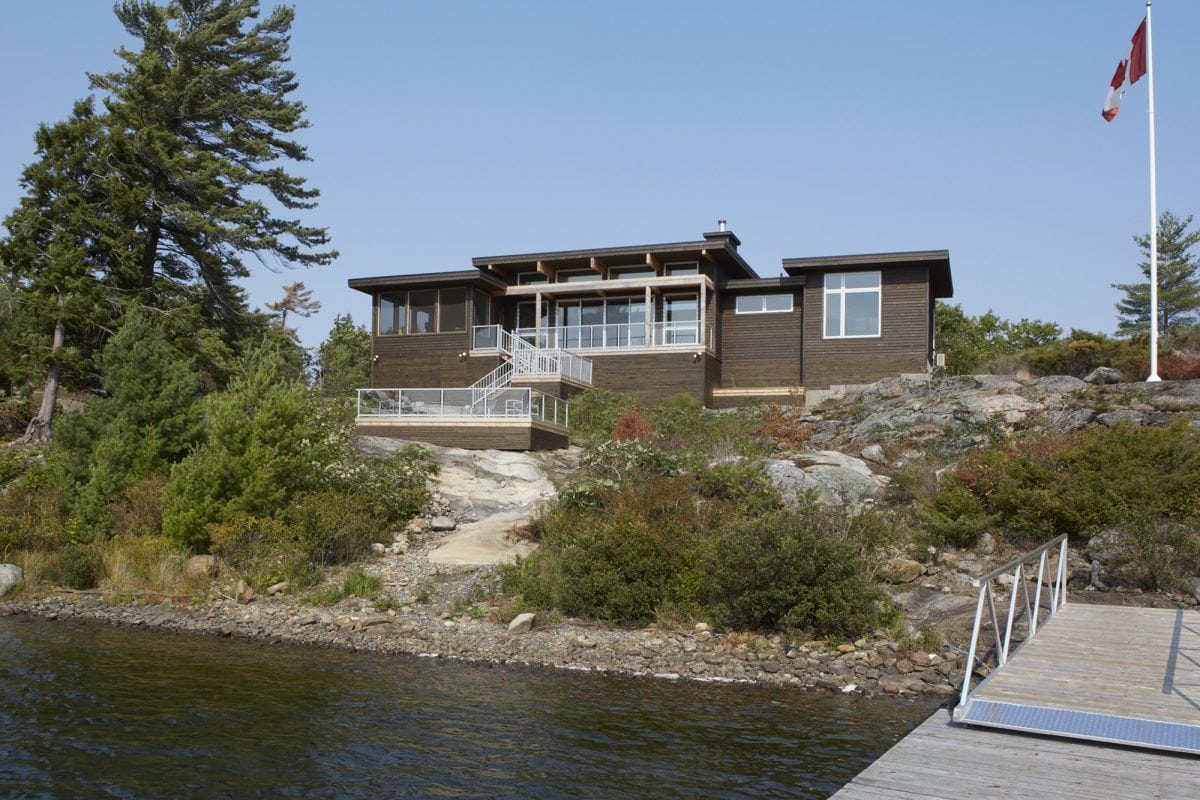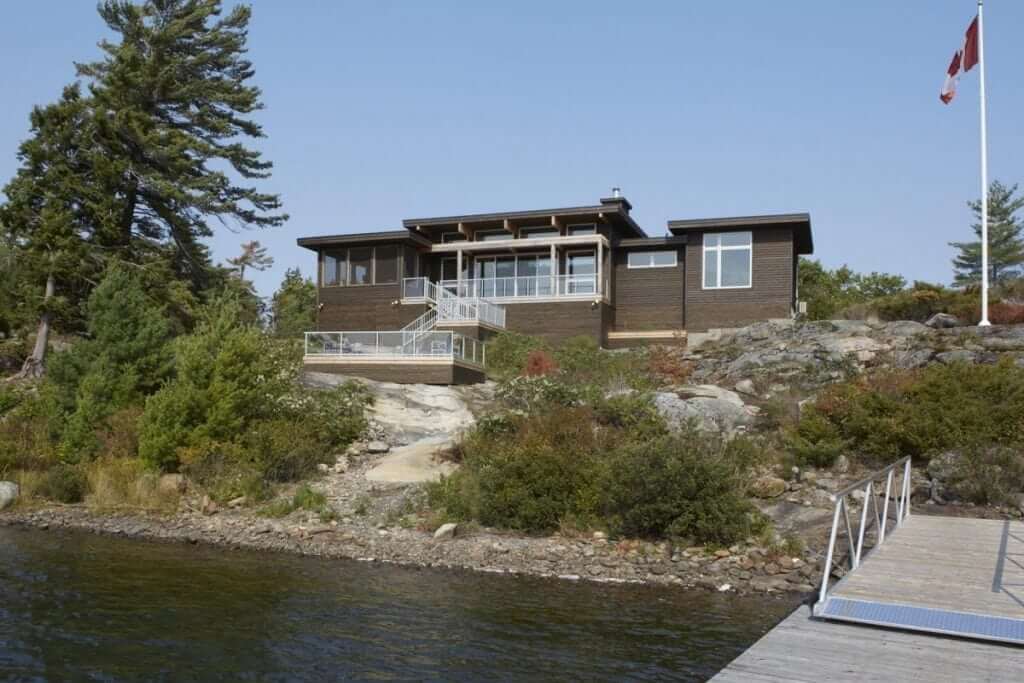 Pictured – The Sargasso, a ranch-style home built on an island in Ontario.
Lindal Cedar Homes got its start in 1945, around the same time that ranch style houses really took off in popularity in the United States. WWII had just ended, and millions of soldiers returned from overseas to civilian life. The passage of President Franklin Roosevelt's GI Bill in 1944 offered a package of benefits to returning members of the military, including low-cost mortgages, financial assistance for education, and low-interest loans. Such incentives enabled young people to marry, have children, and pursue home ownership in short order.
As the war effort wound down, economic focus and manufacturing shifted to the domestic front. Increased automobile production resulted in a rise in car ownership. The development of federally sponsored highways spurred the rise of suburban commuter towns. As a result, the demand for an affordable family home skyrocketed.
Lindal Cedar Homes' founder Sir Walter Lindal got his start selling home lumber packages to returning GIs and their young families after WWII. Early Lindal house plan books include many examples of simple ranch house floor plans designed for this demographic.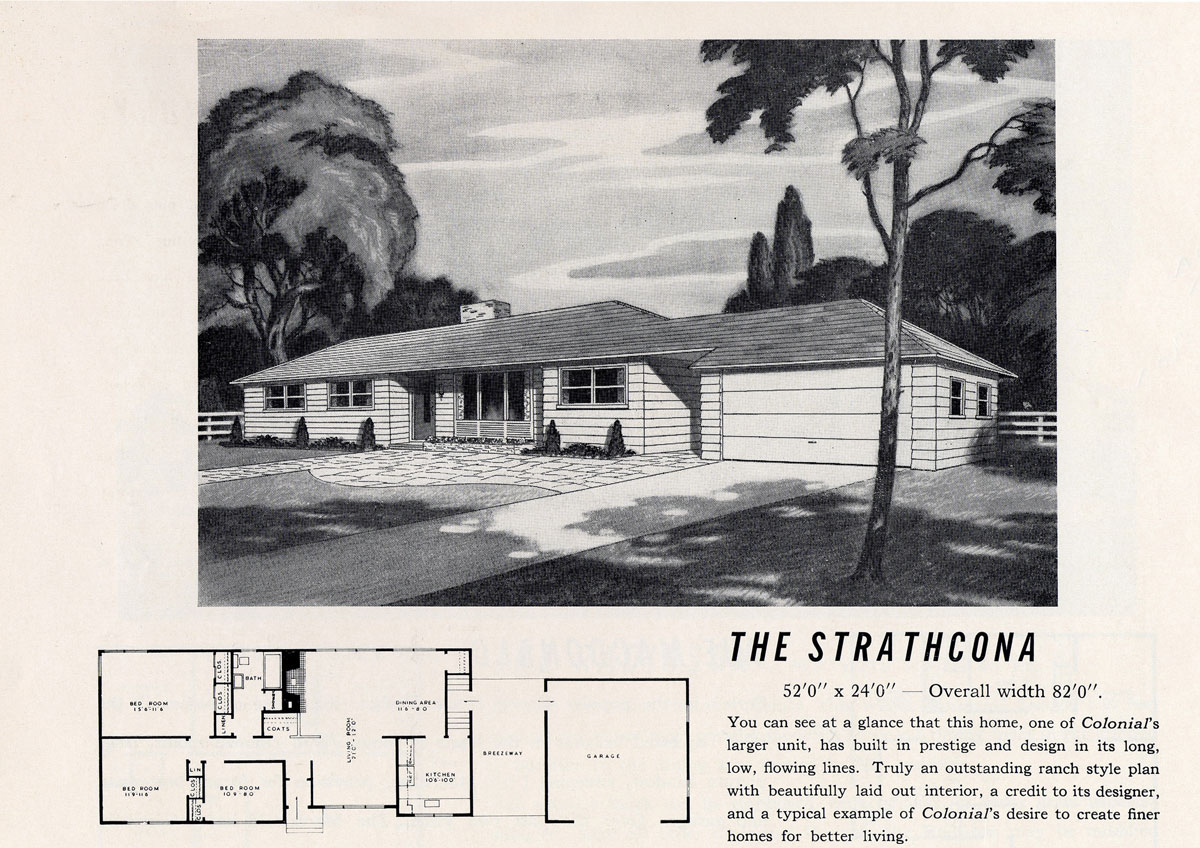 This ranch style summer home was featured in a Lindal house plan book from the 1950s .